Sunday, November 20, 2016
When it was decided that the Viper 640 sports boats would travel to Bermuda during November 2016 for its major regatta, everyone was looking forward to the big winds that prevail on the Great Sound at that time of year. Unfortunately on two of the days too much wind prevailed. The 4-day event, the Aspen Viper 640 International Championship sponsored by EFG, was held from Wednesday – Saturday, November 16-19, in conjunction with the 2016 North American Championship. The regatta came down to only six races over two days of sailing. As was the case on Thursday's second day of the event when 25+ knot westerly winds with puffs well into the 30's kept the racers ashore, the final day's racing also had to be cancelled as the low hovering around Bermuda brought winds well in excess of 25 knots with puffs and frequent rain squalls crossing the Great Sound with wind speeds in excess of 35 knots.
It should be noted that a handful of crews did go for a sail Saturday morning inside the more protected waters of Hamilton Harbor and they were rewarded with spectacular downwind sleigh rides noting that had they been outside in the Great Sound it would been difficult for even the most skilled among the fleet to handle the strong, frequent puffs.
When International Race Officer and PRO Hank Stuart (Rochester, NY) raised Alpha over November, the sailors found the desire to race was countered by the desire to not break boats…or people. As such, Friday's results for the 41 boats held fast. That allowed Zeke Horowitz (Annapolis, MD), Brendan Healey (Greenwich, CT), and Ian Coleman (Annapolis, MD) to take home both the International and North American Championship trophies. Justin Scott (Darien, CT) sailing with Rob Crane (Darien, CT) and Trevor Burd (Marblehead, MA) claimed second place, also winning the Governors' Cup (top finishing skipper over 55 years of age). Geoff Fargo, Jeff Grange, and Spencer Steffen, all hailing from Santa Barbara, CA, were third and also the top placing Corinthian crew.  Full results HERE.
With sailors coming to Bermuda from across the U.S., Canada, Australia, and the UK, the competition was very tight. A look at the scores revealed that, with the exception of Horowitz's winning 10 points, had the regatta sailed the final day the scoreboard would surely have been shuffled. Close competition, excellent courses, big breezes, and good sportsmanship prevailed throughout the racing; and ashore, event co-chairs Somers Kempe and Doug De Couto beautifully executed a logistically challenging regatta. Sailors were able to enjoy the hospitality and grandeur of both host clubs, the Royal Bermuda Yacht Club and the Royal Hamilton Amateur Dinghy Club.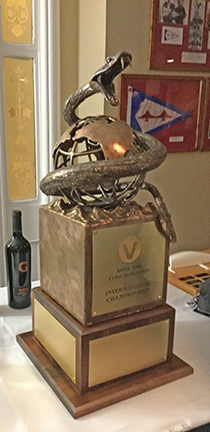 While the Viper 640 Class has held its North American Championship for many years, this is the first time the Class hosted an International Championship. In doing so, it was necessary to have a new perpetual trophy and a sculptor was commissioned to create a piece of art reflecting the Viper's growing global presence. What he came back with is a unique bronze sculpture that will definitely stand out in any yacht club's trophy case.
When asked about his winning the International and North American Championships, Horowitz was proud of his accomplishment giving the credit to his crewmates Coleman and Healy. "When I joined the Viper Class I knew I'd be more competitive if I had a regular crew," said Horowitz, "and I was able to talk two of my best friends into joining me on the boat. It helps that Ian and Brendan are both spectacular sailors. It was really great for the three of us to be racing 40 other Vipers on the beautiful island of Bermuda."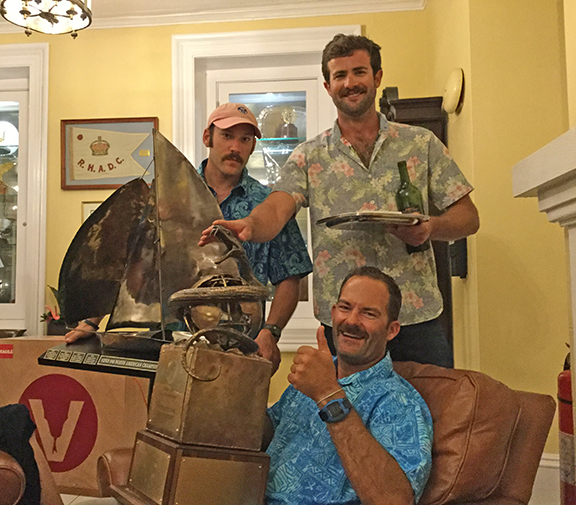 The winning trio: Zeke Horowitz (hat), Ian Coleman,
and Brendan Healey (seated).
The regatta concluded Saturday night at the RHADC with a cocktail party and prize giving bringing everyone together one last time.
As has been noted in the past, in addition to the great boats these men and women sail, they find the camaraderie among Viper sailors and the international friendships that have developed over years keep them coming back. There were sailors in their early 20s and in their 70s racing competitively, there were parent/child crew combinations as well as husband and wife teams. Of note was the seventh place team comprised of two married couples: Peter and Rachel Beardsley sailing with Jay and Rachel Rhame. Rachel Rhame sailed as hard as anyone on the course despite being five months pregnant. The joke was if they were sailing 4-up or 5?
The sailors were treated to not only the benefit of having an International Race Officer (Stuart) running the races, but they also were served by an International Jury headed by Bermudian IJ Robert Duffy. And, as is the case with most regattas of this magnitude, it would not have been possible to be held without the cooperation and support of the many sponsors including: presenting sponsor Aspen RE, long-term Viper 640 Class sponsor EFG, host sponsor the Bermuda Tourism Authority, shipping sponsors Bermuda Container Line, Bermuda International Shipping Ltd, Somers Isles Shipping Ltd, and Bermuda Forwarders and supporting sponsors Goslings, Gubinelli Wine, Oleander Cycles, Newstead Belmont Hills, and Island Construction.
You can see great regatta photos and video HERE.
Contact:  Edward Padin, Viper 640 Class Administrator, epadin@padesta.com
About Aspen Reinsurance
Aspen Re is a diversified, well-capitalized and strongly rated company that provides carefully tailored underwriting solutions in select markets where we can add a high level of value. Aspen Re's progress is built on the ability to identify and respond swiftly to emerging opportunities and to operate across a wide range of countries and specialist business lines. Aspen Re is founded on a thorough understanding of client needs, as well as exceptional expertise in assessing and managing risk. The company focuses on building long-term relationships with clients who have track records for sound underwriting, along with exposures that make risk transfer a vital aspect of their business needs.
Aspen Insurance, 141 Front Street, Hamilton HM19, Bermuda
www.aspen.co
About EFG International
EFG International is a global private banking group offering private banking and asset management services, headquartered in Zurich. EFG International's group of private banking businesses operates in around 30 locations worldwide, with circa 2,000 employees. EFG International's registered shares (EFGN) are listed on the SIX Swiss Exchange.
EFG International has been the primary supporting sponsor of the Viper 640 Class since 2011. Every year, Viper sailors around the world competing in qualifying events leading up to the EFG Viper Pan-American Championship sailed each March in Miami, FL, as part of Bacardi Miami Sailing Week presented by EFG.
EFG International AG, Bleicherweg 8, 8001 Zurich, Switzerland
www.efginternational.com
About the Viper 640
The Viper 640 is a high-performance one-design sport boat. At 21 ft (6.40 m) and only 750 lb. (340 kg) it combines the stiffness of a keelboat with the acceleration and planing abilities of a dinghy. The Viper has a precise and exhilarating feel on the helm, a spacious cockpit for three or more people, strict one-design class rules, and ease of launching by ramp or hoist. With fleets and regattas around the world, there is certainly Viper racing near you.
For more information contact Viper 640 Class Association Administrator Ed "Buttons" Padin (epadin@padesta.com) or Rondar Raceboats' Dan Tucker (Dan@rondarboats.com