At the 2016 Viper 640 Class Association's 2016 Annual General Meeting held November 17, in Bermuda, the Class voted on four specific changes to the Class Rules as well as voting on acceptance of an International Constitution. Over 100 votes were cast on each issue which represents a 50% quorum of Owner Members required for passage. The specific new rules follows:
1) Hiking Lines – Amends Rule 8.3 in the Equipment and Fittings Section – Passed with 96% approving
The new rule will allow hiking lines to be attached the hiking straps and to the hiking strap eyes on the cockpit floor. The change allows a more direct line of support to the person hiking and can help pull the strap up so feet can get under more easily. It also better accommodates the needs of teams sailing 4-up.
Effective March 1, 2017
2) GYA Sail Numbering – Amends Rule 11.1 in the Registration Section – Passed with 94% approving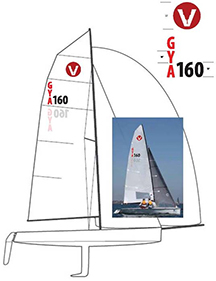 This new rule change addresses the unique inter-club sail numbering needs of the Gulf Yachting Association (GYA). There are no World Sailing specifications that apply to the GYA lettering as it is unique. No changes are proposed to Section 7.8.1 Sail Purchase or 7.8.2 Registration. A rendering of how these GYA-specific numbers will appear is at the right.
Effective March 1, 2017
3) Vertical rudders – Amends Rule 2.2 in the Hull, Deck, Foils and Weight Section – Passed with 93% approving (4% abstained and 3% voted against)
This new rule allows the existing swept rudder configuration to be changed to one with a vertical leading edge and vertical axis of rotation – while still using the existing rudder blade. The vertical rudder concept had been tested extensively for a full season by a dozen boats in big-breeze Western Australia and for three months in the U.S. by the Technical Committee Chair Dave Nickerson. Conversations with the Australians in Bermuda amplified the benefit of this new rudder configuration.
In the works is a new, single-source, bolt-on rudder tower bracket that has been developed by Rondar Raceboats. The prototype was greeted with universal enthusiasm in Bermuda. Rondar's Paul Young anticipates that for about $250 an owner can purchase the replacement gudgeon bracket and a new, angled tiller that will compensate for the repositioned tiller hole angle in existing rudder.
This rule goes into effect March 31, 2017.
4) Bottom Cleaning – Amends Rule 10.4 in Prohibitions, Restrictions and Exemptions Section – Passed with 90% approval
Revised Rule 10.14 is amended making it legal to have someone wash your bottom during a regatta and reads as follows: During any period where the Notice of Race or Sailing Instructions require that boats remain in the water, keels must remain lowered during such period, but rudders may be removed after sailing.
(Effective Date: March 1, 2017)
5)  Proposed International Constitution – Passed with 94% approval (5% abstained)
The Viper 640 Class Association is officially now an international organization.
The Class Association will be one entity, worldwide.
The Class Association will consist of three "Regions," each with their own Regional Executive Committee and Regional Class President – North America, Oceania (Australia and New Zealand), and Europe.
Overseeing the Class worldwide will be an International Board of Governors with a Chairman.
Regional Executive Committees manage the day to day affairs of the Class Association in their Region.
The International Board of Governors liaise on international matters, discuss the long term strategic direction of the Class internationally, and providing oversight for the International Technical Committee.
The Technical Committee becomes an International Technical Committee.
The Class Association preserves our emphatic objective of a Class run on behalf of and by owner members.
The International Constitution went into effect immediately at the AGM on November 17, 2017.