After four races on Day 1 of the Championship, Grace Howie and Meredith Killion had a solid lead going into the second and final day. Sailing with Cardwell Potts and Ted Ferrarone, after the completion of six races (two on the final day), they reported a scoreline of 1-4-3-1-1-2, by far the most consistent performance in the 18-boat fleet whereby they threw out the fourth for a total of 8 points and a convincing win.
When the sailors left the host Noroton Yacht Club (Darien, CT) last night, today's forecast was for very low winds. However, when the fleet arrived today, they were met with 5-6 knot breezes from the southwest which was more than enough to get in two more races. A third race, that would have been Race 7, was abandoned due to a major wind shift and conditions that turned the fleet inside out.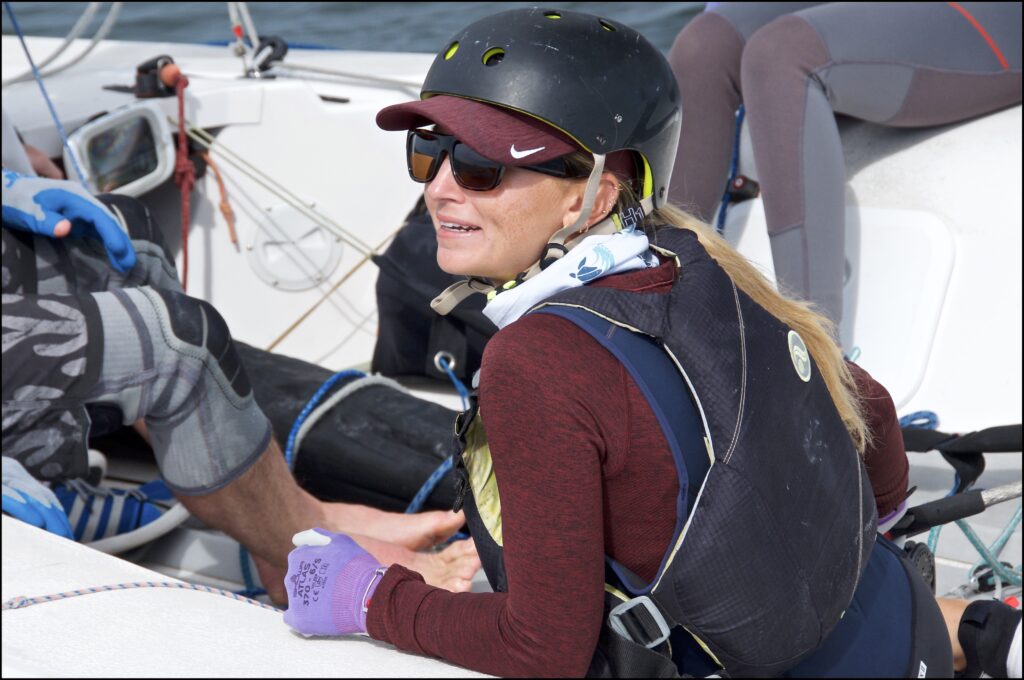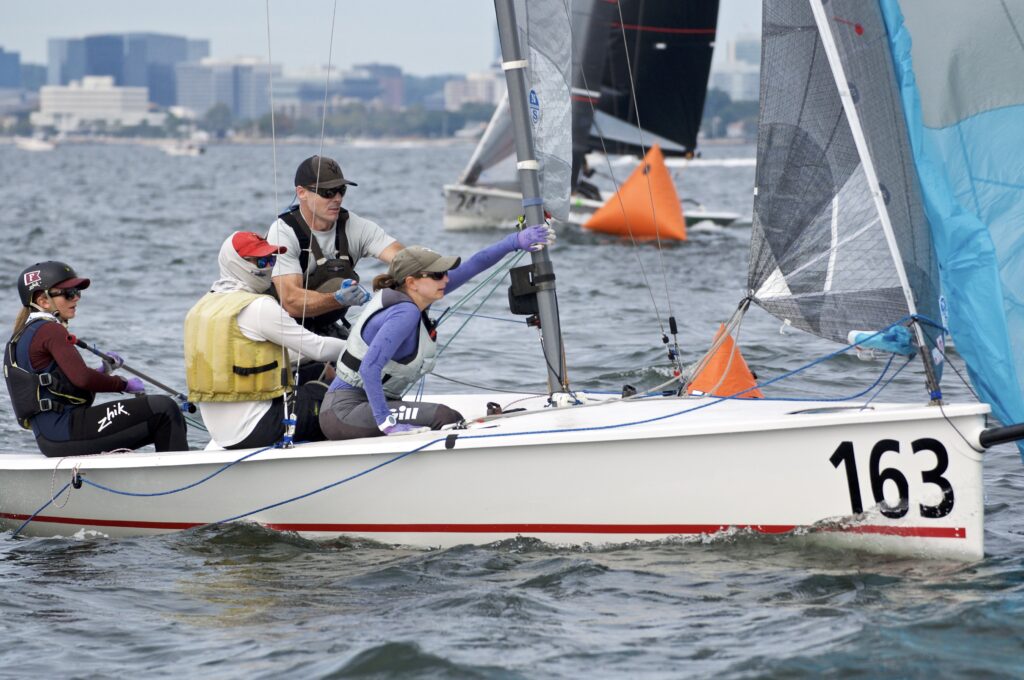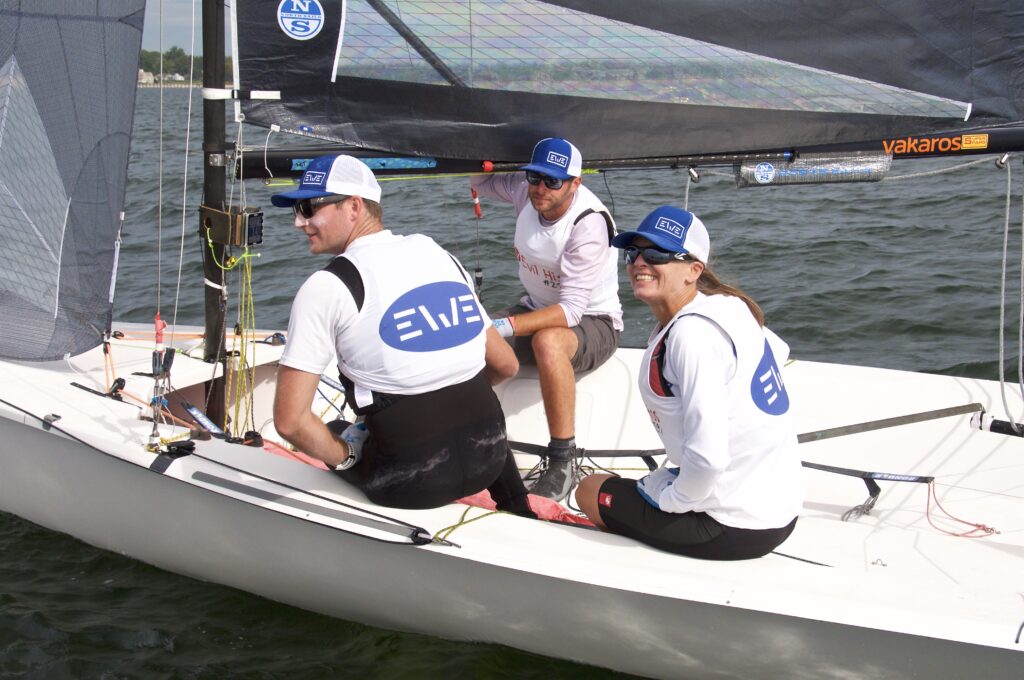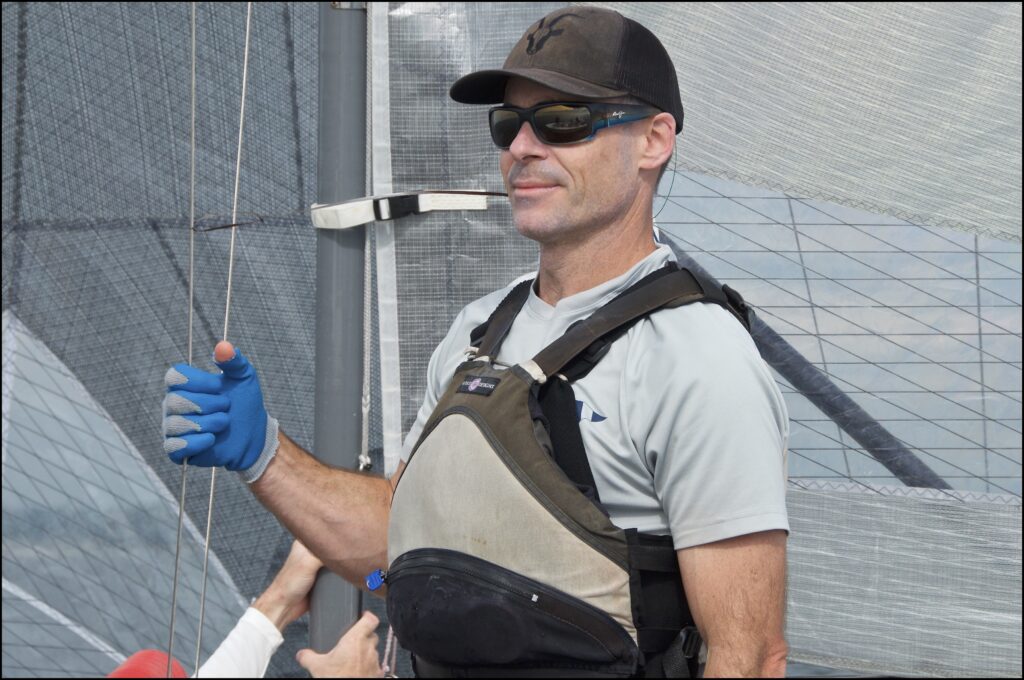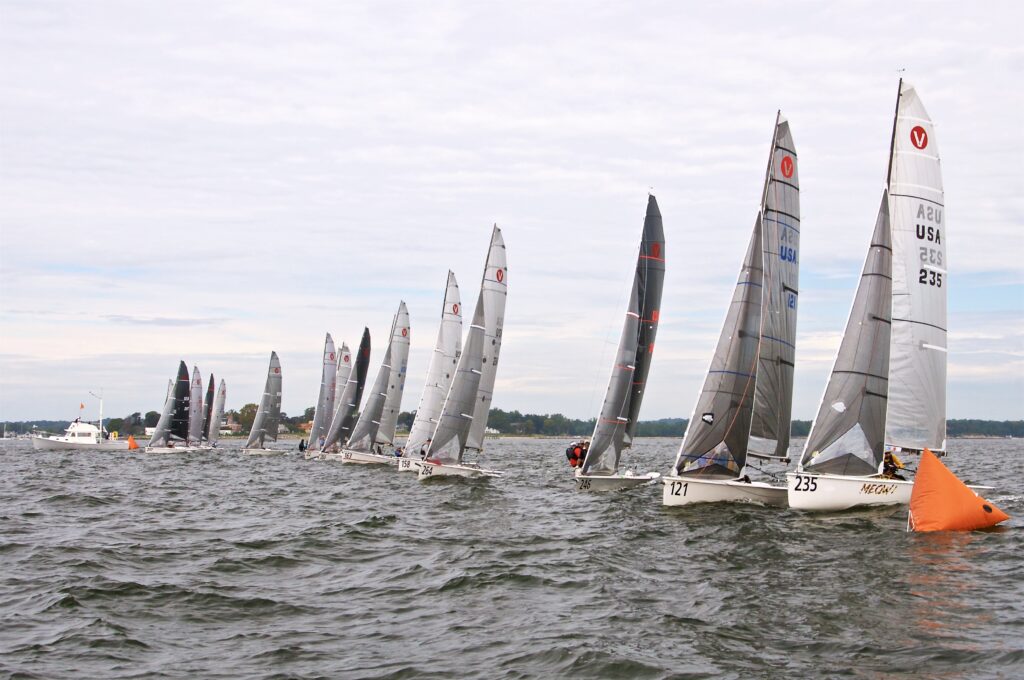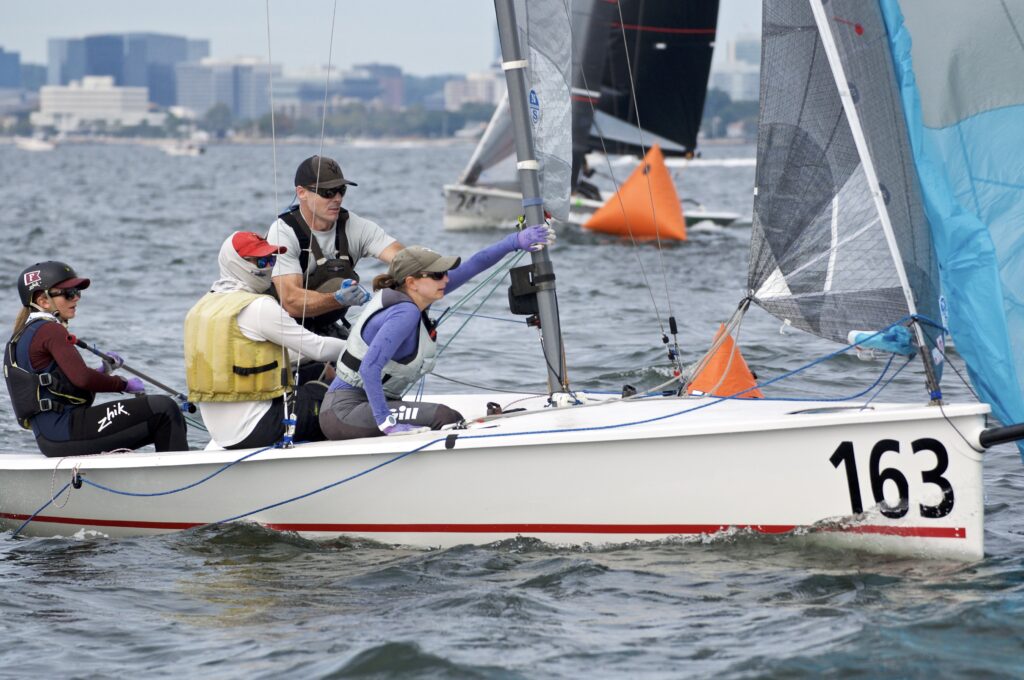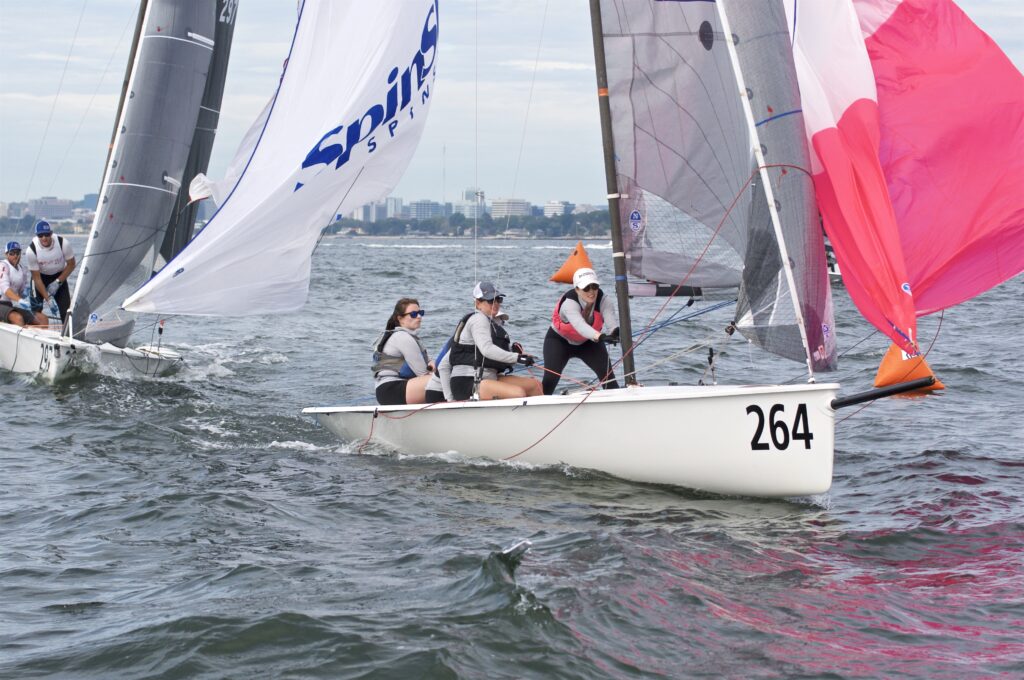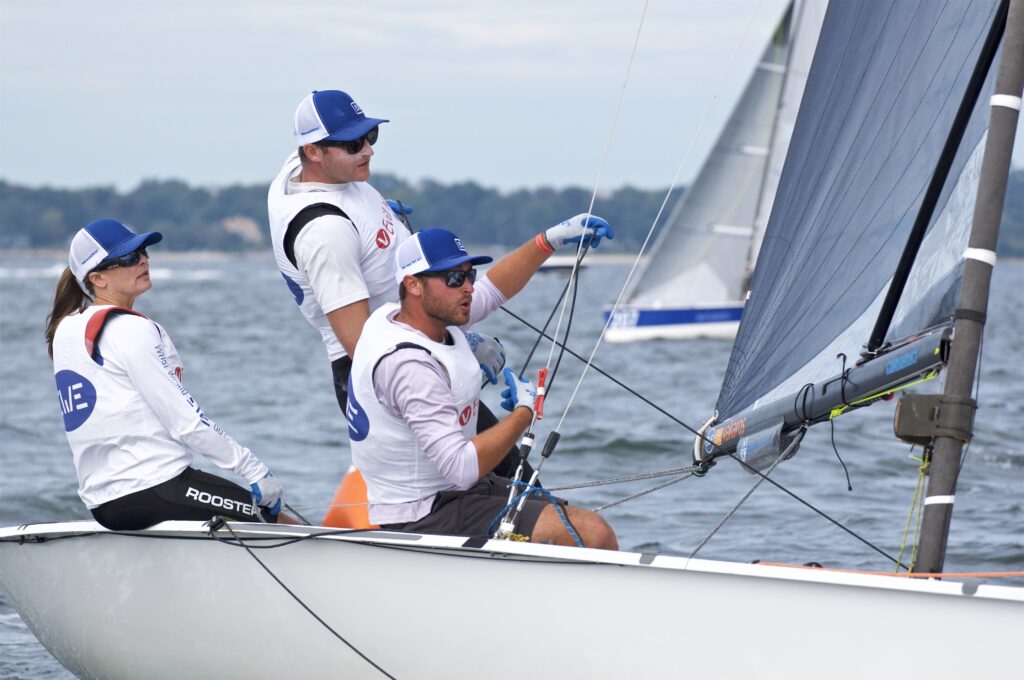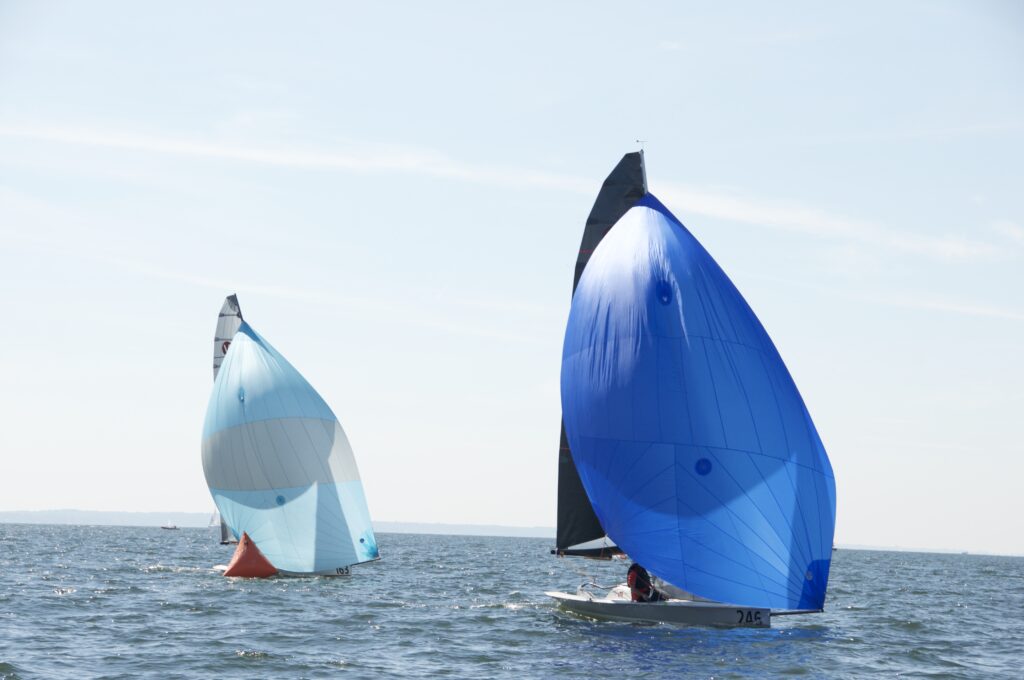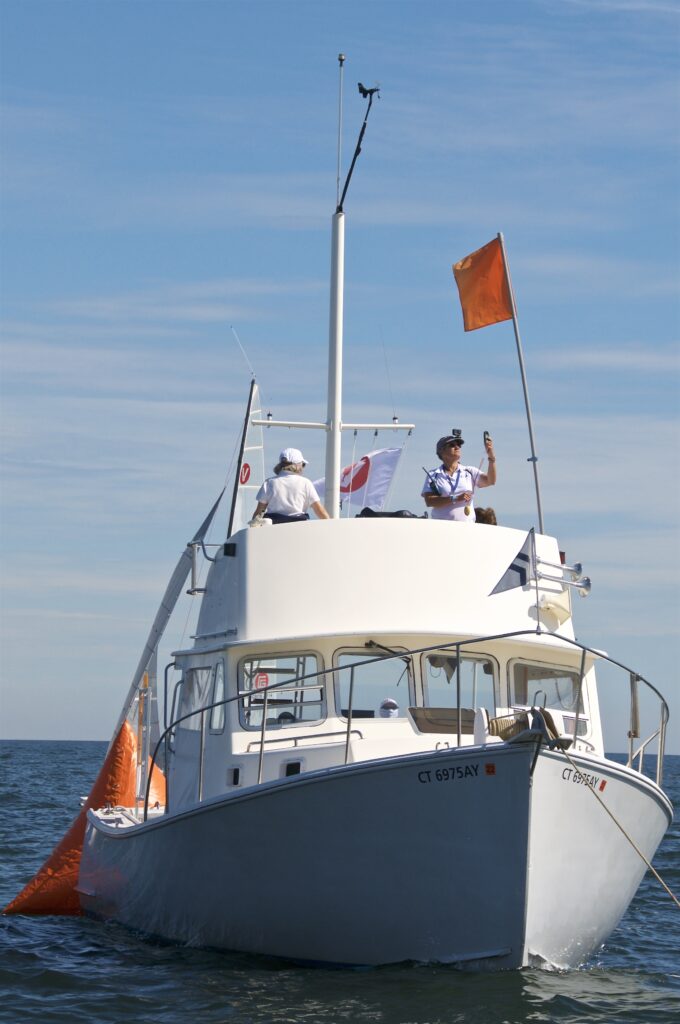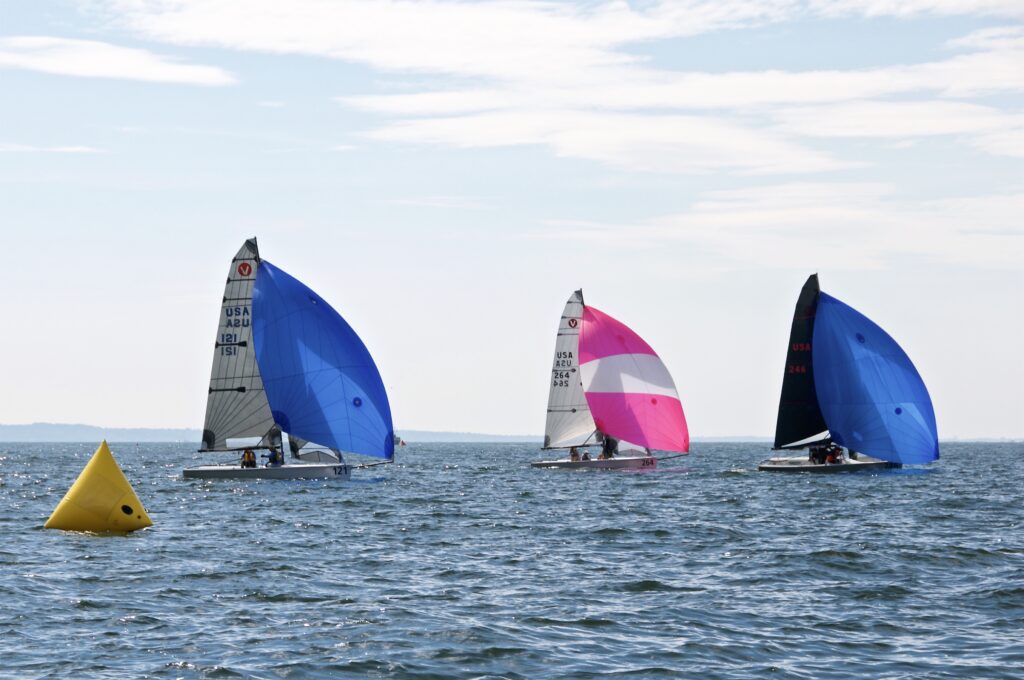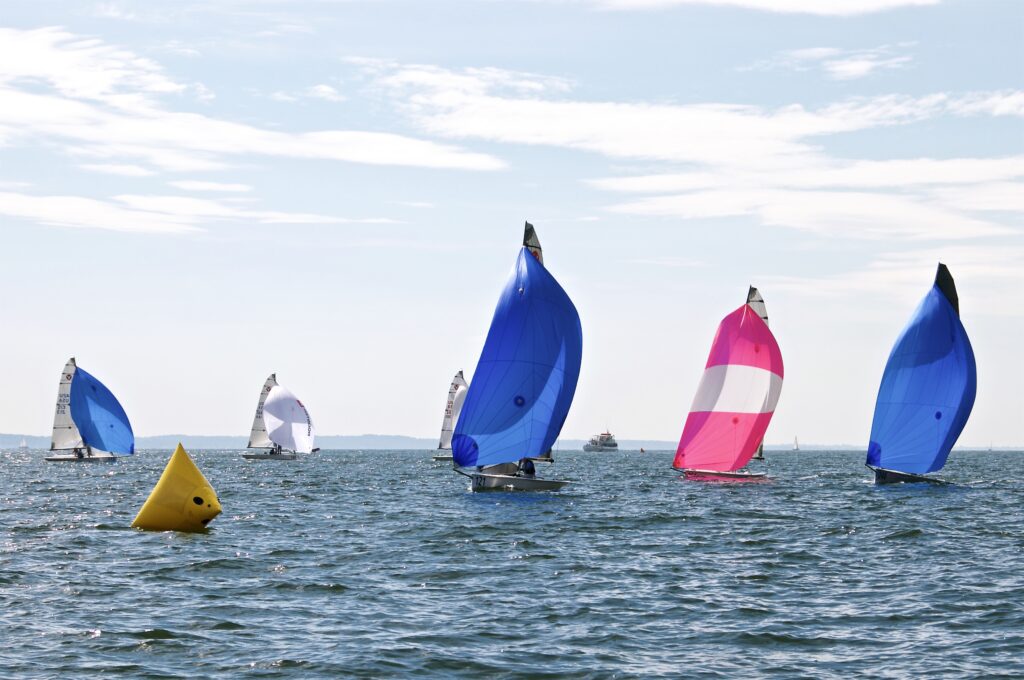 The key for many teams, however, was attaining the sixth race allowing a throw out. This was particularly the case for Cam Farrah (Ft. Walton, FL) sailing with her father Cliff and Jackson Benvenutti. On day one, Cam posted scores of 8-1-1 12, the 12th resulting from an OCS start. Posting a 2-1 performance today and dropping the 12th, Cam and crew moved up from fifth to second with 13 points.
The final podium positions were claimed by Sarah Warren (Pawcatuck, CT) and Hanna King sailing with Mark Zagol and Tim Desmond in third with 16 points; Mary Ewenson (Annapolis, MC) in fourth with 23 point with Austin Powers and Keenan Hilsinger in crew, and Jane Loutrel Moore (Hampton, VA) in fifth with 25 points sailing with her oldest son Parker and friend Marian __________ and Vir Menon.
Today, PRO Sandy Grosvenor (Annapolis, MD) got as much out of the dying winds as possible. Leading an all-female Race Committee comprised of volunteers from over a dozen different yacht clubs, she presented a textbook example of how to keep her committee and sailors informed about changing conditions and anticipated next steps. "The thing that impressed me the most was that the RC team worked together seamlessly. When you have volunteers from over a dozen different clubs—very few of whom had ever worked together before – the way we ran this championship was keenly satisfying," Grosvenor noted. Event Co-Chair Nancy Pearson of the host club added, "I attribute that success to Sandy's organizational skills and the countless hours she put in setting-up this Championship and her volunteer team."
The background of this inaugural Viper 640 Women's North Americans started two years ago, initially to be a Worlds event but curtailed and converted to a continental championship due to COVID19 international travel restrictions. From the beginning, it was acknowledged that it would be difficult to field a sizeable fleet of all-women crewed Vipers as only a handful of the Vipers are owned and regularly helmed by women. Most boats consisted of at least half women or majority female teams, and there was one all-female team.
When asked what allowed them to outperform the other boats, Meredith Killion said, "It was largely a matter of working to keep the boat going fast. It wasn't that shifty, so we weren't tacking or gybing frequently. It was largely a matter of boat speed." Grace Howie continued, "We really had good boat speed up wind, especially when we were in the lead and could concentrate on straight line speed. Being four-up made us heavier than many boats and allowed up to power-up the boat more by pressing, bow down and going fast. Once you got on the long tack, it was a drag race to the mark, and we appeared to have better boat speed than the other boats." Grace also noted how fortunate she was to step onto a boat on which crewmates Cardwell Potts and Ted Ferrarone have been sailing together for close to a decade.
Class Administrator Buttons Padin was live streaming on Facebook throughout the day and his posts, including an on-the-sail-in interview with Grace Howie and Meredith Killion can be seen on the Class Facebook and Instagram pages.
Photos on Facebook @viper640
@norotonYC.org
Photos © Rick Bannerot, OnTheFlyPhotos.net