Jackson Benvenutti Goes Wire-To-Wire to Win Allstate Sugar Bowl 2023 Viper World Championships
New Orleans, LA (March 31, 2023) – The Allstate Sugar Bowl Viper 640 World Championship experienced the extremes of Lake Pontchartrain this week, when it started Monday with no wind and no racing, then finished Friday with too much wind that canceled races after the first one.
But Jackson Benvenutti of Southern Yacht Club sailed to high finishes through all the conditions, scoring only 23 points the whole week to edge out second place Brad Boston of Windsor, Canada, who finished with 27 points.
Benvenutti with his crew Christopher Alexander and Andrew Eagan never lost first place throughout the regatta, although they were tied with Boston after the second day of racing. Overall, Benvenutti took five firsts out of the ten races sailed. Boston took fourth in Friday's race, sailing with crew Lee Shuckerow and Eric Vigrass.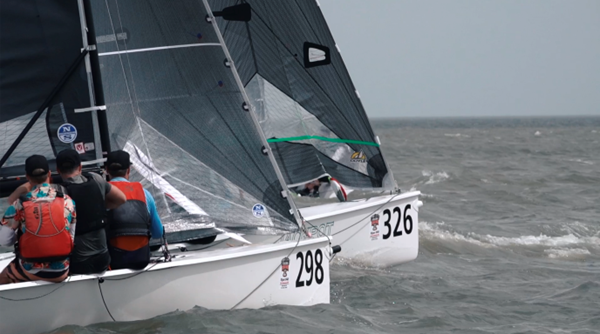 "It was a very breezy day, pretty flat water, though. We just kind of stuck with it," said Benvenutti. "This has been a really big team effort for about a year. We did a bunch of events leading up to this. We kept getting better and better, making sure we were going forward and moving the needle all the time," he added.
"We just put this boat together and we're quite happy that everything's going really well," said Boston. "Jackson and Andrew and Chris just sailed great. Big congratulations to them. Everybody wants to win, but we're happy," added Boston.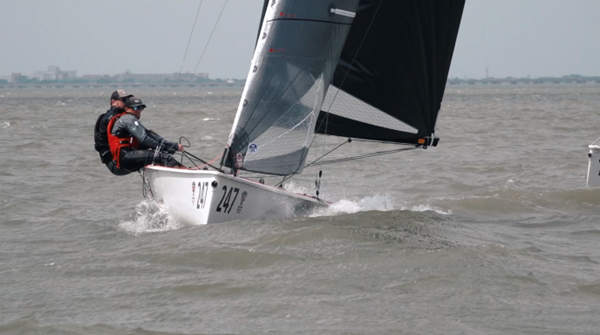 Geoff Fargo of Santa Barbara Yacht Club took third in the regatta with a second in Friday's race. His team included Jon Bell and William McBride. Fargo totaled 38 points, edging out Mark Zagol of Pawcatuck, CT, who finished third Friday and took fourth in the regatta with 41 points. Zagol was crewed by Drew Buttner and Timothy Desmond.
Jimmy Praley from Annapolis, MD, finished fifth with 51 points after climbing as high as third at the end of Thursday's racing. Parley sailed with Mike Coe and Austin Powers, after taking a disappointing 15th in the heavy air Friday.
Zagol won the Corinthian Award for the top all-amateur crew.
Top female award went to Cam Farrah from Ft. Walton, FL. Her crew included Andrew Brennan and her dad, Cliff Farrah.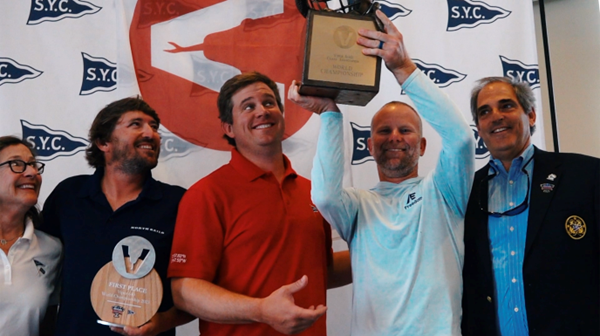 Psycho Tiller crew – First Place: PRO Taran Teague, Jackson Benvenutti, Chris Alexander, SYC Commodore Duff Friend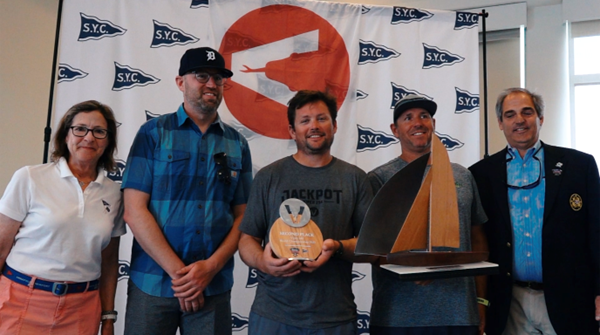 Jackpot Crew – Second Place: PRO Taran Teague, Eric Vigrass, Lee Shuckerow, Brad Boston, SYC Commodore Duff  Friend
The Allstate Sugar Bowl Viper World Championship drew 34 entries from Canada, Jamaica, India and 14 U.S. states from California to Maine to compete for the top prize in one of the most competitive sailboat classes in the world.
"Sailing has been a proud piece of the Sugar Bowl tradition from the beginning, getting its start even before the first Sugar Bowl Football Classic," said Committee President Richard Briede. "We're so pleased and excited to expand on that tradition by sponsoring this year's Viper World Championships on Lake Pontchartrain."
Complete Results
1. Psycho Tiller, USA296, Jackson Benvenutti – 1 – 2 – 2 – 6 – [9] – 1 – 1 – 8 – 1 – 1 ; 23
2. JACKPOT, CAN326, Lee Shuckerow – 4 – 3 – 1 – [11] – 1 – 5 – 5 – 1 – 3 – 4 ; 27
3. Boomslang, USA247, Geoffrey Fargo – 5 – [9] – 4 – 9 – 4 – 3 – 2 – 3 – 6 – 2 ; 38
4. NESS, USA158, Mark Zagol – 3 – 5 – 5 – 3 – [7] – 4 – 6 – 5 – 7 – 3 ; 41
5. Robot Flamingo, USA298, Jimmy Praley – [34/UFD] – 1 – 8 – 10 – 3 – 2 – 3 – 7 – 2 – 15 ; 51
6. Merica, USA255, Karl and Paul Kleinschrodt – 11 – 10 – 3 – 13 – [20] – 6 – 4 – 2 – 4 – 6 ; 59
7. Crazyhorse Mongoose, USA232, Zak Fanberg – 12 – 6 – 7 – 2 – [18] – 7 – 7 – 4 – 5 – 12 ; 62
8. Southern Challenge, USA312, Ricky Welch – 2 – 7 – 9 – 1 – 6 – 12 – 8 – 12 – 9 – [24] ; 66
9. Loco, USA287, Ed Feo – 6 – 8 – 6 – 4 – 11 – 9 – [24] – 6 – 11 – 5 ; 66
10. Team Z, USA237, Marek Zaleski – 8 – 4 – 10 – [14] – 10 – 8 – 13 – 11 – 14 – 11 ; 89
11. Great Scott!, USA269, Peter Beardsley – 10 – 19 – [22] – 12 – 8 – 14 – 10 – 9 – 8 – 16 ; 106
12. Spitfire, USA 314, Nick Lovell – 16 – 14 – 11 – 7 – 15 – 15 – 9 – [18] – 12 – 10 ; 109
13. Strategery XI, USA246, Cam Farrah – 7 – [21] – 17 – 5 – 12 – 20 – 18 – 14 – 10 – 9 ; 112
14. Juicy, USA285, Mike Levert – 9 – 13 – [20] – 17 – 2 – 13 – 16 – 13 – 19 – 13 ; 115
15. Meow!, USA294, Cole Constantineau – 15 – 12 – 12 – 8 – 13 – 16 – [19] – 16 – 18 – 8 ; 118
16. Caterpillar, USA277, Peter Ill – 17 – 16 – 14 – 20 – [26] – 10 – 14 – 22 – 17 – 7 ; 137
17. Rolling Thunder, IND188, Vir Menon – 24 – 15 – 13 – 16 – 16 – [34/UFD] – 12 – 17 – 23 – 23 ; 159
18. Oshunmare, CAN328, Steve Chapman – 18 – 18 – 15 – [28] – 24 – 18 – 15 – 19 – 13 – 19 ; 159
19. Mr Humble, USA254, Zane Yoder – [34/UFD] – 25 – 16 – 15 – 27 – 11 – 20 – 15 – 15 – 34/DNC ; 178
20. Sparky, USA253, Michael Puleo – 13 – [30] – 24 – 23 – 5 – 19 – 25 – 26 – 21 – 26 ; 182
21. Evil Hiss, USA297, Mary Ewenson – [34/UFD] – 17 – 18 – 19 – 22 – 21 – 21 – 10 – 34/UFD – 22 ; 184
22. Widespread Panic, CAN194, Arden Carleton – 27 – 22 – 21 – 22 – 14 – 26 – [30] – 20 – 26 – 17 ; 195
23. All Fruits Ripe, JAM127, Marina Maffessanti – 20 – 11 – 28 – 29 – 17 – 17 – 17 – [34/DNC] – 24 – 34/UFD ; 197
24. Suspect, USA260, Mike Lebov – 23 – [29] – 27 – 18 – 21 – 22 – 23 – 24 – 22 – 18 ; 198
25. KAA, USA129, Carson Downing – [25] – 23 – 19 – 24 – 19 – 23 – 22 – 23 – 25 – 20 ; 198
26. USA 301, USA301, Gabriel Ferramola – 21 – 27 – 25 – 21 – [34/UFD] – 24 – 11 – 34/UFD – 16 – 25 ; 204
27. Big Energy, USA180, Doug Jensen – 29 – 24 – 29 – 25 – 23 – [34/UFD] – 26 – 25 – 20 – 21 ; 222
28. Touch of Grey, USA15, Adam White – 14 – 26 – 23 – 27 – 25 – [34/UFD] – 27 – 21 – 28 – 34/DNC ; 225
29. Patched Up, USA39, Marcelo Pereira – 28 – 20 – 26 – 30 – 30 – 27 – [34/DNS] – 28 – 29 – 14 ; 232
30. Ringle, USA154, Richard Samuels – 19 – [34/DNC] – 34/DNC – 26 – 29 – 25 – 31 – 27 – 31 – 34/DNC ; 256
31. Eight Second Ride, USA220, Steven Taylor – 26 – 28 – 30 – 31 – 28 – 30 – 29 – 30 – 27 – [34/DNF] ; 259
32. Boat, GYA101, Jeffrey Willis – 22 – [34/DNC] – 34/DNC – 34/DNC – 34/DNC – 28 – 28 – 29 – 30 – 34/DNF ; 273
33. Flight Risk, USA122, Heather Patterson – 30 – 31 – 31 – 32 – [34/DNC] – 29 – 32 – 34/DNC – 34/DNC – 34/DNC ; 287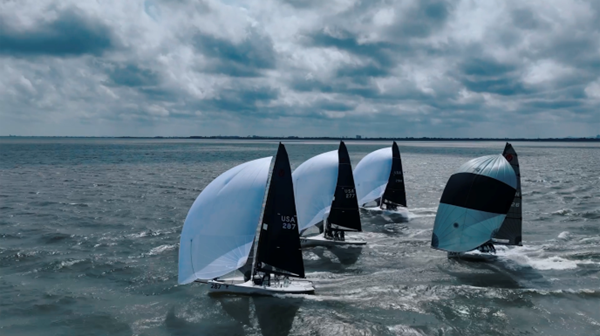 Text Credits: Allstate Sugar Bowl Viper 640 World Championship 2023
Photo Credits: Allstate Sugar Bowl Viper 640 World Championship 2023
Video Credits: ICARUS Sports