Brad Boston Keeps Pace With Jackson Benvenutti At The Top Of Allstate Sugar Bowl 2023 Viper World Championship
VIDEO: Allstate Sugar Bowl Viper 640 World Championship 2023 Day 4 Highlights (Races 6-9)
New Orleans, LA (March 30, 2023) – On a Chamber of Commerce sailing day on Lake Pontchartrain, Brad Boston of Windsor, Canada maintained a tie at the top with Jackson Benvenutti of New Orleans in the Allstate Sugar Bowl Viper 640 World Championship after four more races on Thursday.
The skies cleared overnight, and the winds stayed fresh out of the east all day building to about 14 knots. That gave the Race Committee the opportunity to complete four races, the maximum allowed by the regatta rules.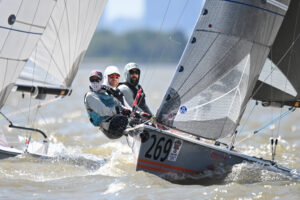 PARKER WATERS
Boston posted finishes of 4-5-1-3 to total 22 points, the same as Benvenutti, who finished 1-1-8-1 for the day. Boston has skippered the boat during the regatta, even though Lee Shuckerow was listed as skipper in the official documents. Boston sailed for Canada in the 1996 and 2000 Olympics.
Boston's crew includes Lee Shuckerow and Eric Vigrass. Benvenutti's team includes Christopher Alexander and Andrew Eagan, the latter of whom sailed with Benvenutti on the 2019 Viper Worlds winner, then skippered by Marcus Eagan.
Jimmy Praley from Annapolis, MD, was able to exclude his score from the first race when he was disqualified at the start. Sailing with Mike Coe and Austin Powers, Praley posted a record of 2-3-7-2 Thursday, placing him third with 36 points, one ahead of Mark Zagol of Pawcatuck, CT, who went into the day in third place and is now just one point behind in fourth.
Zagol of Pawcatuck, CT, is sailing with Drew Buttner and Timothy Desmond.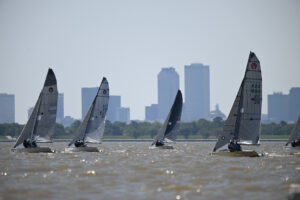 PARKER WATERS
The regatta rules allow competitors to exclude their worst score if six or more races are sailed, and after Thursday, the regatta is back on track for a total of 12 races if conditions hold steady on Friday.
The Allstate Sugar Bowl Viper World Championship has drawn 34 entries from Canada, Jamaica, India and 14 U.S. states from California to Maine to compete for the top prize in one of the most competitive sailboat classes in the world. The Viper 640 is a two-to-four-person, high-performance sport boat about 21 feet long.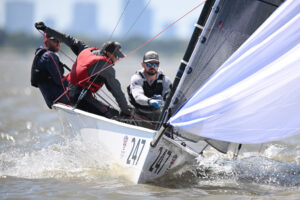 PARKER WATERS
The 640 is strict one-design with no changes permitted to the boat as supplied by the class approved builder. The only option is sails, supplied by class approved sailmakers and strictly controlled through class rules.
"Sailing has been a proud piece of the Sugar Bowl tradition from the beginning, getting its start even before the first Sugar Bowl Football Classic," said Committee President Richard Briede. "We're so pleased and excited to expand on that tradition by sponsoring this year's Viper World Championships on Lake Pontchartrain."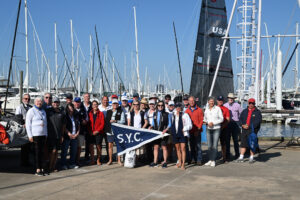 PARKER WATERS
Facebook: @Viper640
Instagram: @viper640class
Youtube: @Viper-or1bu