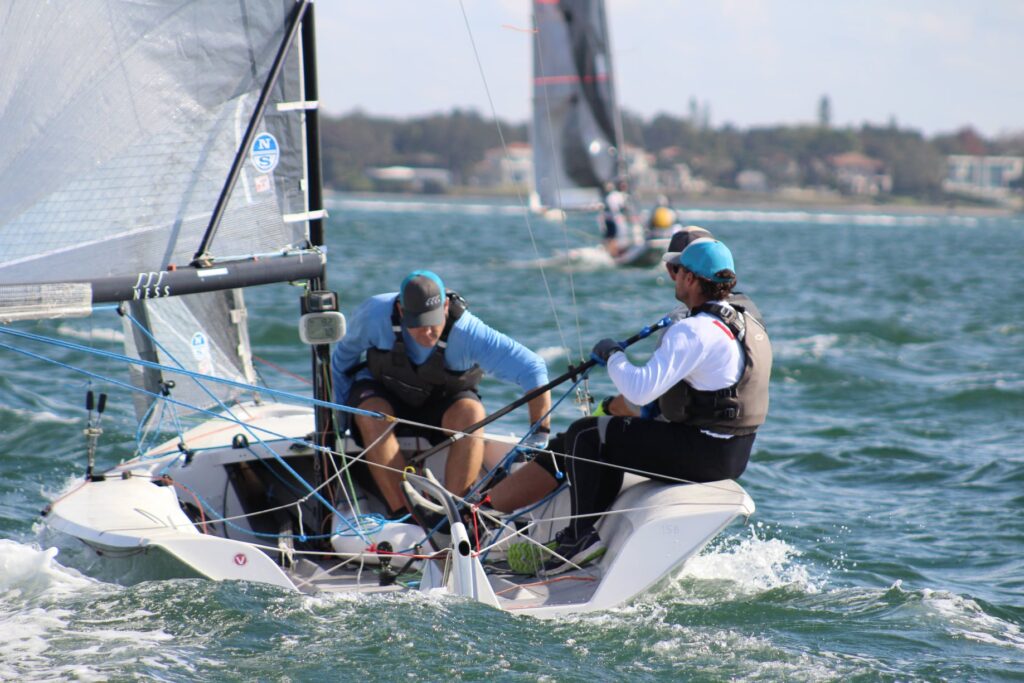 One of the many things that distinguishes the Viper Class from others is the willingness of those at the front of the pack to share their techniques with those in the middle and bottom. This happened again in Sarasota. Here are a few words of wisdom from the top 3 finishers on how their regatta went.  Hopefully you will find some hidden gems in these few paragraphs that will help you in the future.  
1st place – NESS (#158)  Mark Zagol
Viper Sailors…Just some thoughts from this past weekend in Sarasota on the starting line
So what goes into preparing for a good start or at least a decent start?  Here are some quick thoughts.   
Do some run throughs.  Go upwind on Starboard tack from the boat end and the pin end, this should give you a good sense of your time and distance to the line (the time you need to accelerate to full speed) at each end of the line for that day's conditions; do this a couple times.   This will also give you a good sense of which end is closer to the windward mark and or which end is favored.  Knowing your angle off the line is very important.
Get your numbers.  As you go upwind be sure to get your compass headings on Starboard as well as on Port.  As you do this stay in phase (tack on the headers and see how long the lifts last).   This will not only get you thinking about sailing fast but also tactically.
Grab a line sight.   Most of the time you can't see it but your forward person can and they can feed you information about your distance to the line.
Stick with a routine.  I think this might be the most important part of your starts.  By this I mean your final approach.  Are you more comfortable with coming in on Starboard from the boat end or with a port approach from the pin.  I almost always come in on Port for our final approach as I can see the boats setting up on the line easier that way.  I also tend to tack or gybe into my final approach around 1:30 no matter where I start, its just my routine.
Now the next part I'm going to jump forward a bit.  If you think about starting in general and who you are actually racing against, I think of it as if there are only two other boats on the line, the boat above me and the boat below me.  No matter how big the fleet size is, 10, 20 or 50 I'm only focused on those two boats.   My goal is simply to beat those boats off the line.  If this all goes to plan and I pull ahead of those two boats then I look at the next boat to leeward and the next boat to windward, still only racing against two other boats.  This remains the same for what I like to call the 100 yard dash.   If I'm at the pin and someone gets a really good start at the boat I'm not really racing them yet, we obviously have different game plans and our paths might cross later in the beat or run but I don't worry about them off the line.
So then how do I beat those two boats off the line.  You have all heard it before but be tighter to the boat above you than the one below, creating a "hole to leeward".  This will allow you to put the bow down and accelerate through the line.  Use these boats' bows as a reference point and keep yourself even with them.  As you start to accelerate make sure you don't over trim the jib too early, keep some depth for power and speed until you need height and then you need jib sheet tension.   Have your Gnav pre-set so that it is just snug when you ease your main about a foot.  Remember you can either carry leach tension with your mainsheet or a quick pull of the Gnav to tighten your leach and headstay.   Mainsheet tension is key.   Keep the boat with as little heel as possible, doesn't need to be flat but mostly flat.   Hike hard if you can for that 100 yard dash off the line.
For those who obsess over pinging the ends of the line this is what I suggest.  Stop Pinging and Start working on your starting routine.   I feel that too often people are spending too much time pinging the ends of the line instead of actually preparing for a good start.   By the time you finish Pinging, the sequence has started and the giant pre-start oval begins. 
On a side note, we don't ping the ends, maybe we should but I feel as if it takes some of the fun away from starting, kind of like a coach telling you to get a little closer, little closer, too close…. I also think it can be a distraction, kind of like having boat speed to look at (we don't use that either).
2nd place – Great Scott! (#269)  Peter Beardsley 
  Top three takeaways for us:
Boat prep: I am a big boat prep guru in general and there's a lot that I can write about this, but your keel needs to be fair and not move around in the keelbox, you can't lose races on shore and put letters in your scoreline due to broken halyards, broken universal joints, sticky GNAV tracks, etc., and you need to understand the fundamentals of the tuning guide and how to set up the boat.  Sunday morning walking through some boats owned by new owners, almost all of their jib leads were set for Fremantle Doctor conditions, for example, as opposed to 5-10 kts.  If you do those things, you're 60% of the way there.

In conditions like we had this weekend (at windiest: marginal planing, mostly not hiking), you need to weather sheet the jib, more than you would expect – we aim to put the clew around where the deck is glued in.  It was a 2-4 degree height differential upwind between the teams who were weather sheeting effectively and the teams who weren't.  

At all times, but especially downwind, you need to keep the boat moving.  Speed begets speed.  Downwind in non-planing conditions, we've altered our technique to sail a bit hotter than we used to, esp. at the first sign of chop. 
3rd place – Jackpot (294) Eric Vigrass
After traveling back home to the cold and having some time to reflect about this past weekend here are a few takeaways from the Jackpot team.
First of all, what beautiful conditions we had. Saturday was picture perfect and Sunday lined up great for some classic light air Sarasota racing. The addition of the markset bots was very efficient and allowed us to get lots of races in a timely manner.
Saturday, I thought the key for us was to be patient. The best pressure upwind seemed to be on the left but most of the shifts seemed to go right. With that being said it was a delicate balance between heading towards the pressure and waiting for a good number to take some steps to the right.
With no offset at the top mark it was important to have a good rounding.  For us that meant working hard to keep the boat flat through the turn while having a good hoist. This meant easing the gnav, and trying to cheat the hoist and tack line as much as possible. Downwind, going straight seemed to keep us in the pressure and set us up to take advantage of the little righties at the bottom of the course. I also thought maintaining a constant heel angle downwind helped keep us fast.
Sunday was more of the same. The wind direction was a little farther right with less velocity. In the lighter winds the passing lanes become harder to come by. For us this meant it was important to get off the line clean and to try to stay out of traffic.
A big thanks to Travis, Alyssa, and the team at Sarasota Sailing Squadron for hosting us again. Also, thanks to Ed at Sail 22 for putting the bots in the right spots and keeping us honest.
Congratulations to Mark and his team on Ness, another flawless regatta. Also, our friends on Great Scott who are always tough to stay in front of. It was great to see everyone and I hope to see you all on the water again soon.