Miami, we're back!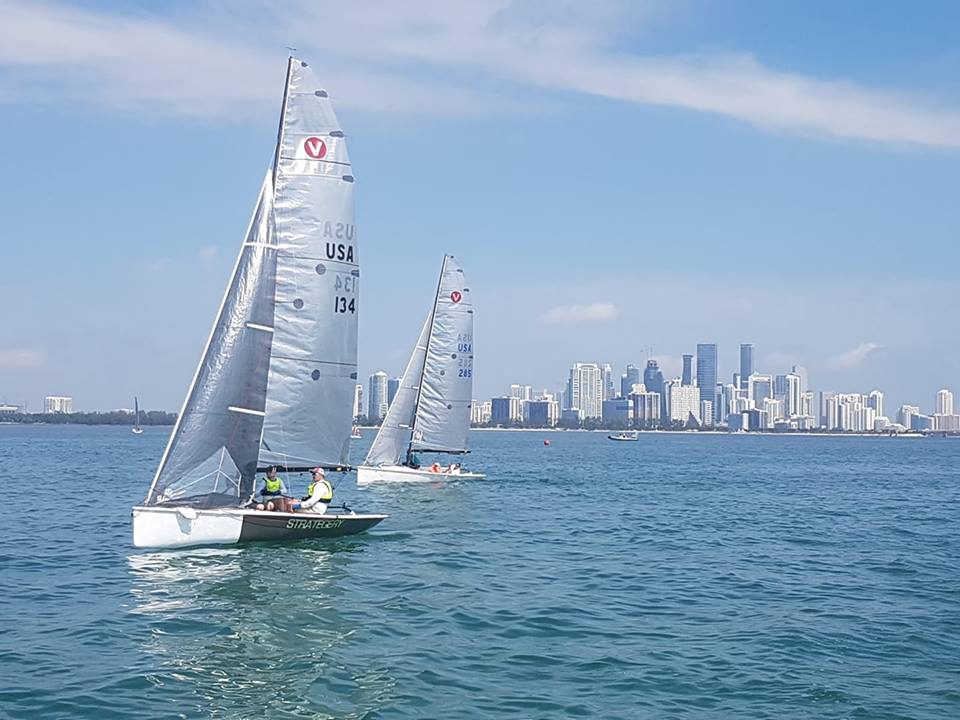 Extremely close racing at the Viper 640 Winter Cup has officially kicked off the Viper 640 class' week-long 2019 Bacardi Cup Invitational Regatta. In the two-day series, sailed in beautiful 80+ degree days in Biscayne Bay, the fleet managed light to moderate breezes and intense competition that saw the score sheet radically flipping and moving after every race.  When the squall had passed through the course on the last race of the series, Jackpot/Northern Honey Badger, sailed by Bill and Joanne Abbott and Scott McNeil stood triumphant after dropping their DNS from the first race.  The racing was extremely close—1st through 3rd were decided by 3 points, and 4th through 7th were decided by 2!
As the fleet gathered on the lawn of Coral Reef Yacht Club after racing, the story of the day was probably the small squall that passed through on the final race, ending race committee's (Dan Tucker and his daughter Dana) plans for a normal race.  Just after the start, the rain clouds over South Miami started to bubble into something more substantial. By the 2nd upwind, the fleet was enjoying the refreshing shower from the small squall, which then promptly shut off the sea breeze and allowed the prevailing winds to take over, a 90+ degree wind shift. Boats that hoisted kites quickly took advantage, as did those that recognized the sea breeze was gone for the day and the southwesterly was there to stay. The topsy-turvy race was indicative of the overall series, with fleet positions flip flopping as the squall made its way through.  t was a fun ending to the Winter Cup, that's to be sure.
The Class extends a special word of thanks to Dan and Dana Tucker for stepping in at the eleventh hour to run the regatta and this video.
The fleet now looks forward to kicking off the famous Viper Scorch to Biscayne Key, and No Name Harbor, where a Cuban buffet awaits! Winds are looking perfect for the event, with 17 knot northerlies likely to provide a screaming reach across the bay.  The main event, The Bacardi Cup Invitational Regatta, runs Thursday through Saturday, and promises to be as closely contested as the Winter Cup!