The 2018 Viper New England Championship was conceived by Peter Beardsley as an informal local regatta to act as a rendezvous regatta that rotates around the New England Viper fleets each year. There is no perpetual trophy, the emphasis is on some great sailing and good friends from the North East Viper fleets getting together.
This year the event was hosted by Noroton Yacht Club where we are celebrating opening our new club house. We were thrilled to host 25 boats overall. A special feature this year was Class President Steve Chapman and team Oshunmare from Ottawa, leading a delegation of 5 boats to visit us from Canada.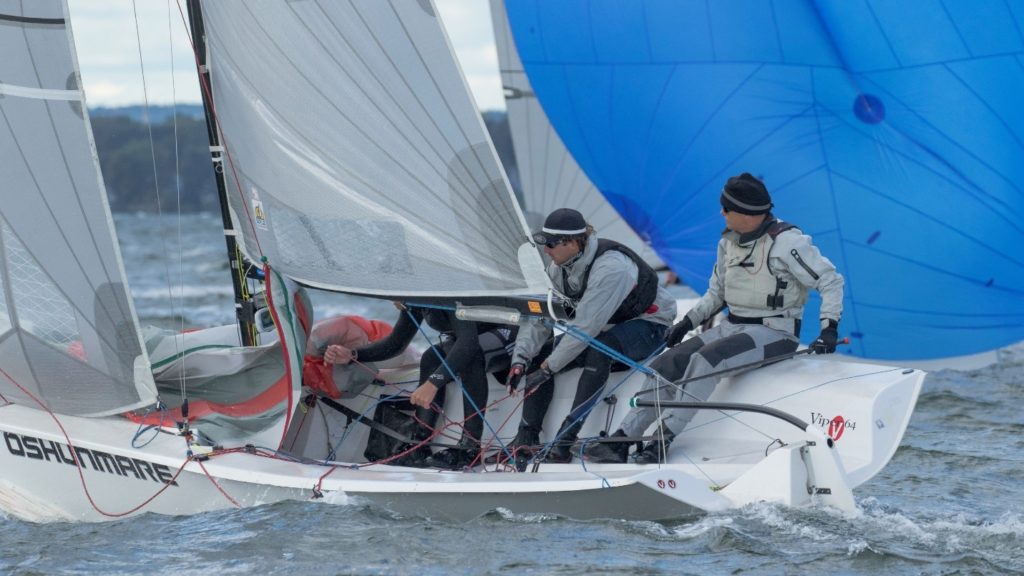 The Canadians made their mark on the regatta.  Team Jackpot from Sarnia (Brad Boston, Curtis Florence and Eric Vigras) won on the water, with Mo' Grins' Dave Nickerson and Moise Solomon and Mambo Kings Justin Scott hot on their heels. It was tight racing all around with only six pts separating 2nd to 7th place.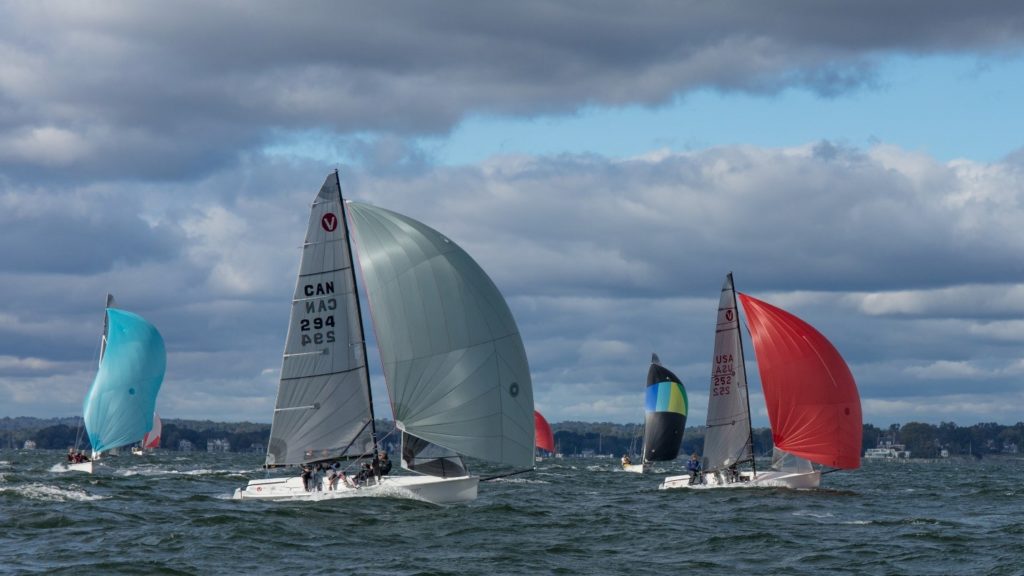 Team Black Sheep (Darren "Giby" Gilbert, Brian Johansen and Jake "shady" Wolney) from London Ontario, won the party, posting images to the event Facebook message thread at 3.45 am from a rooftop bar in Manhattan!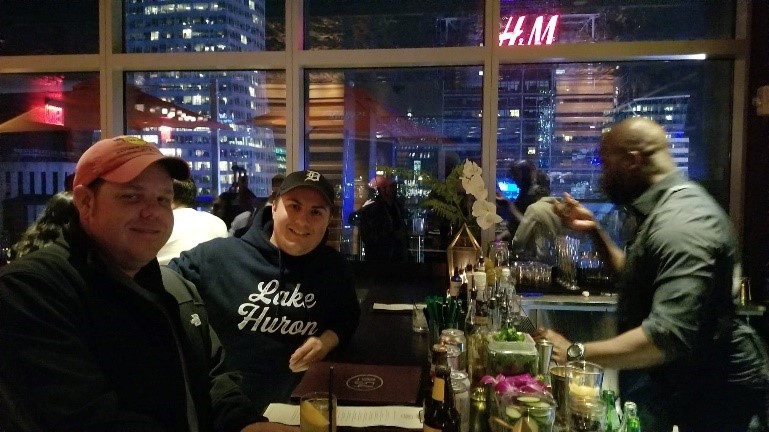 The loudest applause at the prize giving came for Laura Molimard from Vaudreuil, Quebec, who at 14-years-old won the award for the youngest sailor on the course sailing with "crew" of her father and her uncle.
We enjoyed champagne sailing over two days and eight races in 10 – 15 knots.  Participants came from the fleets in Hampton VA, West Long Island Sound, Fishers Island Sound, Nyack, Marblehead….and Canada. We had an amazing dinner on Saturday evening at the club. Here are some images from the sailing:
Champagne Downwind runs……and mystery kite logos!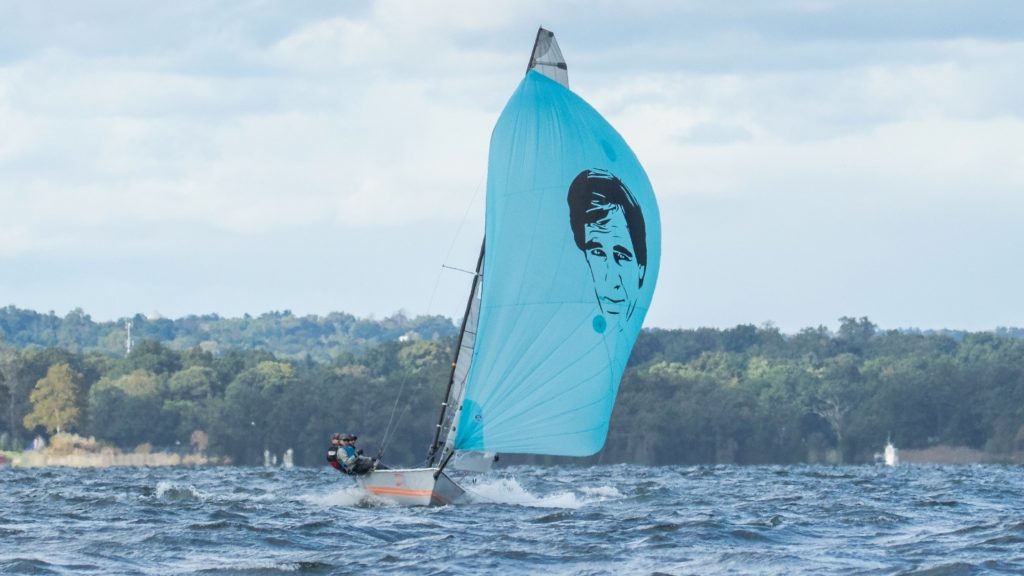 It was close racing all weekend.
At the Starts: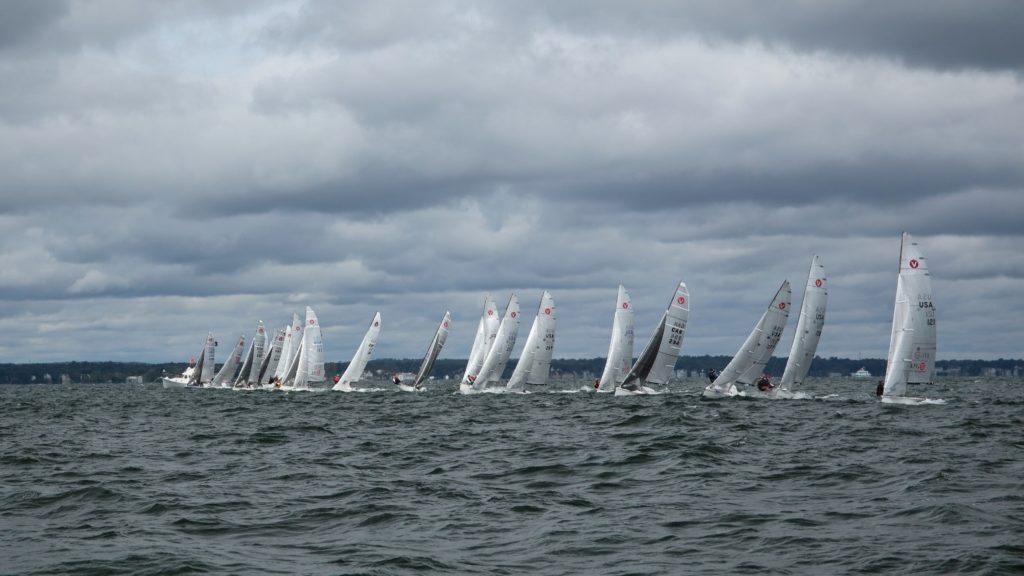 At the top of the windward leg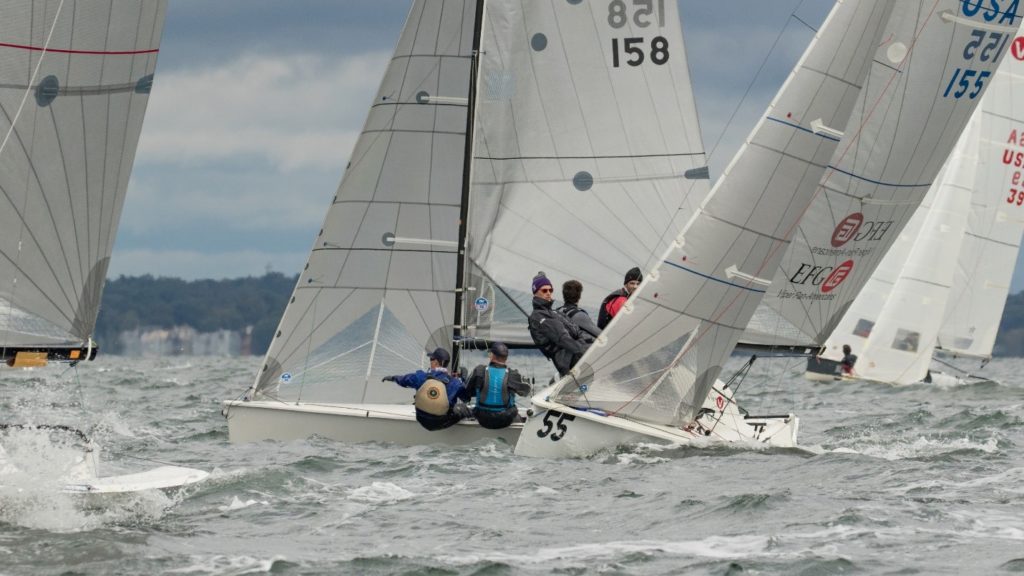 At the Offset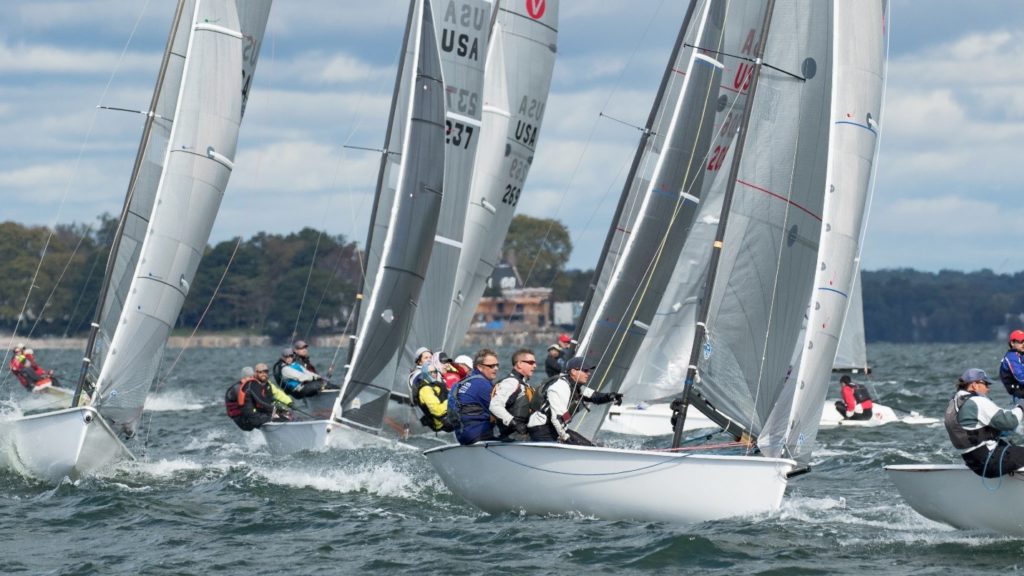 And at the Leeward mark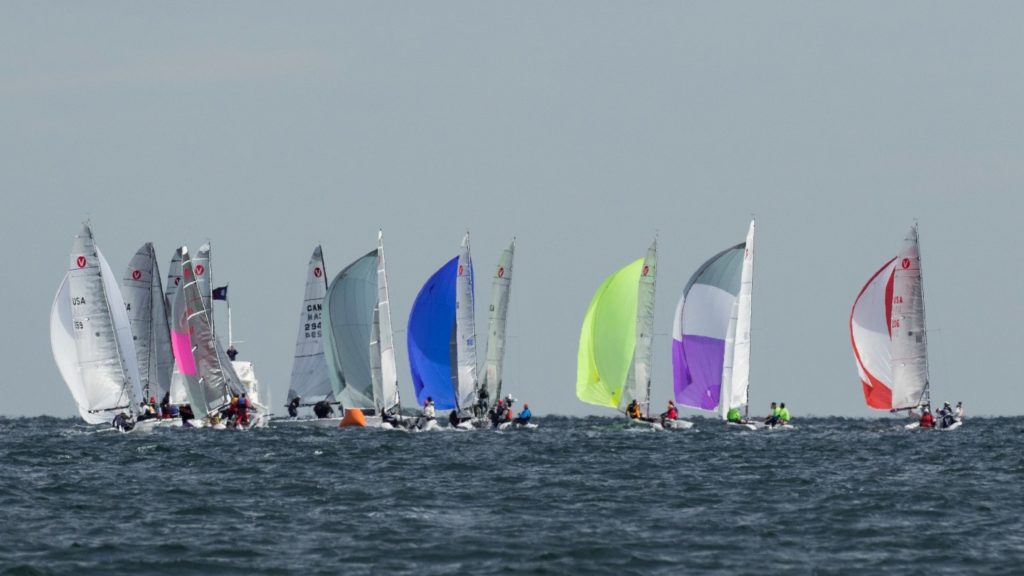 Joe Healey punching off the line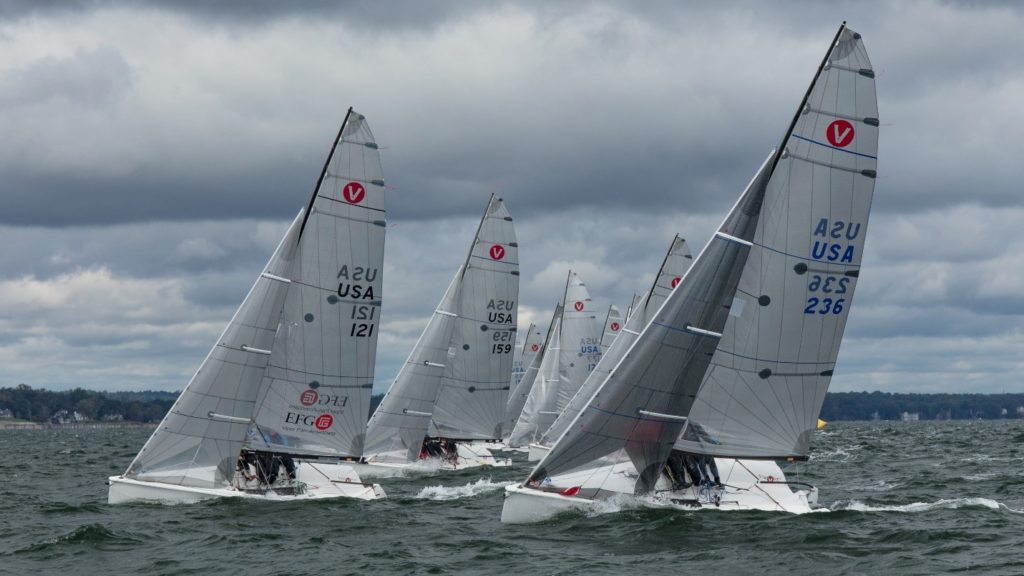 Last downwind of the day on Saturday before heading in for beer, cocktails and dinner at the Osprey Bistro.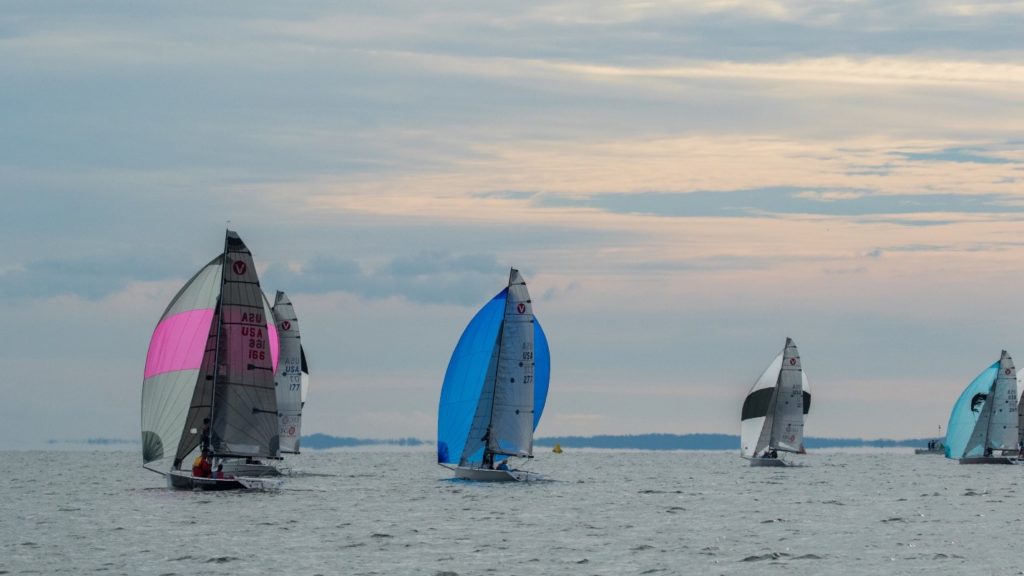 Results are HERE.
The New England Championship will be hosted by the Marblehead Fleet next year. In the meantime, we look forward to seeing you all in Hampton and Sarasota.
Photo Credit to Harry Milne