South African Viper 640 Fleet Report
As Reported By Alec Schon, Lake Deneys YC
SA Vipers post Long Beach Worlds
After we had finished the 2019 Worlds in Long Beach, CA, most of us spent a couple of days exploring California. My partner and I took the scenic route to San Francisco and spent a lavish night there before our trip home.
After we arrived back in a now much warmer South Africa, it was straight into preparation for Keelboat Week which takes place at Vaaldam (our local "pond" which is about 100km south of Johannesburg). There were 19 boats in the gold fleet which in numbers was dominated by J22's. Nevan Lucas, Steve Haywood and Yolande van der Vyver entered on Antidote 118, whereas Rafiki 290 was sailed by Marco Seitz (my trusty midshipman), hid dad Wolf and our mutual friend Dirk. This event (as all of our local events) are sailed on PHRF and on windward/leeward courses the Vipers had a tough time of it. Antidote finished fifth overall and Rafiki in tenth.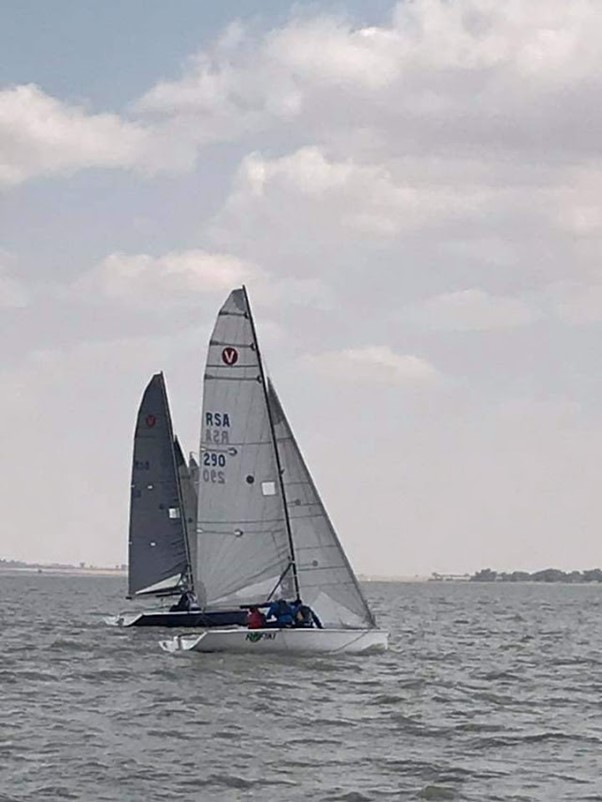 We then had a fairly long break until the first of January when we hold an event called the Single-handed Round-the-Island Race (also known as the Hangover Handicap). This race starts at our club (Lake Deneys Yacht Club) and goes around Groot Eiland ("Big Island" for those that aren't familiar with our local Afrikaans language) and back to LDYC. A trip of around 24km (13 Nm).
Thirty-three intrepid sailors were at the start line with myself being the lone Viper entry (my ticker had by now recovered sufficiently). (Editor's note: Single handing a Viper with a chute – Yikes. Talk about seamanship!)
The fleet was a mixed bag of boats and the strong winds that were predicted didn't materialize. The 8-10 knots at the start, however, ensured that full hiking was required on the beat to the island and the two other sports boats on the fleet (Melges 24 and Pacer 27) used their waterline length to good effect and lead the keelboats to the island – The Nacra 20's and Hobie 18's were quite a long way ahead at this stage. At the back of the island we could ease the sheets and enjoy some easier sailing. Once around the northern island of the island it was time to hoist the kite (quite a challenge on one's own) and enjoy the ride home. By about a third of the way back I had caught up to the Melges and, soon after that, I managed to get past him. The wind had by now had gotten very shifty and I must have hoisted/dropped the chute another four times. With 50m to go to the finish I managed to pass the Pacer 27 and take keelboat line hounours and third overall on Handicap.
The first weekend in February then presented us with our annual Round-the-Island Race. This race, by the way, holds the record in the Guinness Book of Records for the largest inland event in the World and has had 389 finishers in the past). The event this year attracted around 280 boats and over the years has taken on the format of a more formal regatta. On Friday afternoon, the Commodores Cup is held for the early arrivals (this is scored independently) and on the Saturday there some early morning sprint races with the official tune up race being held in the afternoon. Two Vipers entered this year, Antidote sailed by Nevan, Steve, and Yolande and Rafiki with my crew aboard – (Greg Plunkett and Richard Wiederholdt choosing to sail their Nacra 20 in search of line honours).
The sprints and tune up race on Saturday saw Antidote leading the fleet with an impressive scoreline of 1,4,1, whereas Rafiki only the sailed the tune up race where she finished fourth.
Sunday morning dawned with our typical summer easterly trying to make an impression. The start had both the Vipers close to the left-hand side of the start line, where both had a fairly clean start. The 'rule book' says that in an easterly one should head for the northern shore. This was our strategy on Rafiki and worked hard to get to the left of Antidote. We however noticed that when we crossed they managed to gain a small advantage every time they went right. As we were coming out of the bay, we (this is the royal 'we' as I made the call) got a bit close to Mother Africa and promptly ran aground. While we (this 'we' now refers to my intrepid crew) got the boat afloat again, I stood up and noticed some better breeze along the southern shore. We (now all of us in a very democratic vote) decided to take the unconventional route of heading for the southern shore. After about 15 minutes we found the breeze and tacked back in a nice right-hand shift. We managed to pass a Thompson 7 and now only had (again) the Melges 24 and Pacer 27 ahead of us. The wind stayed light and shifty and we managed to overtake both and take line honours in the keelboat fleet. On this day we ended up 3rd overall and Antidote recovered well to finish 8th on the day, but convincingly winning the overall event 14 points ahead of their nearest rival.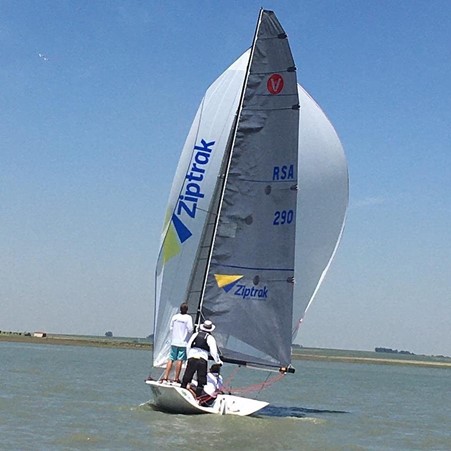 Moving forward we are hoping that regattas will start again soon and that we can get our weary butts back onto our favourite boats.
By the middle of August, 2020, South Africa was final placed on COVID Alert Level 2 and we were allowed to start sailing again and it was a great feeling to be able to get our toes wet (even though the water was still freezing cold) and have the wind blow through our hair. Some of us had snuck down to our yacht club during Level 3 in order to 'inspect' our boats on their 'mooring'.
The first race that more than Viper sailed was Bart's Bash on the 12th of September. This event was hosted by two clubs (Stillbaai and Lake Deneys Yacht Clubs) and was a there-and-back race of around 24km (13 Nautical miles). One could start or finish from either club. Antidote with Steven Haywood and Nevan Lucas decided to start at Stillbaai and Rafiki at LDYC. The breeze was at around 8-10 knots and built steadily to around 20knots. Some fantastic sailing was had by both teams. Rafiki ended up first keelboat while Antidote finished 2nd.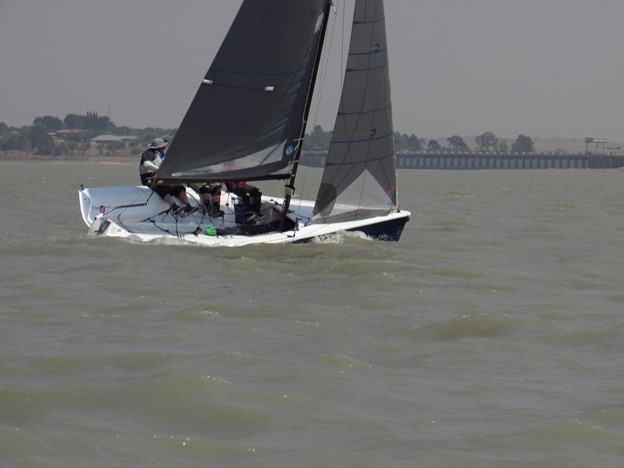 The annual Keelboat Week (a bit of a misnomer these days as the event has been cut to 4 days) had originally been cancelled, but sterling work by the committee of the Deneysville Aquatic Club (DAC) saw the event reinstated and it took place from 24 – 27 September. A total of 20 boats entered (11 of these in Division 1). Rafiki and Antidote had entered early and the last-minute entry of Alex Wiederhold (16 years old) on Snake Charmer upped the number of Vipers to three.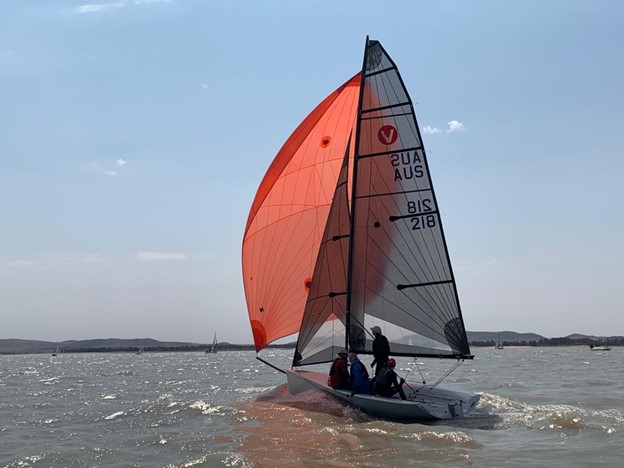 The first day saw very light and shifty winds and the committee decided to abandon racing for the day. Friday morning, however, dawned with the promise of a building northerly. One windward-leeward race was held and Rafiki and Anidote were trading punches in the shifty conditions. Rafiki managed to keep Antidote at bay on the last beat.
Straight after that a medium distance race was started and the wind had by now increased to 20+ knots. With Vaaldam being only around 34% full, the wind becomes a lot gusty and shifty. Gusts of 30 knots with sudden shifts of 30 degrees were not uncommon and after an exhilarating two-hour sail we all headed back for some much need refreshments.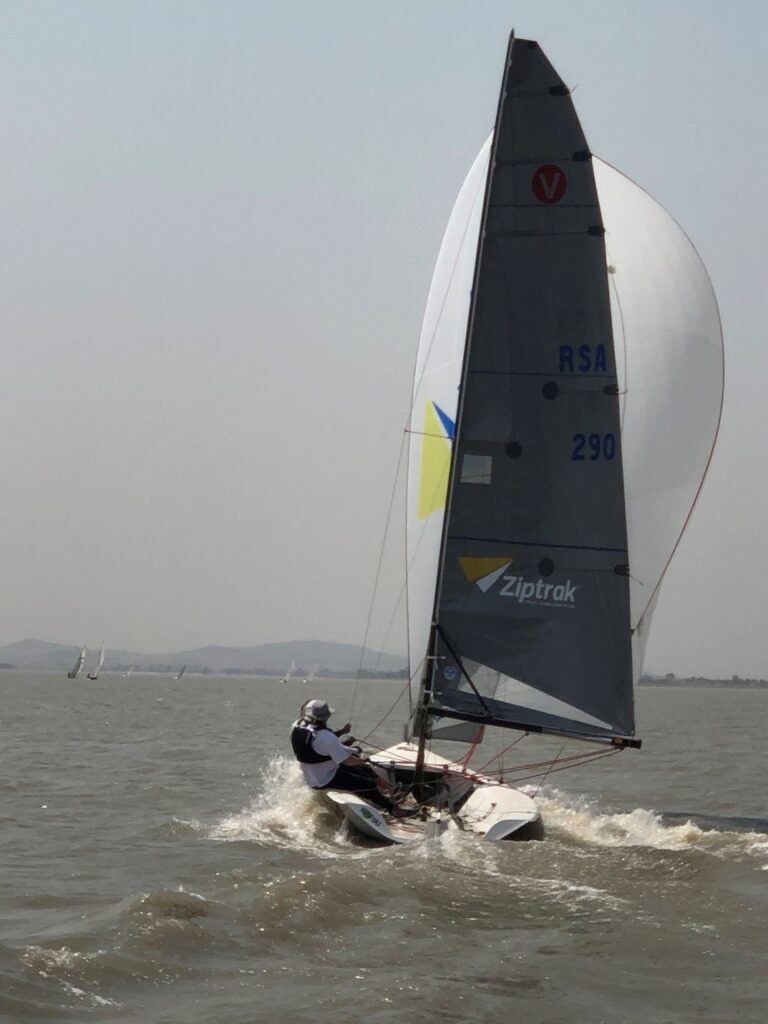 Saturday morning saw us start in very similar conditions and one windward-leeward race was held. From there, we headed straight into another (and longer) medium-distance race. Antidote was out the staring blocks like a scalded cat and, in trying to catch them, Rafiki got a gybe all wrong and ended-up trying to use their keel as a reefed rig. Unfortunately for her, the water was very shallow and she ran aground with her mast getting stuck in the mud for a while. In the meantime, Snake Charmer had blasted passed and we on Rafiki tried our hardest to catch the youngsters. Alex, who recently had won the Dabchick (a two sailed youth class in SA), sailed a blinder of a race with his young team (except for their grey haired bowman) and convincingly won this grueling three-hour race – here is definitely a young man to keep an eye on in the future.
Sunday morning brought much calmer conditions and a race was started in a very fickle southerly (we hardly ever finish races in a southerly wind) and again it was Snake Charmer leading the way. On the first (and only) downwind leg they had a sizeable lead. By the time the leeward mark approached all 3 Vipers were in close contention, with Antidote first and Rafiki just getting and inside overlap on Snake Charmer.
Rafiki tacked around the mark and just sneaked past Antidote for a win in the last race.
DAC Keelboat Regatta 2020 FINAL RESULTS
Div 1 Fleet
 Sailed: 5, Discards: 1, To count: 4, Rating system: TCF, Entries: 11, Scoring system: Appendix A
| | | | | | | | | | | | | | | | |
| --- | --- | --- | --- | --- | --- | --- | --- | --- | --- | --- | --- | --- | --- | --- | --- |
| Rank | Fleet | Boat | Class | SailNo | Club | HelmName | CrewName | TCF | R1 | R2 | R3 | R4 | R5 | Total | Nett |
| 1st | Div 1 | Rafiki | Viper | 290 | LDYC | Alex Schon | Marco Seitz, Bruce Nel | 1.000 | 1 | 1 | 1 | (5) | 1 | 9 | 4 |
| 2nd | Div 1 | Antidote | Viper | 118 | LDYC | Steven Haywood | Nevan Lucas, Meegan Roux | 1.000 | 2 | 2 | 2 | (12 DNF) | 2 | 20 | 8 |
| 3rd | Div 1 | Majic | J22 | 1130 | VCA | Reinhard Lenz | Loring Hudson-Bennett, Matt Kupp | 0.915 | 3 | (4) | 4 | 2 | 4 | 17 | 13 |
| 4th | Div 1 | Snake Charmer | Viper | 218 | LDYC | Alex Wiederhold | Stephen van Niekerk, Jareyed Robinson & Donovin Penaluna | 1.000 | 7 | 3 | (8) | 1 | 3 | 22 | 14 |
| 5th | Div 1 | Jazzy | J22 | 184 | VCA | Jessica Rossouw | Frank Lenz, Vaughan Klibbe | 0.915 | 5 | (6) | 3 | 3 | 5 | 22 | 16 |
| 6th | Div 1 | Jack Sparrow | J22 | 158 | DAC | Kyle Harvey | Alice Harvey, Ryan Harvey | 0.915 | 4 | 5 | 5 | (6) | 6 | 26 | 20 |
| 7th | Div 1 | PhattASS | Pacer 27 | 11 | DAC | Deon Viljoen | Tania, Hernus | 1.080 | 9 | (10) | 7 | 7 | 8 | 41 | 31 |
| 8th | Div 1 | Music | Pacer 27 | 10 | DAC | P. French | G. Nottingham, Andreq Lucus & M. Pjetter | 1.080 | 8 | 8 | (10) | 8 | 7 | 41 | 31 |
| 9th | Div 1 | Hay J | J22 | 1119 | DAC | Trevor Hulleman | Kevin Campbell, Joline | 0.915 | (12 DNS) | 12 DNS | 6 | 4 | 12 DNS | 46 | 34 |
| 10th | Div 1 | Jalapeno | J22 | 172 | DAC | Pierre van Rensburg | Allyssa van Rensburg, Bayley Smuts, Andrew Edwards | 0.915 | 6 | 7 | (12 DNS) | 12 DNS | 12 DNS | 49 | 37 |
| 11th | Div 1 | Electron | L26 | 002 | DAC | Daddy Mokhele | Elliot, Stephen, Danny & Jack | 0.915 | 10 | 9 | 9 | 9 | (12 DNF) | 49 | 37 |
Over the next couple of months there will be various events where we will hopefully get a full fleet of Vipers to participate.
The goal from our side is to get at least two teams to the North American and World Championships in 2021.