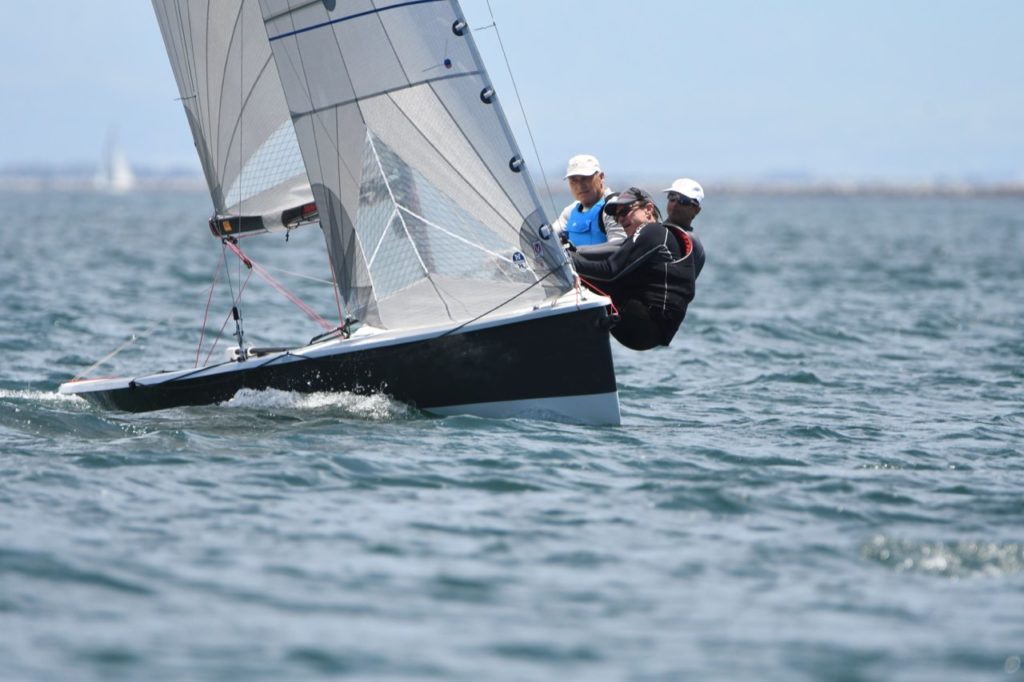 Team Nice ASP led by Mike Pentecost with crew Chuck Tripp and Garrett Brown and are the winners at the Spring One Design Regatta out of Cabrillo Beach YC in San Pedro, CA.  The forecast did not look good going into this last weekend's event with a low pressure system moving through Southern California and no thermal gradient to fire up the famous "Hurricane Gulch" conditions.   These variable conditions gave competitors a chance to tune the entire range from 5-15kts with the breeze building each day. These conditions also gave new viper owners a chance to "shake down" some new boats.  Second Place in the event and leader after day one was Ed Feo and crew in Loco X.  Great to See the Loco X team doing well they also competed this year at the Bacardi Cup in Miami.  I got the chance to catch up with Mr. Pentecost following the event:  
Geoff: Congrats on your win last weekend and thank you so much for hosting this great event.  I enjoy sailing out of CBYC the hospitality is excellent.
What was your approach and expectations you had going into the event?
Mike:  Last year, the Cabrillo Beach event was the Pacific Coast Championships, and we came in fourth. It was our primary goal just to do better.  Cabrillo is a great place to sail, and we had some great volunteers on Mother's Day weekend. Have to give them a BIG thanks for that.
We saw pretty much everything in this event and was an excellent test in all conditions.  What did you do to shift gears as the breeze came up each day Southern California Style?
Mike:  We are not used to light air in this area, so that was a challenge.  Obviously in the light air we started with, we really had to power the boat up, and bunch together.  Pretty nice not to have to hike so much for once. LOL. As the breeze built, the water was still flat, so we were able to carry a tighter rig tune.
Your team seems to have a different gear in medium air when crossing over to planing conditions at San Diego NOODs and CBYC Spring Regatta.  What is your general approach and why are you guys so fast in these conditions?  
Mike: First, we have sailed together long enough that we have excellent, coordinated crew work.  I think we have learned how to adjust the tuning of our boat in every condition. However, most important is knowing when to plane, and when to VMG run to the leeward mark, which is one of the things we have really worked to master.
Did this event get you excited to practice more to also win the Viper World Championships?  
Mike: Of course.  Everyone's eyes are on the prize this year, and we are excited to have so many teams coming to the class.  It will be great to compete on our home turf, where we will see all different conditions. Bring it on!!  
The fleet would like to thank CBYC for hosting a great event!!  The Southern California Viper 640 Fleet is excited to host the 2019 World Championships out of Alamitos Bay YC.  Several owners commented to let them know if anyone needs help with crew, lodging, training partners.  Feel free to reach out to Tim Carter or Geoff Fargo if you need any help.