Jackson Benvenutti, Andrew Eagan, and Chris Alexander have a picket fence after Day 1 of the 2022 Viper 640 North American Championship.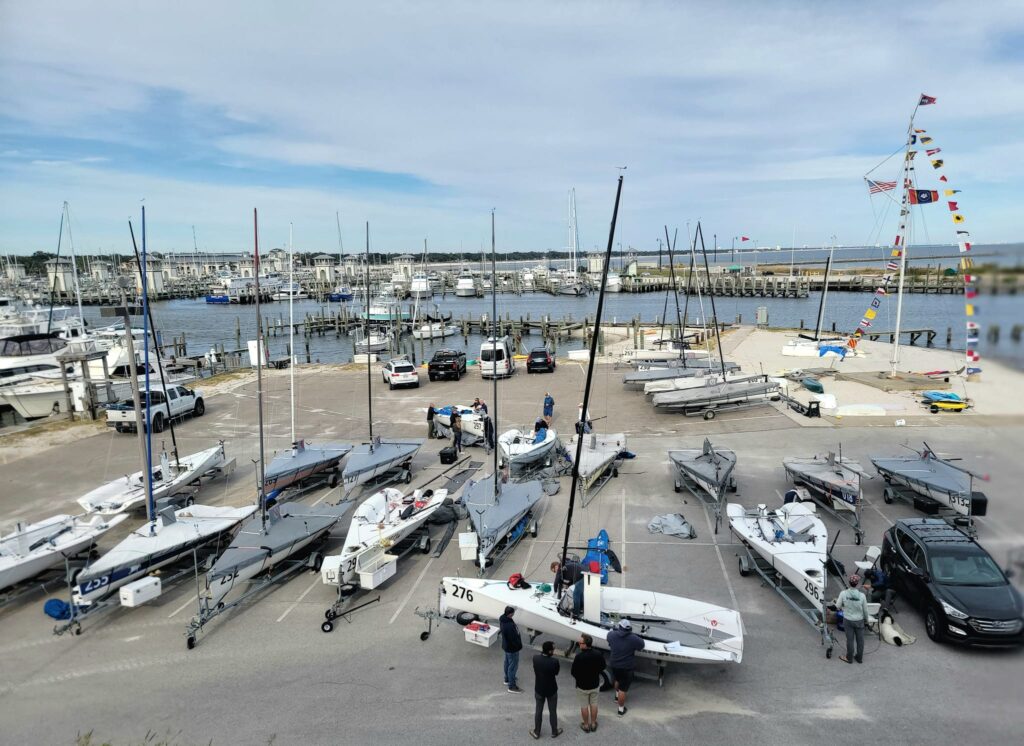 After a two-hour shore delay awaiting the sea breeze to fill in, the 2022 Viper 640 North American Championship got underway on the waters of the Gulf of Mexico just south of the host club, Gulfport (MS) Yacht Club. PRO Hal Smith, no stranger to Viper racing, welcomed the 30-boat fleet to the starting area and proceeded to run three W2 races. As the wind built from 6 to 9 knots, the course length stretched out from .7 to .8 NM.
In the end, it was Jackson Benvenutti, Andrew Eagan, and Chris Alexander sitting atop the leaderboard with three points…having won all three heats. Jackson and Andrew crewed for Andrew's brother Marcus when that trio won the 2019 Viper North Americans and Worlds. Jackson is proving that he has the chops to helm a championship boat and Chris, winner of multiple championships in various boats, adds to the crew's expertise.
When asked what he thought made the difference today, Jackson shared, "We started towards the pin in the first race and was able to tack across the fleet to get to the right. We had some good timings of tacks getting into lifted courses, and Andrew and Chris kept finding pressure all day. It was pretty puffy, especially downwind and we had to watch the puffs coming down from behind where we would have to gybe over to stay in the pressure and protect our lead. That basic strategy paid out for the day." When asked what to expect tomorrow, his comment was, "We will have to sail smart as we'll have a bit of a target on our backs. We will have to watch that we do the fundamentals well and see how the races play out."
Ending the day in second place is the Darien, CT, team of Marek Zaleski, his father Chris, and Jacob Brant, Marek's Harvard roommate and sailing partner since Team Z's 4-6-2 scoreline gave them 12 points, a two-point advantage over Zak Fanberg, Sarah Taylor, and Eugene Schmitt (2-7-5 for 14 points). Reigning North American champion Mark Zagol (Pawcatuck, CT) is in fourth (5-2-11 with 18 points, sailing with Drew Buttner and Tim Desmond.
Although Benvenutti and crew have a solid lead after Day 1, there is still a lot of sailing to be done over the next three days. Other teams in the hunt are Jay Rhame/Rachel & Peter Beardsley withv21 points in fifth, Jimmy Praley (Annapolis, MD) Austin Powers, and Keenan Hilsinger in sixth with 27 points, Geoff Fargo (Santa Barbara, CA) in seventh, with local sailor Sam Hopkins in eighth with 28 points. When the throw out kicks in after six races, it's likely those crews towards the top of the list will change places.
PRO Hal Smith commented "Tomorrow we are looking again for a first warning at 1100 and we're expecting slightly increased pressure and targeting four more races."
Go to the Viper 640 Facebook page (https://www.facebook.com/Viper640) for on-the water reporting throughout the Championship and to https://yachtscoring.com/event_results_cumulative.cfm?eID=14853 for up-to-date results.
Photos can be seen at http://neworleanssailing.com courtesy of Curtis Christensen.