Last weekend Texas viper sailors kicked off the 2010 championship series in Houston Tx.  The first stop of this three-regatta series was hosted by the Lakewood Yacht Club, run in conjunction with their "shoe" regatta.    On-line registration for the event opened on April 27th and by the 28th eight Viper 640's were registered for the event.  A post on the local racing forum says it all "where in the heck did the vipers come from".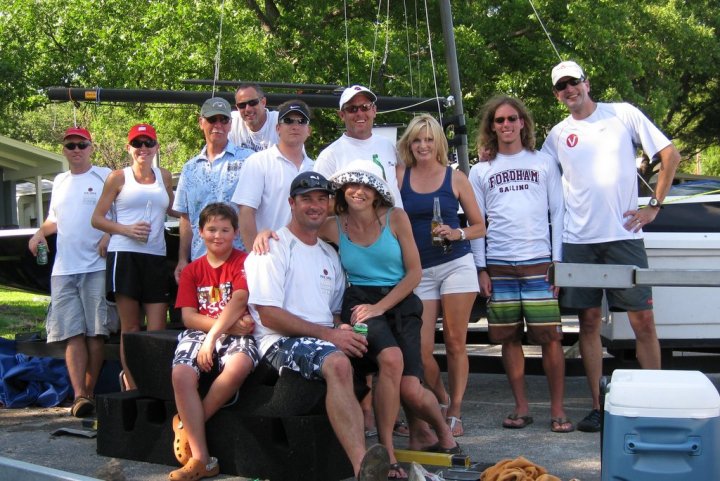 Having that many boat's registered before there were any other two boats in a class made a very strong statement – Texas viper sailors love their boats and were excited about attending this event!
The following week a ninth boat would complete their registration and make the Viper fleet the largest OD group at this major Texas event.  Backing up a little – 2009 brought major growth for the Viper fleet in Texas.   In January there were only three boats in the state, April added two and in October we were able to muster to make our first one-design start ever with five boats on the line.   Momentum continued through the winter months with several boats being added – bringing the total number of OD legal vipers in the state to nine.   The first regatta of 2010 series saw only one boat in the Texas / Oklahoma area not registered for this event – a boat sold into the Oklahoma City area to help seed a fleet. The 9th boat that was registered for the event was one of two brand new MK3's that didn't make landfall in time to race.
The weather forecast became worse as the week went on..  moderate breeze and sunny skies turned to heavy wind and probable t-storms.  We arrived in Houston on Friday to overcast skies and a solid forecast for heavy rain on Friday.   Saturday morning we were informed that there was a large cell working its way toward the Galveston bay area.  The RC put up an AP ashore which ended up being a cancellation for the day's racing.   Viper sailors congregated around the infamous "car bar"..  enjoying cocktails, waiting to see if the weather would pass.   At 2:00 it did, and five boats went out to play in Clear Lake – a small – shallow inland body of water connected to the bay.
On Sunday the skies cleared and we were greeted with about 5 knots on the bay.   Race 1 was started by the race committee at 9:00 AM (start-time was moved up to get in more races).  Jeff Jones led for most of the race but during a large left shift was caught on the outside while Robert Miller on Giggity and Steve Flunker on Screamer made a large gain on the inside.   At the finish it was Miller in first followed by Flunker and Jones in a distant third.  In race two the fleet was tight at the first mark rounding.  Again, Jones was in the lead followed closely by Miller and Flunker.   At the last windward rounding and run to the finish Jones rounded and was challenged by Flunker while Miller chose to Gybe away to the right side of the course.  When the boats converged at the finish line they were separated by a matter of feet.  Jones and Miller, at the time leading Flunker chose to focus on each other allowing Flunker to sneak in and get a gun.   Miller won the battle for 2nd.   The third, and final race was started in a solid 8 knots.   Both Flunker and Jones were OCS and had to play chase for most of the race.   In this race Miller was challenged by Drake Borer, a new Viper owner from Austin TX.  In the third leg Flunker passed Borer while Jones followed in a close fourth.   Jones was able to pass Borer on the last leg to finish third behind Miller and Flunker.Competition heated up and the pack became more competitive with each leg of this regatta.   Drake Borer, along with new owners Roger Deatrick, Phillip Davis, Eric Rosenbaum and Joe Pasciak helped compress the finish times with each race.   Based on my observation our final regatta in October will find a very competitive fleet.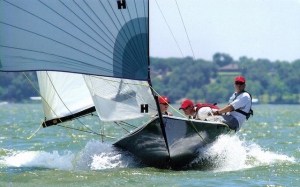 The Texas Championship Series Point Count after one regatta is led by Giggity (1 pt), Screamer (2 pts), The Stig (3 pts), Sea Monkey (4 pts), V-Power (5 pts), Full Throttle (6 pts), Patch of Blue (7 pts) Blade Runner (8 pts) and Animal (9 pts)  Note;  scoring is via boats.   Animal was not available for the regatta so Jeff Jones raced the Stig and therefore the Stig gets credit for the regatta.  The purpose of this is to encourage owners to charter or lend their boats in the event they cannot make an event.It appears the momentum will continue with our next regatta, June 5th and 6th in Fort Worth.  Based on feedback from the shoe we will most likely break 10 boats with a possible 12 participating in this event.  We certainly love these boats..  but as one member put it "this is a great, fun group of people to be around".
Good times ahead.