Lake Champlain Viper Open is in the Books    
The Viper fleet has returned for a 6th time to the beautiful Lake Champlain for some top notch racing and hospitality. The driving force behind the event, the Hyerstay Family (Dale, Alice, and Jason) has once again rallied eager volunteers at Lake Champlain Yacht Club in Shelburne, VT, to organize perhaps the best 'grassroots' regatta in the Class.  From the warm welcome on Friday night from Dale on the lawn in front of the Club, to the amazing hospitality of Club members who put-up the fleet for two nights of the regatta, to the 'magic' beverage coolers that seem to always stay full in Vermont, the event is just straight up 'easy' to do.  The central location to many Viper teams is just right as well—we had 7 boats from the Marblehead fleet, 5 boats from Canada, 2 from the New York area, 2 locals, and one all the way from Charleston, SC who made the trip for the weekend.
With trees just starting to turn their fall colors on, the fleet got in six races over two days in decidedly tactical conditions.  Day 1, the LCYC race committee got the most racing out of the day as was humanly possible—1 race.  With shifty lake conditions the 3-5 kt. breeze required patience and some heads out of the boat to do well.  Nevertheless, with the race sailed out on the main lake with the sweeping Adirondacks in the background under 70-degree clear skies, there weren't too many upset to be out on the water.
Day 2 is where the regatta was decided.  Once again setting the fleet up out on the main lake, the breeze that greeted the fleet was a perfect 14 kts.  The sailing battles throughout the fleet were intense. The day was especially close at the top of the fleet, with the top five boats flip flopping positions at almost every rounding.  Consistency from Dave Nickerson, Moise Solomon, andScott Leming cemented the win.  Their team did a great job of getting off the starting line with speed and maintaining their edge upwind, over the past six years, the Mo' Grins team has been top-2 in every
Vermont event they've sailed! Second place was decided by one point when all was said and done.  The Wadjet team of Van Sheppard, Tom Miller, and KevinSchulz managed to maintain just enough gap upwind to stave off downwind advances by the thrid-place boat,Meow, and all 460 lbs of Cole Constantineau, Eleni Asimacopoulos, and Robin Weatherill.
Overall this regatta remains a 'must-do' event—it's consistently easy to do, fun, and the racing is absolutely top notch.  The fleet is already looking forward to next year!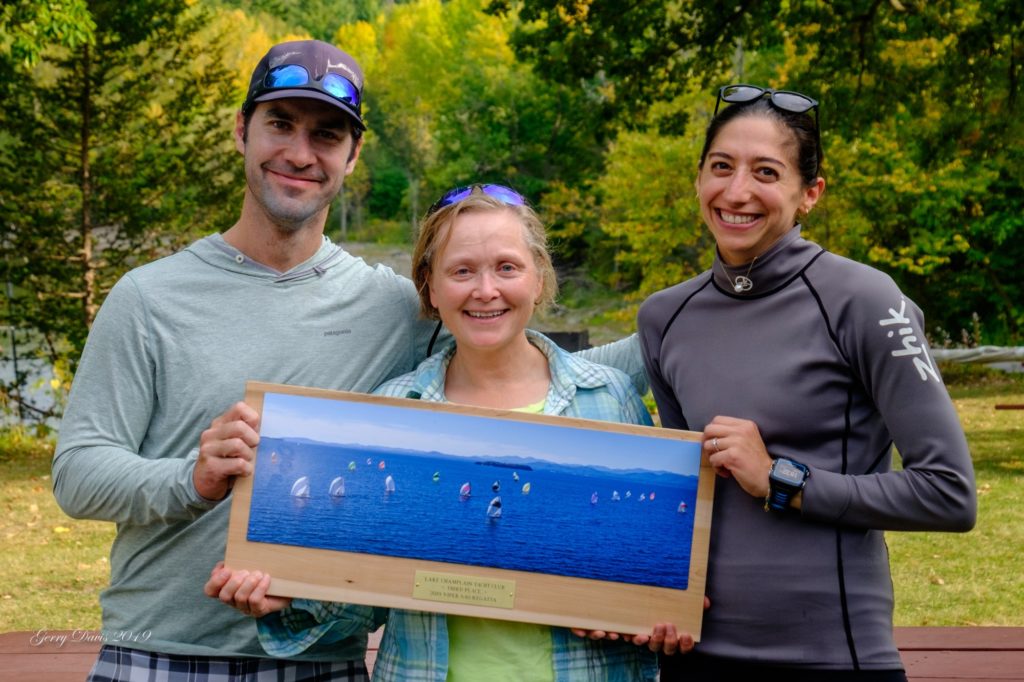 MEOW