The Viper 640 Mid-Atlantics were hosted by Eastport Yacht Club over the weekend of May 18-19.
A small but competitive group came together and enjoyed five challenging races at the mouth of the Severn River.
Saturday was a difficult day as the teams faced the onslaught of current from the north coupled with a light northerly breeze. The Susquehanna River outflow thru the Conowingo dam was 25% higher than average, which made the race track a one-sided affair. Anyone who got caught heading into the deeper water found themselves chasing the pack. Unfortunately the predicted wind was spot on for Saturday, and after attempting to start a second race where the fleet couldn't quite get to the line, the race officers made the right move and signaled the end of racing for the day.
Sunday promised to be a better scenario with more wind forecast.
The fleet spent Saturday evening at Mary and Geoff Ewenson's house and enjoyed a nice meal and libations and had a chance to discuss the day, the fleet, the upcoming schedule and everything else Viper. A nice mix of competitors, friends, and significant others made for a lovely festive evening. It is always nice to get such an awesome group of folks together.
Sunday broke, and the fleet headed out for an hour earlier start at the mouth of the river.
The breeze had switched to the south and promised a faster race track with the current pushing the fleet upwind. This put a premium of having a good sense of time and distance to the start line. The wind never fully materialized into the mature southerly we had hoped for during the racing. Four races were held in 6-9 knots, and the fleet was mixed up nicely making passes a regular thing and keeping the scores mostly among most of the group.
The exception to this was Mary and Geoff Ewenson with Erik Broekhof sailing their new boat Evil Hiss. Local knowledge and just a tick of speed when needed allowed for a line of bullets.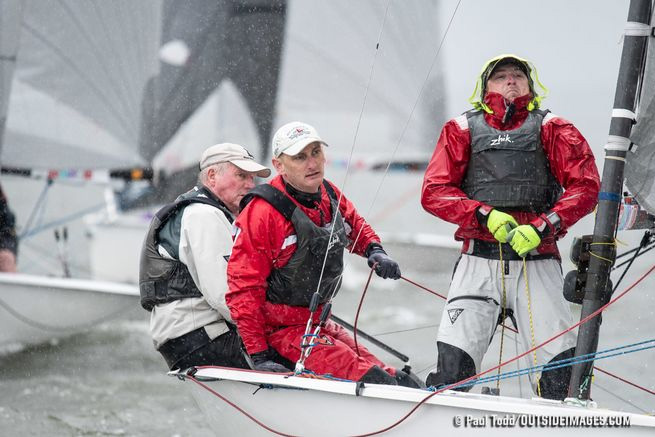 As predicted prior to racing, the best sailing was had on the way in to the EYC at the end of the day.
The breeze built to 14 -15 knots, and the angle from the final finish to the harbor was a perfect spinnaker reach.  The EYC committee provided snacks and free beers during the pack up, and as soon as it looked like folks were nearly ready to head out, the awards were presented.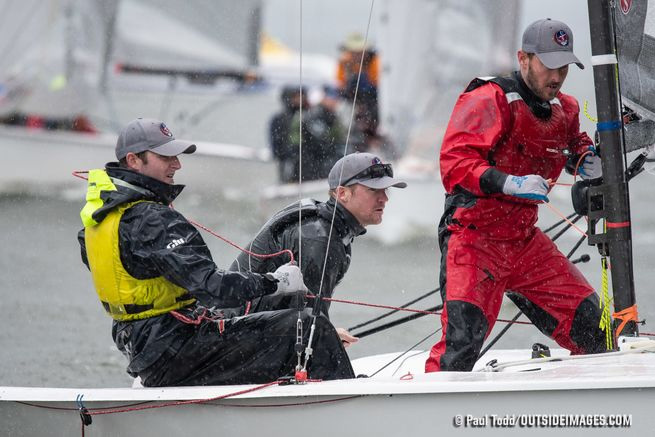 Third Place went to the road warriors on MEOW. Cole Constantineau, Erik Vigrass and Eleni Asimacopoulos. Second Place was award to Southern Bay representatives Mark Wheeler, Jeremiah Dull and Jonathan Phillips of Vapor Trails. And, the winners of the 2019 Viper Mid-Atlantics were Erik Broekhof, Mary Ewenson, and Geoff Ewenson.
For full results click HERE.
Find photos of the racing HERE.
Next up: Southern Bay Race Week!