March 14, 2016
Congratulations to Lawrence Crispin, Hector Cisnaros, and Luka Crispin for turning in a stunning sailing performance this past week in Miami. After convincingly winning the EFG Winter Cup (March 6-7), this trio from the UK's Stone Sailing Club carried their momentum into Bacardi Miami Sailing Week. They dominated the 28-boat fleet with an impressive score line of 1-8-1-3-2-2-3-5 over the eight races sailed for a final score of 17 points. This put Crispin seven points ahead of Tyler Moore sailing with his wife Jane and Tim and Karen Fallon who won four races—including the last three—and finished in second.
Third whet to another UK sailor, Ian Nicholson, who had fellow Brit David Hitchcock sailing with him and Australian David Chapman at the helm. Nicholson's crew didn't win any races but had a consistently strong string of finishes allowing them to beat 2015 Viper ACC Champ Tom Loutrel (sailing with Brian Zimmerman and Jeff Gentzel) by one point.
Bacardi Miami Sailing Week was also the conclusion of the 2015-16 EFG Viper Pan-American Championship and was preceded by a series of international qualifying regattas held during the past year in Europe, Australia and North America. Points are added to the BMSW totals for each sailor based upon his or her performance in the qualifying series. Having won the Winter Cup and finished seventh in the 2015 North Americans, Crispin was able to carry a single point into the Pan-Ams. Moore finished ninth at the NAs and Loutrel won the ACCs so they also had single point carry-overs. Nicholson's crewmate David Chapman finished second for the NAs but it was Nicholson's entry in Bacardy and he carried in a larger point count. In the end, it was Crispin's crew capturing the 2015-16 EFG Viper Pan-American Championship with Moore second and Loutrel rounding out the top three.
Full BMSW results HERE.
EFG Viper Pan-American Championship results HERE.
For those who made it to Florida this past weekend, it was a wonderful week of sailing in lots of breeze. The EFG Winter Cup had two days of 15-20 knot breezes out of the north and northeast that allowed Scott Giering and his Biscayne Bay Yacht Club RC to get off six races over the two days. Along with the UK Crispin team at the top were Anthony O'Leary, Tom Durcan, and Robert O'Leary from Ireland's Royal Cork Yacht Club in second. John Dane III, Dave Bolyard, and Schaeffer Dane finished third. This was only the second Viper regatta for former Star Olympian Dane who hails from Port Christian Yacht Club in Mississippi; but after his finishing third in the Winter Cup, ninth in Bacardi, and smiling all week long, we can expect to see a lot more of these three on the Viper race course.
The wind was a big factor last week as the annual Miami Scorch (sailed across Biscayne Bay for lunch in No Name Harbor at the tip of Key Biscayne) became a road rally.  18+ knot winds on the nose would be facing anyone looking to sail across the bay that day and nobody wanted to arrive soaking wet. Regardless, 55 sailors and guests arrived safely at the Boater's Grill for a great lunch and lots of camaraderie.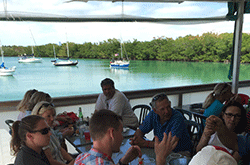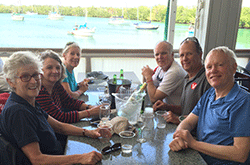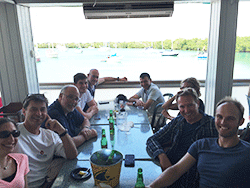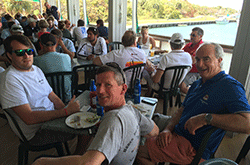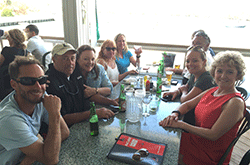 Wednesday was a lay day but some boats just arriving for Bacardi went out in mid-teens winds. The RC allowed the Vipers to haul that night (not the original plan) because predicted 20+ knot winds would have exposed the boats rafted-up at Coral Reef Yacht Club to considerable damage. That wind did blow and continued through the morning. In a tough call, after a two-hour shore postponement, PRO Judy Hanlon called the racing for the day as all forecast models were calling for 25+ knots and building throughout the day. Unfortunately, those forecasts didn't materialize which didn't make everyone happy; but those experienced in race management recognize that safety is key and one makes decisions based on the best information possible. I sat with Judy, VX One Class President Michael Norris and others reviewing the weather models when she made her call and…sorry folks…agreed with her. The Stars had already blown off their Thursday race and only the J/70s sailed.
Having lost a day of racing on Thursday, the first warning for Friday was moved earlier by an hour. Boats had to be launched by 0755 with the first warning at 0955. Hanlon and her crew got off five excellent races on Friday with the wind out of the east. Windward legs varied between 0.8 and 1.0 mile in length and everyone had had their fill of racing when the day ended that afternoon. Saturday's start was back at 1055 and three final heats were sailed.
Now, we all know that the Viper 640 is a great boat to sail and race, but people within the fleet and new to the fleet can't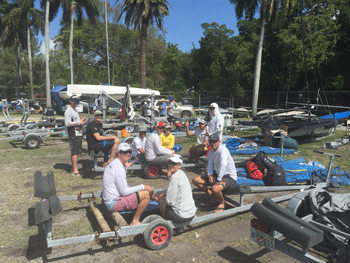 help but comment that the greatest pleasure in Viper racing is just being with the people against whom you race—in the boat yard, at the bar, at the tent. In setting-up the boats (and there were eight brand new Rondar Vipers being put together) everyone was falling over one another trying to help the next boat whenever necessary. Rondar's Paul Young was there early in the week and Dan Tucker carried the Rondar flag throughout. Also critical to the success of the regatta were Craig and Deb Wilusz whose new company, Gulf Performance Sailing, is a Viper distributor and Deb was an onsite chandler providing many of the parts people needed.  The picture  below is how Craig plans to transport a second Viper – totally an OMG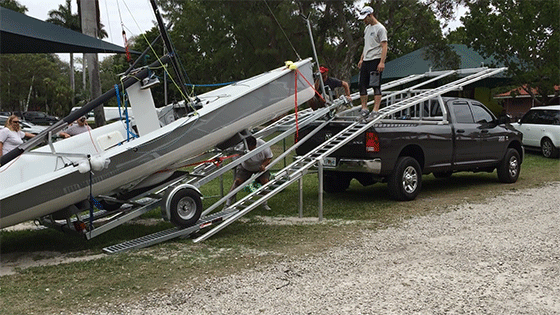 moment!  Also playing a huge role in fitting out boats was Sail 22's Ed Furry with his van of halyards, spares, and advice.  Thanks to all these folks who keep us fitted with boats, parts, and sailing smarts.
With everyone's eyes turned to the Viper International Championship and 2015 NAs next November in Bermuda, there was a definite international flare to the Vipers in Miami. In addition to the Crispin and Nicholson UK entries, the O'Leary crew from Ireland, and David Chapman from down under, Mark Griffith, Chris Way, and Mark Haywird traveled from Sydney, Australia to
finish a solid sixth in the Bacardi series. And while Canadian Steve Chapman is a staple for Viper regattas, Bill Abbott, Steve Lacey, and Ched Lee were sailing fellow Sarnia, Ontario, Viperer Brad Boston's Jackpot in their first Viper regatta. Brad was in Miami but scheduling conflicts prevented him from racing Jackpot this week. And the US was well represented with crews traveling from California, Texas, Alabama, Mississippi, South Carolina, North Carolina, Virginia, Maryland, Florida, Connecticut, Indiana, New York, and New Jersey.
The highlight of the week was the annual Viper 640 Class Dinner on Thursday night. Hosted by Executive Committee member Steve Chapman, 99 sailors and guests were treated to jazz during cocktails and a sumptuous meal thereafter. Awards were presented afterwards and everyone enjoyed getting to know their fellow Viperers better. Note: it's also great to see how well some of these folks "clean up." Thanks to Steve for organizing the entire evening and to the Viper 640 Class Sponsor EFG Bank for contributing the entertainment and cocktails for the evening.
Next on tap for the Vipers is Charleston Race Week (4/14-17) and Tom Loutrel (tsloutrel@gmail.com) and Zeke

Horowitz (zeke.horowitz@northsail.com) are pounding the pavement to get more entries. Then, it's up the coast to the Annapolis NOOD (4/29-5/1). Geoff Ewenson (gewenson@yahoo.com) is driving that effort so feel free to contact him with any questions or if you're planning to go.
Sailing a Viper in Miami–clearly a bucket list item for us all. Missed it this year? Mark your calendar for next year.
I had a ball, enjoyed meeting and getting to know more Viperers, and truly appreciate all the support everyone gave me during the event.
Sail fast,
Buttons Padin
Viper 640 Class Administrator