Congratulations to Jeff Grange, Bill Blazer and Chris Parker for winning the Pacific Coast Championship at 2016 Long Beach Race Week. 16 Vipers, 7 races, a heck of a regatta.
Full story to be submitted shortly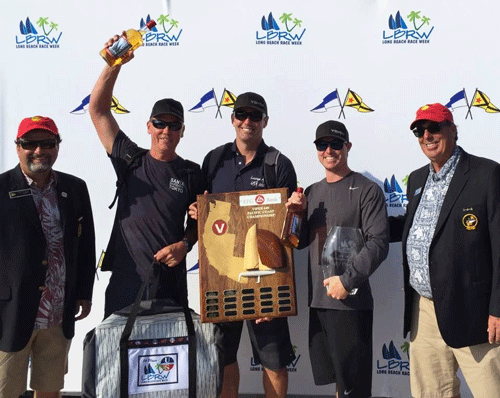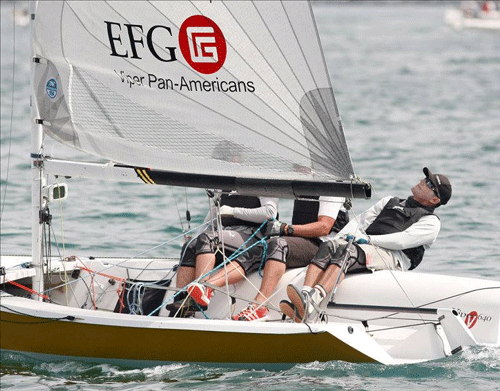 Long Beach Race Week 2016
Reported by Tim Carter
Alamitos Bay Yacht Club and Long Beach Yacht Club once again hosted Ullman Sails Long Beach Race Week and the 2016 Viper 640 Pacific Coast Championship. We had 16 boats on the line over the weekend, a bit down this year due to work issues with several of the regulars…but we had beer, some breeze, and some sunshine.
Friday's skippers weather brief was talking about 14-18 kts at some point over the weekend; however, I think their instruments need calibration. Friday we saw 5-8 kts max and we had lots of the famous Long Beach Ganga (Kelp) floating around.
The schedule is a 2-3-2 format over the three days with no throw-outs. Consistency pays and our goal was to finish top 5 or higher in every race. By the time the Day 1 debrief happened we were sitting with a 1,4, Jeff Grange from Santa Barbara had a 2,1, and Kevin Taugher had a 3,2. The debrief was very productive, the group managed to drain a barrel of beer and then we went off to the Rum Squall known as the Friday night party.
Saturday's conditions were much the same: play the shifts and avoid the bigger boat traffic. We had a 4,1,8 by the time to go in, Grange started to look very formidable with a 1,3,1, and Taugher pulled in front of us with a 2,2,2. Geoff Fargo, sailing his West Coast boat with a brand new mast, pulled up tied on points with us with scores of 4,3,3,5,3 for Friday and Saturday. Our plan was to keep ahead of him.
Alas, I was a bit off my game due to being over served on two consecutive nights and had some balance issues for some reason, I kept falling on my backside all day and could not close the deal.
I want to congratulate Mr. Grange on winning the Pacific Coast Championships. He got to take the big plaque away from ABYC for the first time in six years!! He promised to bring it up for the 2017 meeting at the Columbia River Gorge.
Final Top 5:
1 Grange 11pts
2 Taugher 17pts
3 Fargo 25pts
4 Carter 28pts
5 Brownett 44pts
I also want to thank my team of Steve Bloemeke and Patricia Lapadula for hanging in there and mostly kept a smile on their faces… You don't know what it means to me to have a fun, dedicated team for this old guy.
Timbo