Long Beach Race Week/PCCs, by Steve Bloemeke, ABYC
Having just completed Long Beach Race Week (and Pacific Coast Championships) with Friday's windspeed of 16-18 knots, and 18-20 on Saturday; both days with chop and steep wave sets, I thought that it would be fun to take a poll of the fleet and ask – "How would you describe sailing a Viper 640 in 18-20 knots of wind in a healthy sea state?" The replies were not exactly what I expected; some quite colorful. In the interest of keeping things sufficiently reader-friendly, the basic response was that sailing upwind was not delightful and too long, and downwind being exhilarating and not nearly long enough!  Sunday's last day of racing was quite mundane with 5-7 knots in the first race, with 12-14 knot build in the final race which was welcome to many aching legs, arms, and backs. All in all, a chamber commerce kind of weekend for Long Beach, CA!
If you take the time to click on this link from the LBRW.org website you'll get an idea of the sailing: https://youtu.be/bw0imiY3eJA – You will see upwind boat speed around 5-6 knots due to the wave action, and downwind everyone consistently reported with "ear to ear grins" a 15-knot range. Boat-handling was as important as sail trim and it was impressive to see six mile long races end with all competitors in close proximity.
ABYC's very own Ed Feo with crew Chuck Tripp and Kevin Taugher won the regatta in strong fashion with no races worse than 3rd.  And some good news in the very likely addition of a new member to ABYC of Geoff Fargo, Santa Barbara Yacht Club, carding 2nd place with Graham Bell and Tucker Atterbury.  Last on the podium was Dan Milefchik, with Brad Thompson and your author.
It was a wonderfully run regatta and everyone was grateful to have it back after the two-year pandemic scare.  Unfortunately, Covid reared its ugly head again and took Gabe Ferramola, #204 out from sailing at the 11th hour, thus making the boat too short handed for the wind conditions…Gabe is reported to be doing fine.)  Tim Carter was missed but he was generous in loaning his boat out, thanks Timbo!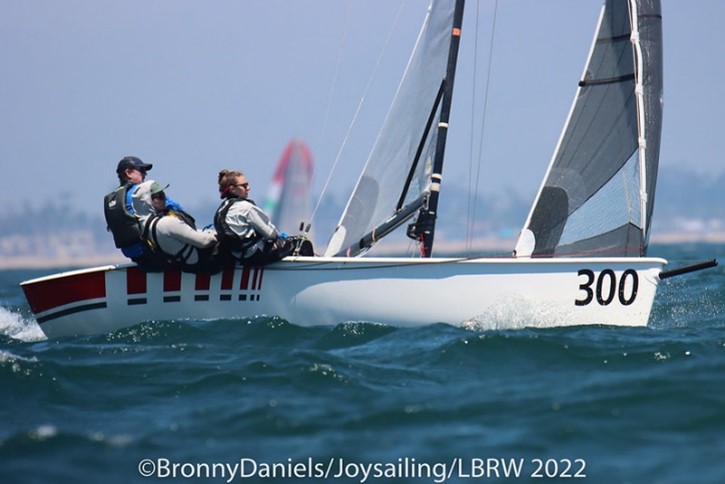 Rookie sensation ABYC's Michael Oliver skippering his first Viper Regatta with Peter Christensen and Katie Alfond in Tim Carter's ride.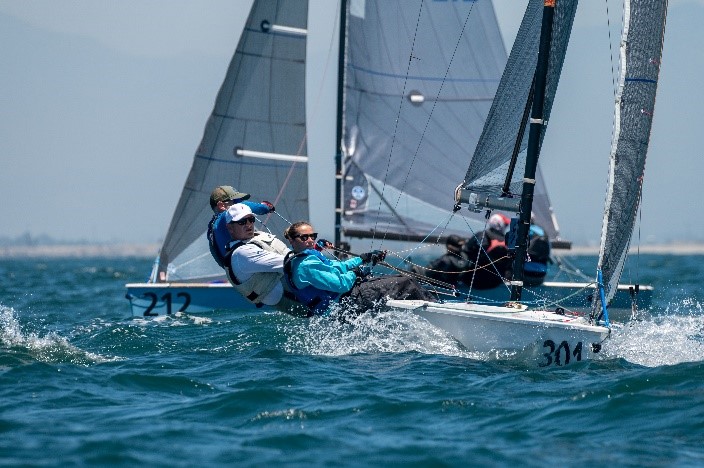 Bottom photo of ABYC's James Baurley with Jim Sears and Karafe Buffa.
Photo Credits to Bronny Daniels (top) and Tom Walker Photography (bottom)