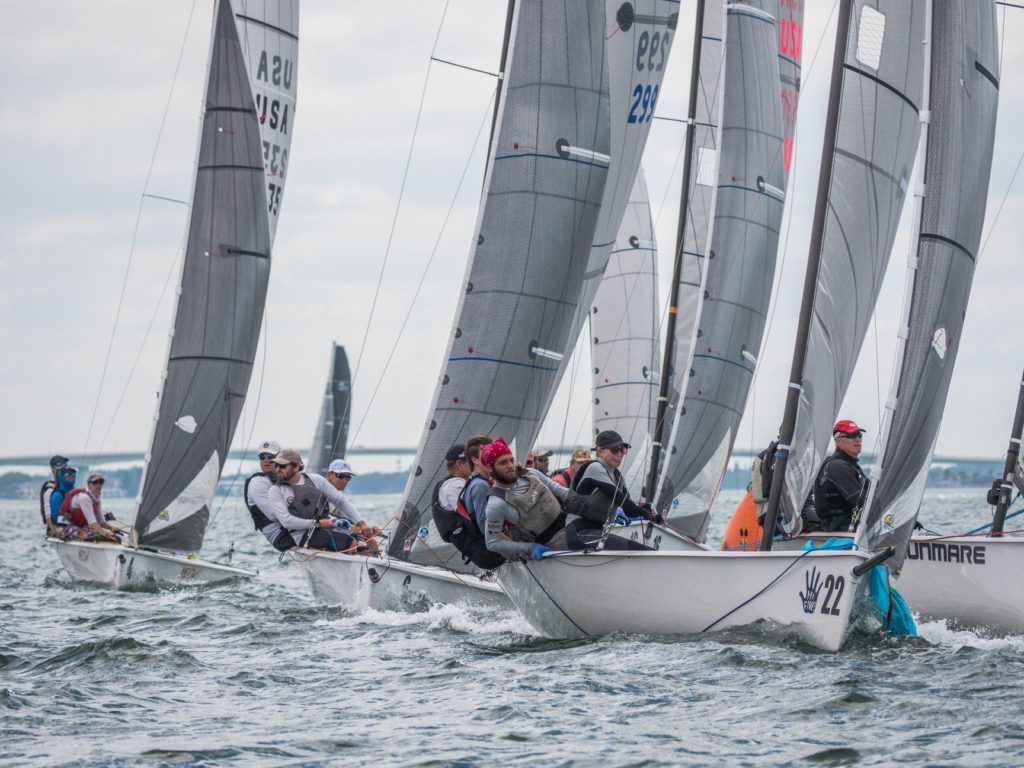 The 2018-19 Sarasota Viper Winter Series wrapped up on Feb 10th with two epic days of sailing on Sarasota Bay. Seven races were sailed over the course of the weekend with three fully planning condition races being sailed on Saturday, in breeze that topped out with gusts close to 20 kts. Race one went to the always-quick Zeke Horowitz with races two and three being won by Marcus Eagan and crew on CAJUN UNDERWRITING.
Saturday night saw the 28 participating Viper teams enjoying drinks ashore and a great Korean BBQ hosted by the Sarasota Sailing Squadron, before the heading out into St. Armand's Circle and Downtown Sarasota for the requisite late-night hijinks that visiting teams have come to count on.
Northern Honey Badger Productions Sarasota Winter Series Video HERE.
Sunday morning started out early with the first start at 10 am. PRO Keven Eiber and her all-star RC volunteers got the fleet off and racing on time and got four great races off in champagne Sarasota conditions with the sunny skies, emerald green water and easterly breeze that was up and down enough to keep crews on their toes. Marcus Eagan, Andrew Eagan and Jackson Benvenutti aboard CAJUN UNDERWRITING owned the first three races of the day with three bullets and were able to head in early with the February event win in the bag. Travis Yates, Mike Meighan and Dave Hillmyer aboard SIDEWINDER put together four consistent top five races to climb up the ladder to finish second for the weekend with Jay Rhame, Peter & Rachel Beardsley and Michelle Lee aboard GREAT SCOTT taking the final spot on the podium one point behind.
The 2018-19 Sarasota Viper Winter Series Title was awarded to Marcus Eagan, Andrew Eagan and Jackson Benvenutti who dominated by winning 8 of the 14 races sailed in the series. The three-time series winner Zeke Horowitz and crew finished the series in 2nd with Jay Rhame & Peter Beardsley's GREAT SCOTT wrapping up the overall series in third. Brad Boston and Lee Shuckerow's JACKPOT was fourth overall and the last spot on the series podium was taken by Travis Yates and Mike Meighan's SIDEWINDER .
2018-2019 was the sixth running of The Sarasota Viper Winter Series hosted by the Sarasota Sailing Squadron with 31 Viper Teams joining in the fun over three weekends of sailing on Sarasota Bay in December, January and February before the Viper Fleet heads to Miami and then on to Charleston in what has come to become a highly competitive and hugely enjoyable winter circuit for the U.S. based Viper Class.