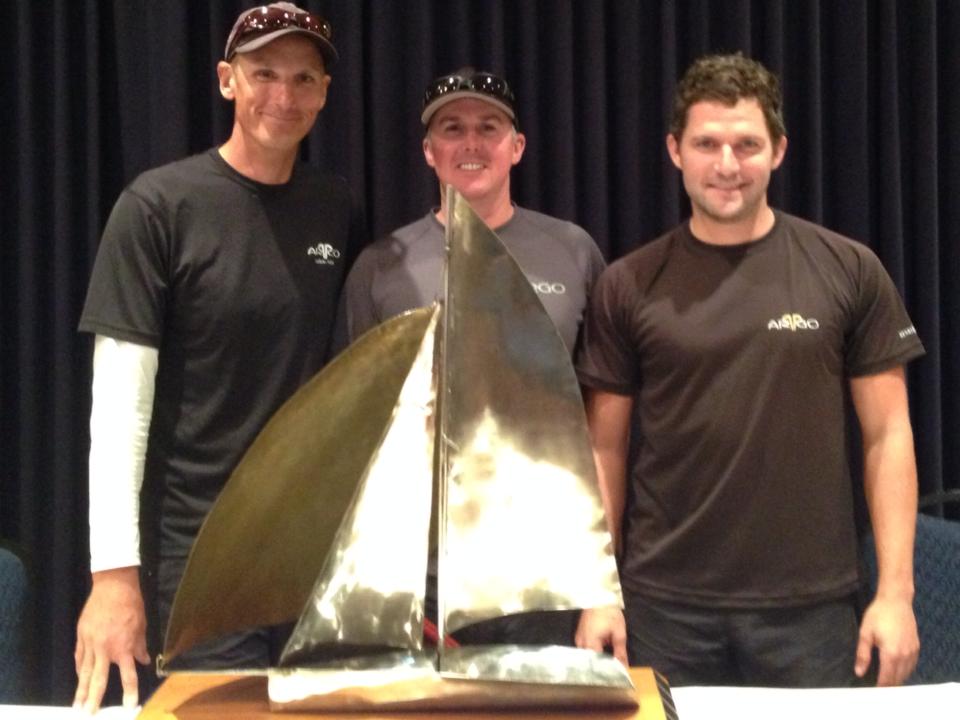 HOUSTON, Texas. (October 12): The final day of the Viper 640 North Americans hoped to clear out a cluster at the top of the leaderboard, but forecasted thunderstorms meant that the fleet would be fortunate to get in two races in a 7-10 knot SSE breeze. Jason Carroll with his team of Chad Corning and Danny Pletsch aboard Argo entered with a 13-point lead, but the next five boats were separated by fewer than 15 points, with a few ties mixed in.
Carroll and crew sealed the deal with a wire-to-wire win in Race 12, as their closest competition jousted for podium spots. Luke Lawrence and crew broke a tie for second when Jay Golison's team from Long Beach, California was over early in the final race, and Malcolm Gefter's team from Newport, Rhode Island looked to move onto the podium by a comfortable margin, but was thwarted when Golison was able to grind back downwind to 11th to salvage third overall. Gefter was fourth, and three-time North American champion and Canadian Olympian Brad Boston from Sarnia, Ontario finished fifth overall, three points ahead of Kevin Taugher's Southern California team. With thunderstorms rapidly approaching, the race committee stopped the event after a single race on Saturday, and teams scrambled to de-rig amidst distant lightning strikes.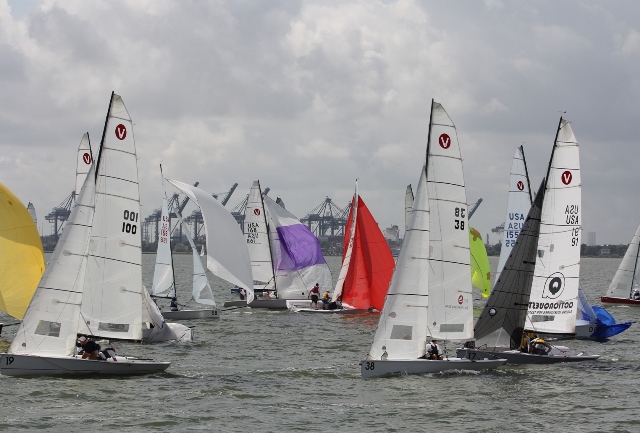 This is the second major championship for Carroll's Larchmont Yacht Club-based team in a month, as the 2012 Rolex Yachtsman of the Year finalist also won the 2013 Melges 32 Worlds in Italy, and adds to his Viper class titles (the 2012 Atlantic Coast Championship and the 2011 and 2012 HPDOs). The 2013 North Americans will be remembered for unseasonably cool Texas temperatures and lighter winds overall than usual, but a record number of races for the class at an NAs (12), very tight competition, strong geographic diversity among competitors, and fantastic post-race festivities thanks to Houston Yacht Club's hospitality and the hard work of event chairman Pat Gibson and his team. The 2014 Viper North Americans will be held in early September at Alamitos Bay YC in Long Beach, CA, and the 2015 North Americans at Larchmont YC on Western Long Island Sound in October.
Top Ten (Full results posted at http://www.regattanetwork.com/clubmgmt/applet_regatta_results.php?regatta_id=6488)
1. Argo, Jason Carroll (New York, NY): 31 points
2. Arethusa, Luke Lawrence (Ft. Lauderdale, FL): 46 pts
3. It's All Good, Jay Golison (Long Beach, CA): 54 pts (two firsts)
4. Celeritas, Malcolm Gefter (Newport, RI): 54 pts (one first)
5. Jackpot, Brad Boston (Sarnia, Ontario): 60 pts
6. Hot Mess, Kevin Taugher (Huntington Beach, CA): 63 pts
7. Thirty-One, David Chapman (Sydney, Australia): 80 pts
8. Black Seal, Somers Kempe (Hamilton, Bermuda): 99 pts
9. Panda Capacitor, Jay Rhame/Peter Beardsley (New York, NY): 114 pts
10. Sidewinder, Travis Yates (Sarasota, FL): 115 pts
Photos by Scott & John Lacy