Sailed over the weekends of July 11-12 and 18-19, 25 Vipers competed in all or parts of Larchmont Race Week. Clearly, the Vipers stood out from the traditional, full hull boats on the one-design circle (Etchells, Shields, IODs, and S Boats) as they skipped over the water as the breezed were light to moderate.
After the first two days of sailing, however, it was Peter Beardsley in GHOST PANDA who led the standings with a pair of bullets and a fourth. Danny Pletsch's and Cardwell Potts' BLACKOUT PROPOSAL was just two points off the lead with a 2-5-2 line score. LYC Vice Commodore Andy Kaplan's SIZZLER was in third.
The second Saturday found light breezes again but the Vipers were able to complete two races-both of which Pletsch/Potts won putting them in the lead-and Sunday, after a 2-hour shore postponement, two more races were sailed with Pletsch/Potts holding on to their lead, Beardsley remaining in second and Kaplan third.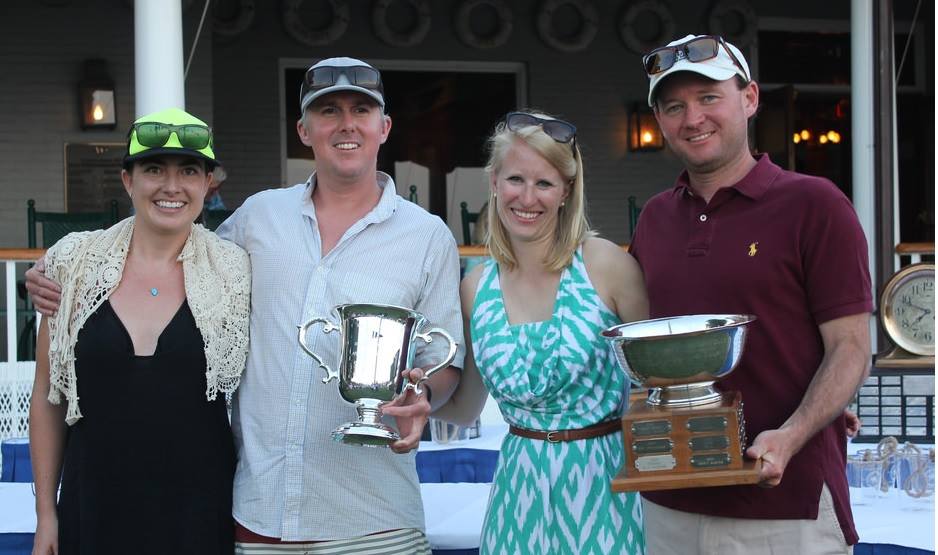 Megan and Danny Pletsch with Jennifer and Cardwell Potts being awarded Larchmont Race Week's Kathleen Anne Cullen Memorial Trophy.
The Viper class was the largest fleet in the multi-fleet, multi-circle Larchmont Race Week. It was also the most competitive. Reflecting both of those facts, Pletsch and Potts were awarded the Kathleen Anne Cullen Memorial Trophy, the perpetual presented to the top performing one-design boat at Race Week. For those at LYC, this trophy holds tremendous significance: Kathleen was a junior sailor at LYC and as a young woman during World War II drove an ambulance in France. Unfortunately, she was killed while performing her duties and Larchmont Yacht Club remembers her sacrifice with this award. Well done Danny and Cardwell.