A small but spirited fleet of eight Vipers battled for the 2019 Atlantic Coast Championship sailed as part of 2019 Charleston Race Week, April 12-14. Some of the fleet chose to launch from the dedicated Viper launch and haul location at Hobcaw Yacht Club in Mt. Pleasant. Others chose to take advantage of the hoist at Charleston Yacht Club in downtown Charleston and sail over to the regatta location at Patriots Point Marina from there.
Friday morning the fleet departed from the shelter of the College of Charleston Sailing Center at Patriots Point. It was a quick sail out to Circle 1 located off the point of the Charleston peninsula at the intersection of the Ashley River and Charleston harbor. Under partly sunny skies, temps in the low 70s, a building SE breeze, and a challenging ebb tide, sailing was great.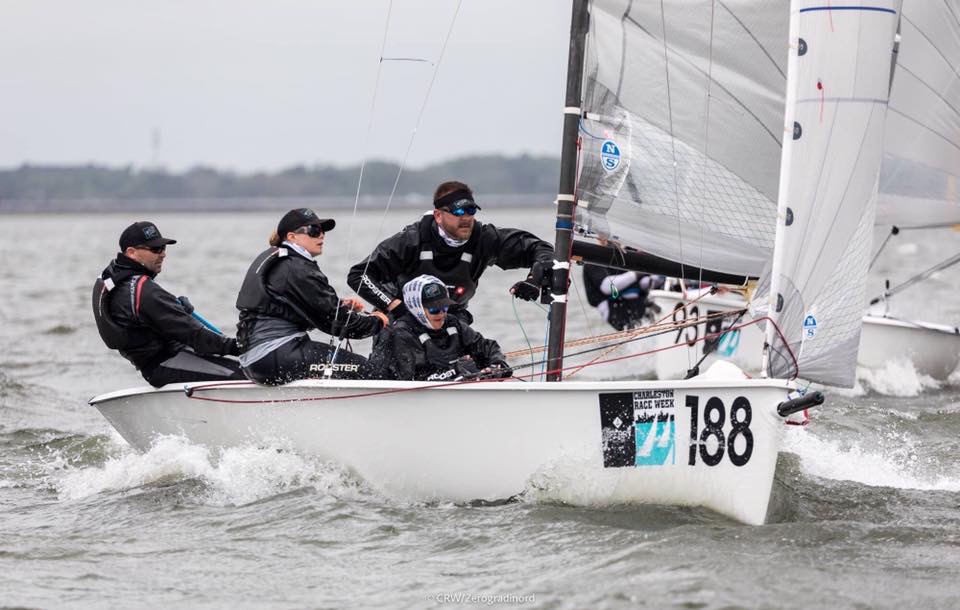 The West Coast team on CHANCE V felt right at home in Charleston Harbor romping to a 1,1,3,1 score line on Day 1 to take an early lead over a skilled, but new team on NESS, with the hard charging ENTOURAGE (Nick Amendola) and CHOPPY SEAS (Tom Loutrel) teams close behind.
Day 2, predicted to be both light and somewhat rainy, was a pleasant surprise as the breeze built out of the South to the mid-teens. Then the sun broke through to raise temps into the mid-70s again. It was a difficult track on Circle 1 as significant wind shifts, often combined with massive differences in pressure, scrambled the fleet. Hopeless flyers turned into half-leg leads and keeping finish positions in question until the last few meters of the final leg. Boats alternatively overtook and fell behind eachother fighting for the last puff before the finish.
Sunday morning had an ominous feel under grey skies and a stiff southerly breeze as the predicted forecast with gusts reaching the mid-40s by mid-afternoon. Circle 1 PRO, Tommy Harken, communicated with the fleets on his course and stated his intent to run two quick races before the conditions deteriorated. The breeze came on quickly and the Viper fleet was sent on its way 0.8 NM upwind in pressure ranging from the high teens into the high 20s. Downwind, finding the pressure was key as the boats that found the big puffs were able to soak low and get away from their competitors behind. Local team CHOPPY SEAS unlocked the conditions and won the day with a strong 1,1 to finish the event.
After three fun and challenging days of racing, only three points separated the top four competitors; a testament to the level of competition in the Viper fleet. In the end, it was Kevin McCarthy and the CHANCE V team that claimed the 2019 ACC trophy over Mark Zagol and team NESS and Nick Amendola on team ENTOURAGE.