When asking around the fleet who would be a good first entry into the "Better Know a Viperer" series from the Gulf Yachting Association (GYA), I unanimously got one name back:  Sam Vasquez.  There may be no more widely known sailor in the Gulf than Sam:  insanely friendly, welcoming, enthusiastic, funny, he connects with everyone he meets, regardless of their background.  I know I personally look forward to seeing Sam when travelling down to Miami for Bacardi every March–him and his multiple teams from Gulfport always seem to be first in the boatyard in the morning and last to leave Sandbar every night–he's a gravitational force and a sparkplug that gets people out on the water!  Without further Ado: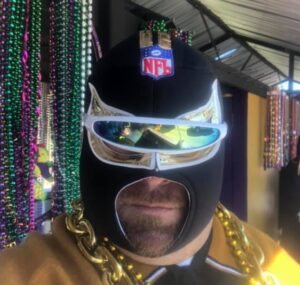 Name:  Sam Vasquez
Viper sailed:  Last Call (#276), King Cobra (#256), Mystery (#284), among others…
Home port:  Gulfport YC, Gulfport, MS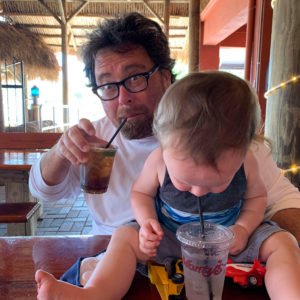 Sam recruiting future Viper crew at Monty's in Miami
What do you like most about your regular sailing venue?
The sea breeze. We do get times of no wind during the summer but for the most part we can count on having some wind to sail.
How long have you been sailing Vipers? I believe since 2010
Who introduced you to Viper sailing, and what drew you to the boat? My good buddy, Lee Eikel, who also likes to go fast on sailboats in cool places, purchased one.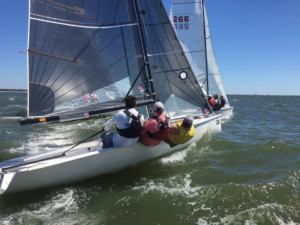 Sam on Last Call
What other boats have you raced, and when did you first start? I started racing in Clear Lake, TX on my parents' big boats. Made my first Gulf of Mexico crossing at 12 years old. It was not until when we moved to Mandeville, LA when I started racing sunfish and flying scots.
Who are your regular teammates on the Viper / favorite people to sail Vipers with if not among the regulars:
I sail with all kinds of sailors. For our GYA Capdeville Regattas we may have 6 year olds to senior citizens. Haha. They are all a hoot to sail with and all come off smiling. It is always a treat to sail with my Last Call boys (Lee, Max, & Jeff) from time to time. But, I am too fat these days. Haha.
What do you do professionally, and what do you like best about your job?
I am the Sailing Director at Gulfport Yacht Club. The best part I would say is, watching someone figuring out how to sail on their own for the first time.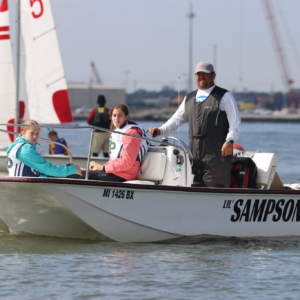 Another day at the office
What do you like most about Vipers? They go fast in cool places.
What is your Viper pregame ritual? A little old school New Orleans gangsta rap while pulling into the boat yard. You need to get your mind right.
Do you have a basic race philosophy? Have fun and don't hit anyone, too hard. Full send, son!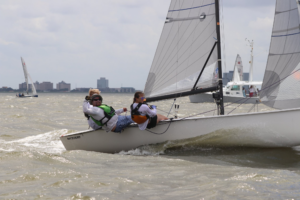 Sammy sendin' it
What is your favorite piece of sailing gear? Knee Pads, it is a requirement for fat guys on these boats.
What is your favorite music to have playing in the drysail area? Bob Marley
What is the one sailing accomplishment that you are most proud of?
That is tough…. I have not won that many regattas, I am not that good. I guess I am proud of starting the Gulf Coast Sailing Foundation. After 10 years we finally have money in the bank after purchasing boats for the youths!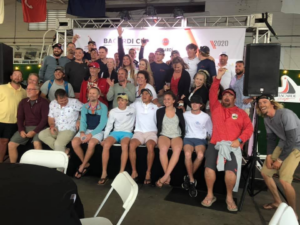 Sam Leading the GYA charge at Miami 2020
What's one non-sailing thing about you that you'd want people in the Viper class to know? Who does anything non-sailing? Haha.
Have you been able to do any sailing during Covid?
Some, as y'all know all the cool regattas got cancelled. But after a while we were able to focus more on building our teams in-house.
What are you looking forward to most about the pandemic being over? Shaking hands and seeing people.
What is your best piece of advice for someone who is new to Vipers?  Do not forget to smile when planning downwind.
Tell us your favorite Viper story?
That is tough. I would have to say the first time sailing & racing the Viper which was also the first time sailing in 20+ knots. Jeff, Lee and I set the kite and of course we had a knot in the retrieval line and were still doing 16 knots! We all had grins on our face and couldn't believe how stable it was. We messed up every gybe and takedown that day but we sure had fun.