Welcome back to another great installment of "Better Know a Viperer".  This week we're super excited to sit down with a pillar of the fleet:  Rachel Beardsley!  If you've been to any major Viper regatta the last 6+ years, you will have undoubtedly met Rachel holding down logistics in the boatyard or at the afterparty.  She's also a key reason as to why more often than not you may see an image of a Great Scott! spinnaker crossing the finish line before you (ie: William Wallace, Scott Bakula, Doc, Mary Queen of Scots).  In fact, myself, when once working as the forward crew for a 6x NA champ in the class, was told on a light air downwind run "just do what Rachel does!"  I instantly knew what was meant, but am not sure I actually was able to execute it…
Moving into 2021, Rachel is working together training with her all-female Viper team for the Women's NA champs in October.  Maybe at the next regatta look for team BABS out on the race course and ask Rachel what the name stands for!  Without further ado: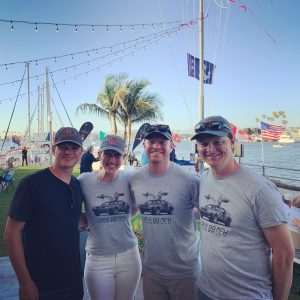 Simon, Rachel, Peter, and Jay at 2019 Viper Worlds in Long Beach
Name:  Rachel Beardsley
Viper sailed:  Great Scott! (#269), Ghost Panda (#222), Vicious Panda (#161)
Home port: Historically Larchmont YC, more recently, Shelter Island YC
How long have you been sailing Vipers? 11 years
Who introduced you to Viper sailing, and what drew you to the boat?  My introduction to the Viper was through my husband Peter, who, as most readers know, is quite enthusiastic about the Viper class. We had been racing Vanguard 15s for several years, and it was an exciting challenge to upgrade to the Viper.
What other boats have you raced, and when did you first start?  As an Iowa native, I did not grow up sailing.  Rather, I started sailing Vanguard 15s in 2005 when Peter and I started dating.  I also race on my boss' J/105 in New York Harbor, and David Owen, Simon Karstoft Jensen, and Patrick Slattery from Viper 222 Ghost Panda are part of our core J/105 crew.  Most recently, I have been racing a Sunfish in the Shelter Island fleet.
What do you like most about your regular sailing venue? Shelter Island is a great base for sailing as there are many nearby racing options not only in Shelter Island but also in Sag Harbor and Peconic Bay.
Who are your regular teammates on the Viper?  Peter and I co-own Great Scott! with Jay and Rachel Rhame. Also, Simon Karstoft Jensen has made some key guest appearances with us for some travel events.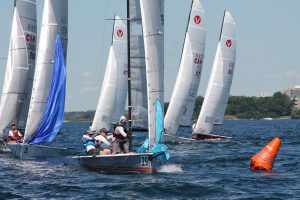 Team Great Scott! working hard at the 2018 Viper NA's
What do you like most about Vipers? My favorite part of Vipers is the close-knit community of people. We have many dear friends in the fleet who I really enjoy spending time with on and off the water.
What is your Viper pregame ritual? The Great Scott! team believes in a hearty breakfast before sailing. During regattas, we cook breakfast at the rental house (such as the Beardsley Breakfast Burrito) or go out for a good breakfast.
Do you have a basic race philosophy? Be forward looking. Learn from mistakes to improve moving forward but don't dwell on the mistakes to the point it negatively impacts the rest of the race or the regatta.
Favorite sailing kit?  Zhik Neoprene pants!
What is your favorite song to have playing in the drysail area? "Juice" by Lizzo
What is the one sailing accomplishment that you are most proud of? Peter, Jay, and I were honored to win the Corinthian Award for the top amateur boat at the 2018 North American Championships, and Peter, Jay, Simon, and I won the Corinthian Award at the 2019 Viper World Championships.  I am the first woman to win the Corinthian Award for a Viper Worlds.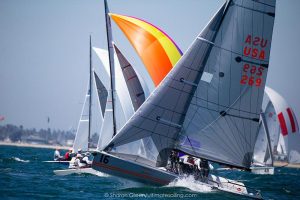 Maybe the most famous Great Scott!! pic? …At the 2019 Viper Worlds in Long Beach
What do you do professionally, and what do you like best about your job? I am a Partner at Fragomen, which is the world's largest and leading immigration services firm. While the immigration environment has never been more complex given the pandemic related travel bans and increased immigration restrictions in various countries, I find it rewarding to help clients meet these challenges head on and successfully navigate them.
What's one non-sailing thing about you that you'd want people in the Viper class to know? I am a percussionist and perform regularly with the Park Avenue Chamber Symphony in New York.
Have you been able to do any sailing during the pandemic? Peter and I have raced Sunfish in the summer series on Shelter Island and also raced Sunfish in the winter series in Sag Harbor.  We also raced the Viper in PHRF events near Shelter Island.
What are you looking forward to most about the pandemic being over? I love to travel so am looking forward to when we will be able to travel freely again.
What is your best piece of advice for someone who is new to Vipers? Ask lot of questions both on and off the water – feedback is a gift.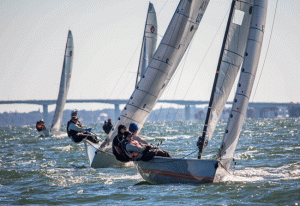 Great Scott! in Sarasota!
Tell us your favorite sailing story? The first time I sailed with Peter was in a Vanguard 15 in May 2005.  As soon as we finished our law school final exams for the spring semester, we took the train to Larchmont Yacht Club.  After sailing around Larchmont Harbor for a bit, Peter decided I was a natural and handed me the tiller.  At first things were going well, but when a puff hit, I jerked the tiller extension toward me, sent the boat spinning, and fell backwards out of the boat.  Peter scooped me up and offered to go in, but given that it was a warm, beautiful day, I was able to rally.  We sailed to American Yacht Club just as the big boats were returning from AYC Spring Series, and a friend on a big boat handed us rum and cokes, which we drank as we sailed on a beam reach back to Larchmont.  It was a fantastic first day on the water.
Pros and Cons of sailing with your husband? It is wonderful to be able to share a hobby together, particularly since we both work long hours and have limited free time. The downside is that sometimes we are more intense with each other on the boat than we are off the water.
Any big plans for the Women's championship? Rachel Rhame and I are fielding a women's team for the event. I am excited to get to sail with Rachel again since she is one of my best friends, is an excellent sailor, and also makes delicious signature cocktails for the team.