Who better than to re-boot our beloved BKAV series (Better Know a Viperer) than our one and only Eleni Asimacopoulos!  If you've been to a Viper regatta anywhere in eastern North America over the last 6-7 years, undoubtedly you've seen Eleni holding down the middle position on #39 (Patched Up), #235 (Meow!), or now via interfleet marriage (yay!): Porkchop (#166).  Increasingly over the last 2 seasons, she's also been working on her chops at the helm as she prepares for the 2021 Women's Championship in Noroton, CT.  Lets jump right in to the interview: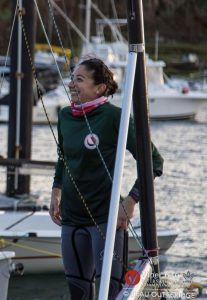 Name:  Eleni Asimacopoulos
Viper sailed:  Patched Up (#39), Meow! (#235), Porkchop (#166)
Home port:  Marblehead, Massachusetts
So, first thing, what's it like marrying a fellow Viperer?
It's awesome! There are no arguments over whether to go to regattas or not (the answer is almost universally yes). And neither of us gets annoyed that our basement is taken over by Viper gear and that our garage is literally full of a Viper:
The Asimacopoulos-Hebert Garage
What do you like most about your regular sailing venue?  It's a beautiful spot that's close to Boston. There are three (bigger…) yacht clubs that run really
high-caliber racing. It's a short sail out of the harbor to the race course which is basically open ocean.
The variability of conditions makes it a challenging but fun place to race.
How long have you been sailing Vipers? Since April 2013
Who introduced you to Viper sailing, and what drew you to the boat?
Shout out to Cole Constantineau of, then, Patched Up (#39) and now Meow! (#235). Cole
recruited me and a couple of other sailing friends to help set up the boat for the first time on a
Saturday in April… and then we put on dry suits to take it for a sail in Boston Harbor. The first
regatta we did (and essentially the first time racing the boat) was Charleston Raceweek that
same month! The viper was so fast and fun I couldn't help but want to keep racing. Those of us
who raced in Charleston in 2013 remember how 'fast' the conditions were!!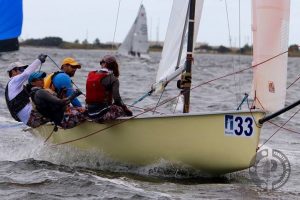 Patched Up at the Ft. Walton North Americans (2017)
What other boats have you raced, and when did you first start?
I first started sailing / racing in July of 2011 on a J130 (Saga for people who know the
Marblehead PHRF fleet). The owner suggested I go try out Community Boating, Boston's local
community sailing program, where I met some now-familiar faces in the Viper Fleet and started
racing Cape Cod Mercuries. Not quite a Viper, but still great fun and challenging to sail well.
Who are your regular teammates on the Viper / favorite people to sail Vipers with if not
among the regulars
So many favorites! BUT Cole Constantineau (on Meow!), Marcelo Pereira (on Patched up) and
Matthew Hebert (on Porkchop) … the whole Marblehead Viper fleet are great fun to sail with.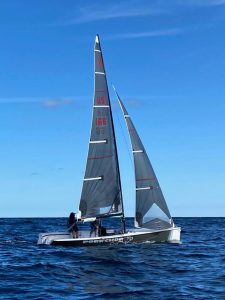 Eleni at the helm of her husband, Matt Hebert's Viper (Porkchop #166)
What do you do professionally, and what do you like best about your job?
Pediatric cardiologist. I enjoy the variability of the day-to-day: I see newborns to 60-year-olds;
some are really sick in the hospital setting, and some are just in for an office checkup.
What do you like most about Vipers?
They're fast! I think that has been said before by a few people. They're overall quite simple in
terms of setup. Apart from stepping the mast, I can set the whole boat up and take it apart easily
and quickly on my own.
What is your Viper pregame ritual?
Coffee. Lots of coffee
Do you have a basic race philosophy?
Let it go / don't get in your head. Don't let a mistake you made during a race preoccupy you for
the rest of the day…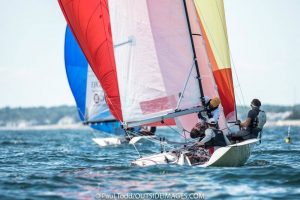 Patched Up in Marblehead
What is your favorite piece of sailing gear?
Kitty board shorts… I think most people have seen them (or wish they hadn't seen them)
What is the one sailing accomplishment that you are most proud of?
I think making it through Charleston Raceweek 2013 in tough conditions with no prior
experience in the boat!
What's one non-sailing thing about you that you'd want people in the Viper class to
know?
I like triathlons… but they're really just there to train for sailing … and pass the time until more
sailing
Have you been able to do any sailing during the pandemic?
Yes! Luckily, the Marblehead Race Association ran races in the summer of 2020. It was great to
get out and sail with the fleet. A few of the Marblhead boats also made it to the High
Performance Regatta (HPR) in October 2020 which was the highlight of the year
What are you looking forward to most about the pandemic being over (whenever that
may be)?
Viper regattas so we can see our Viper friends/family again! It has been a long, cold fall and
winter in Boston without the Lake Champlain regatta, Sarasota racing series, or Miami race
week… I speak for the Marblehead Viper fleet, I'm sure, when I saw we miss everyone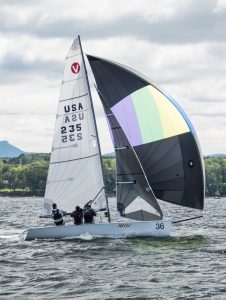 Meow! on Lake Champlain
What is your best piece of advice for someone who is new to Vipers?
If you have a question or any trouble with maneuvers or boat handling, ask anyone in the fleet
for advice! That's one of the many things I love about the fleet: great knowledge and willingness
to help newcomers and veterans alike
Tell us your favorite Viper story…
So many good stories…but our first regatta in the boat (Charleston Raceweek 2013) was pretty
memorable… To say it was breezy is an understatement. Given that we were unfamiliar with
such maneuvers as a blow-through gybe (or just gybing in general), we broached quite a bit. I
remember a particularly significant broach. I found myself stradling the rail next to the keel. I
looked up the course as the J70 fleet popped their kites and started hurtling towards us. I
glanced at Cole as he popped up next to me and exclaimed 'Cole…I'm scared…' to which he
replied 'jump on the keel'!!! Nothing was really that scary in the boat after that!