In our next installment of BKAV (Better Know a Viperer), let us introduce to you Alex Schon, who is one of the driving forces and sparkplugs behind the emerging fleet in South Africa!  So as we emerge this year from our COVID hibernation and dream about sailing in amazing places, we should be dreaming of sailing with Alex on the Vaaldam!  Alex aims to have a Viper worlds in South Africa and over the next year or two, as well as 4 more Vipers in the country in the next year or two.  He's planning a big marketing push and is working to organize the South Africa "Viper Shootout" that will attract the top sailors in the country (ie: folks from Americas Cup campaigns, Volvo Ocean Races of past, and the TP52 circuit).  Alex and his fellow Viperers made the long trip to Long Beach (over the north pole :p) for the 2019 worlds and showed how enthusiastic they are about the boat and the fleet.  For now we are just BKAV "pen-pals", but after COVID we're all really looking forward to crossing tacks with our friends from South Africa again soon, so for now let us introduce Alex: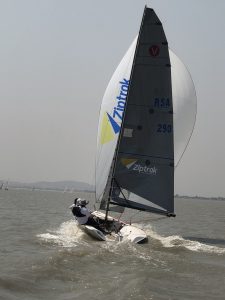 Alex and Crew planing on the Vaaldam
Name:  Alex Schon
Viper sailed:  Rafiki (#290) and (#315)
Home port: Lake Deneys Yacht Club, Vaaldam, South Africa
So, who introduced you to Viper sailing in South Africa, and what drew you to the boat? 
On the look for a new sport boat my friend Greg Plunkett and I spent a lot of hours trolling the internet. Once we made contact with Rondar it became a no-brainer.
What other boats have you raced?
I started racing on keelboats on Vaaldam (I had done a bit of sailing on an Enterprise dinghy before that). I have sailed Flippers, Lasers, J22's, J24's, Hobies, Thompson 7, Nacra 20 and a whole host of other classes.
What do you like most about Vipers? It's an easy boat to rig, launch and sail, yet is complex enough to make it go fast. It's got to be the best bang for the buck around.
Who are your regular teammates on the Viper? I mainly sail with Marco Seitz and Rob Edwards
What do you like most about sailing on the Vaaldam? The tranquility on a Friday night when there is hardly a soul around.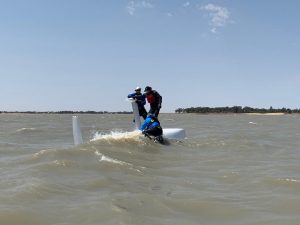 Evidence that the wind isn't always so Tranquil on the Vaaldam
What is your Viper pregame ritual? I don't really have one. As a team should probably consider a Zulu war dance for the future.
What is your favorite song to have playing in the drysail area? Tough question as I really enjoy so many genres of music and the choice of song would largely be dependent on my mood at the time. Anything from Stick Figure via Bob Marley to Dire Straits, Scorpions, Queen, Led Zeppelin – the list is long
.
What is your favorite piece of sailing gear? My Tilly hat that I bought in LA at worlds!
Do you have a basic race philosophy? Stay out of trouble and try and sail our own race by sticking to our game plan.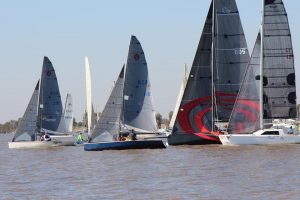 Vipers 290 and 118 (affectionately known in the USA as "the bruise"), mix it up in handicap racing every Friday on The Vaaldam
What is the one sailing accomplishment that you are most proud of? There are 2 really. In the 1990's we won the match race final at Jammin in Jamaica on J22's against the then top US team. In 2003 I sailed the Cape to Rio race (my first ocean race) and won handicap honours against a gaggle of pros.
What's one non-sailing thing about you that you'd want people in the Viper class to know?  I'm the eternal optimist (no pun intended)
What do you do professionally, and what do you like best about your job? I started life in the marine industry as a salesman for North Sails. I then migrated into the world of fabric architecture and build tensile structures as well as fabric facades. I was involved in the construction of the roof of the Moses Mabida Stadium in Durban for the 2010 Soccer World Cup.
Have you been able to do any sailing during the pandemic?  In South Africa we started with a strict lockdown at the end of March. By the end of August we were allowed to start sailing again. Some events are still being postponed but largely things are getting back to normal now in 2021…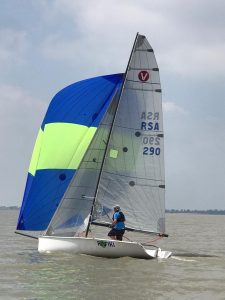 Alex sailing Rafiki shorthanded
What are you looking forward to most about the pandemic being over (whenever that may be)? Being free to travel again and join some the Viper events around the world and hopefully one day get to host a major international event in our challenged but beautiful country.
What is your best piece of advice for someone that wants to join the Viper fleet? Just do it. This class is as much about the boat as it is about the people that are involved and drive the class – In Tina Turner's words: Simply the Best
Tell us your favorite Viper story? It has to be the Worlds 2019. After having trained hard and put in huge effort in getting to the Worlds, my medical condition counted me out at the last second and my trusty crew of Rob 'Does your dad own a brewery' Edwards and Marco 'Brutus' Seitz, took the bull by the horns, recruited some unsuspecting locals and ended up top South African team in this event – this certainly made me immensely proud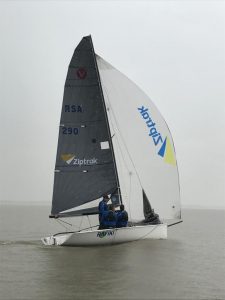 Alex and crew on Rafiki in the light stuff