A Supposedly Fun Thing That I'll Probably Do Again Next Year
By Peter Beardsley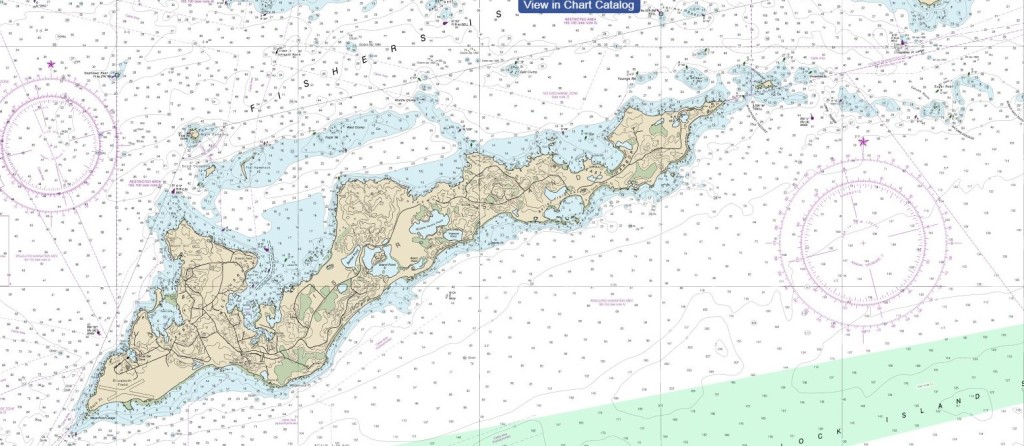 We try to mix up our Viper travel schedule – it's a good excuse to see new places and if we happen to sail, all the better. Despite growing up in the northeast, I had never step foot on Fishers Island, a tony enclave that through a quirk of cartography and colonial era politicking, is in New York State waters despite being much closer to Connecticut and Rhode Island. In fact, for geography fans, there is a part of the island where at low tide, you can stand at the only "border" of New York, Connecticut and Rhode Island. Fishers is known for its natural beauty and its exclusivity, which many others have written about previously. In the sailing community, it is known for its many navigational hazards and strong tides thanks to its location at the mouth of Long Island Sound.
I figured the best way to finally step foot on its hallowed shores would be to convince Dave Nickerson to run a regatta for Vipers out there, which after a couple of years of cajoling and friendly harassment, finally happened. It wasn't a hard sell: there are four Vipers already racing there regularly in the Wednesday night Mystic River Mudheads series, though without a fifth boat in the ranks they are relegated to the PHRF fleet, which thankfully has other sportboats for entertaining racing. So we entered a 15-mile multiclass race on Saturday around the island, and Dave, his co-owner Moise Solomon, the rest of the Eastern CT Viper fleet and the good people at Ram Island Yacht Club and the Mystic River Mudheads put on some fun windward-leewards for Vipers only on Sunday.
We left before dawn on Saturday morning, picking up our third crew on the side of the highway and rigging quickly at Ram Island YC in Noank, CT. There are a shortage of cranes in Eastern CT but plenty of ramps, and the locals have mastered ramp launching with a block and tackle system that keeps cars well clear of salt water. See the video of hauling Viper 206 after racing on Saturday: https://www.youtube.com/watch?v=iTcNA26MPfc
The Vipers were the 5th start out of 10 divisions, starting in a fading ebb tide to race around the island counterclockwise. A brisk northeast breeze allowed us to reach the starting line off West Harbor quickly, though not before a few divisions of classic boats had already started. It was a downwind start, with our team on Ghost Panda jumping out to an early lead past North Dumpling Island and its only occupant, Segway inventor Dean Kamen, with several gybes to Race Point, where spinnakers came down. We opted to continue for a hundred yards past Race Point before tacking into shore, and were mortified to discover that Moise, who had been 30 lengths behind and who tacked immediately around the nun, had closed to within a boatlength. We took a deep breath and acknowledged that the flood tide must be in our face, and bore down for several miles of beating and rock hopping along the south side of the island in waters known as "The Race" where the tide can run as strong as 4-5 knots. While some say you can sail within 10 feet of the beach, we were more cautious to avoid rogue boulders that had moved in the storm and kept a close eye on our Navionics app on a waterproof Android.
What we failed to do was navigate to the next mark several miles away at Lord's Passage, another landmine of rocks and strong tide flagged by several government marks. Putting the bow down too early and aiming at the wrong mark allowed Viper 208 to sail past, with a beam reach with few passing lanes remaining on the north side of the island. We were disheartened after thinking that we had the race in the bag…until we saw a second Viper appear in the distance ahead of both of us, sailing close hauled and crossing our course by 45 degrees about a mile in front. "Impossible" the rest of the team said. "He must be out day sailing." I sadly claimed to know the location of
every Viper in the northeast U.S., and noted that every Viper within 10 miles of our present location was doing this race. Suddenly the boat bore off to a beam reach, and hoisted the ever recognizable "Santorini Sunset" red, orange and yellow kite that could belong only to Cole Constantineau of Marblehead. It was an amazing coup by Cole. Rounding Race Point toward the back of the fleet, he opted to continue several miles on port tack into The Race, ignoring the rock hoppers, finding the last bit of ebb tide in the deeper water (as the tide had changed to the flood first along the shore of Fishers Island), getting a boost from the 30-degree righty, and not seeing a single Viper in sight with a two-mile lead, had opted to sail without a kite to avoid any risk of broaching on the puffy beam reach to the finish. Once a couple of kites converged, he hoisted and maintained his comfortable lead, being one of the first five boats across the line and battling with a Melges 32 for the overall title.
It was a great win for Cole and his team of road warriors, and after quickly hauling out at Ram Island YC and taking HBIs and lobster boats to the party at Fishers Island YC, we all celebrated with lobster rolls, pizza and Fishers Island Lemonade, a local concoction with vodka, whisky, and some lemonade. The fleet then retired to Dave and Cindy Nickerson's house for a post-race party.
A very civilized noon start time for four more races allowed the weekend to maintain its holiday feel. Dave, who had sailed Viper 109 on Saturday, teamed up with his regular partner Moise to dominate the local racing Sunday and win the regatta. We knew they'd be tough to beat in their home waters. Joe Healey from Noroton YC, with Mike and Alison Puleo from Larchmont, continued a hot streak that began the second weekend of Larchmont Race Week to win a race and generally stay at the top of the fleet to place second, and we managed to pull out a third once we put Roger Williams grad and new Viper sailor Matt Paige on the helm for the final two races to hold off brand new owners Allen Kruger, Gary Annino and 13-year old Chris Annino by a point. Allen is the Sailing Director at the U.S. Coast Guard Academy and a past All American and Chris is a top junior sailor locally – they were very impressive given that they had owned the boat for less than a week.
We were happy we avoided rocks and mostly kept the eel grass off our foils, and brought a case of Fishers Island Lemonade back to Brooklyn to allow for a lazy Labor Day Monday. Next year we'll plug the marks into the Android and find a new mistake to make. Around the Island results and overall weekend Results.