Western Australian State Championship
We have been having some good racing leading up to Christmas.
The Musto Regatta off Fremantle provided a weekend of good breezes and the States in early December promised more of the same.
The State titles were held at SoPYC. The forecast was for light medium winds on Saturday morning and stronger breezes on Sunday morning. Because of weekend racing on the river, the races were all held in the morning.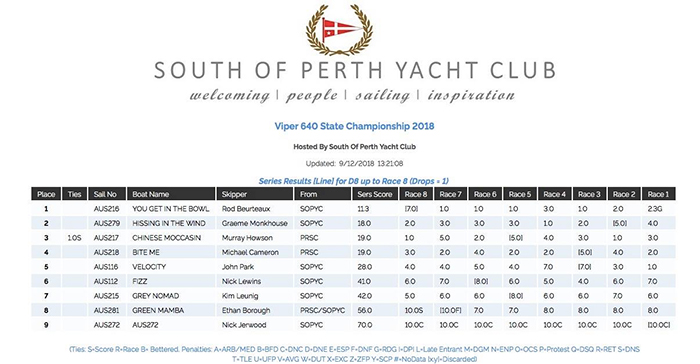 A fleet of nine boats hit the start line on Saturday. Unfortunately our World Champions, Nic Jerwood and Brian deVries were unable to compete.
The first race had Rod Beurteauxleading around the first mark, in the first race, when their keel was tangled by a poorly laid mark rope. The rope was weighted down, deep enough not to be seen, but was not deep enough to clear the keel.
Was this to be a repeat of the Worlds, where exactly the same thing happened on the first race of the pre-Worlds to Rod.
Beurteaux put in a protest against the race committee and was awarded average points for that race.
The breeze was consistent, up to 12 knots and the racing was close. Different boats won each of the four races. Four boats were within a few points of each other at the end of racing.
The renowned States BBQ went from the boat park to the lawn BBQ area where prawns, fish, steak and much beer and wine made for a great afternoon.
Day two started light and it wasn't until the last race that a reasonable breeze settled in.
Rod Beurteaux was on fire, winning the first three races of the day by good margins.
At the end of the day Rod Beurteaux , Jon Stubbs and Tony Johnson claimed the title.
Graeme Monkhouse, Heather Monkhouse and James sailed a consistent series to finish second.
Murray Howson, Jordan Mears and Jordo's brother won the last race of the day and finished third overall.