Sunshine, warm weather and a strong sea breeze on Biscayne Bay welcomed a very international group of Viper sailors in Miami for the Bacardi Invitational Regatta. Add in the Bacardi hospitality and the night life in Coconut Grove and you have all the elements of a great sailing event.
We started the week with the traditional Miami Scorch, a fun race across Biscayne Bay to the Boaters Grill where we were warmly welcomed with cold beer and Cuban style seafood.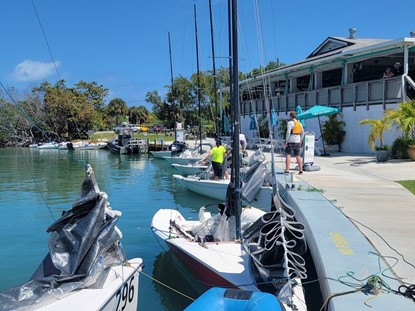 The return race (LeMans start) showed valiant seamanship as teams worked to fix inter-team attempts at minor sabotage while flying spinnakers out of the tiny harbor (the Mambo King turned into the Mambo Joker….).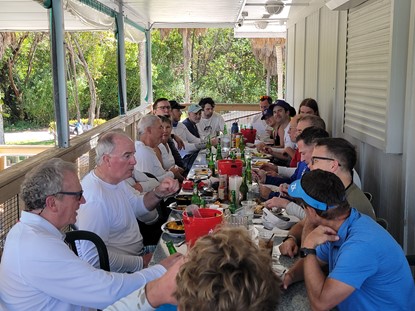 The visiting teams from Ireland (perennial Bacardi participant Anthony O'Leary and his crew of Clive O'Shea and Neal Fulcher) on 296 and Italy (Oriano Lanfranconi and Giulia Puccetti, who own 228 in northern Italy, chartered 182 and sailed with Nick Reeves) joined the other 12 boats from the US and Canada for 3 days of the Bacardi Invitational.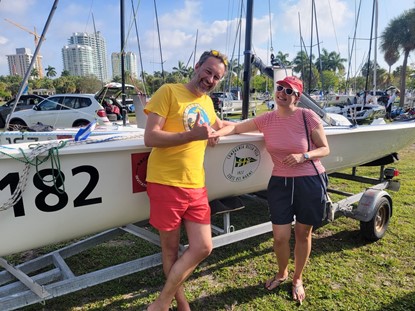 What makes the Bacardi Invitational special is the combination of fabulous sailing and the party Bacardi put on. With 162 boats and over 450 sailors Bacardi keep the rum flowing every day at the event site hosted by Shake-a-leg.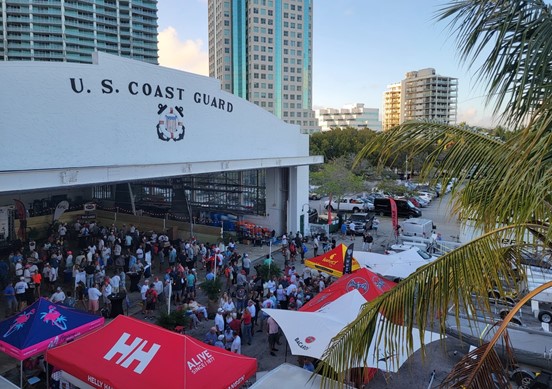 Racing on day one started in light 10 gusting 12 kts with the chop building as the tide ran strong and the wind built to 12-16 occasionally gusting 22kts. Three good races were run, with three different winners. Day two saw 12-14 in race 4 which increased to 14-18 in races 5 & 6 making for very exciting racing. Saturday saw a change in weather with a cold front passing through bringing winds in the 20-30kt range so the RC called the day before we launched.
The Hampton VA fleet showed its class and depth with Peter Ill on Caterpillar 277 putting on a master class in consistency winning with 1-4-5-1-3-2 and Vir Menon on Rolling Thunder 188 coming a close second with DNC-6-1-3-5-3. A three way points tie for third was settled in favor of Van Sheppard on Wadjet 211.
The Class shared a circle with the VXOne fleet and we jointly hired videographer Nick Woviotis (@Skylla Filmworks) who gave us some great video of the event:
Scorch day: https://www.youtube.com/watch?v=TdagVOSJPQI&t=16s
Bacardi Day 1: https://www.youtube.com/watch?v=wq-WxSKCpS8
Bacardi Day 2: https://www.youtube.com/watch?v=y1aSDCPUj_A
Bacardi Day 3 wrap-up: https://www.youtube.com/watch?v=pHedVKp8o0A