October 3-4, 2020
2020 has been a tough year for everyone. Viperers, with travel limited and restrictions on social contacts outside the household, have missed what was supposed to be an event-packed season of one-design racing culminating in the North Americans on Long Island Sound. As of mid-September, there had been no one-design racing on the Great Lakes since 2019, though boats had been sailing PHRF in Sarnia, Ottawa, and Hamilton.
Out of some threads of text messages, the fleet decided to try and throw an event on short notice before the season was completely done. The Royal Hamilton Yacht Club on Burlington Bay proved to be excited about hosting, and able to provide boats and RC—so the regatta came together for October 3 – 4. Five boats raced with a higher proportion of family teams than usual—the Molimard brothers came from Montreal, Van Sheppard came with his sons Alex and Luke from Nepean, the Rowlinsons were there from RHYC with Charlotte Panneton, and the fleet was rounded out by Adrian Laman, also from RHYC, and Brian Johansen from Sarnia.
The forecast was for cold, intermittent rain, and no wind. at 1100 on Saturday, the fleet was under AP sailing in circles around a brigantine training ship. After about an hour, breeze filled in from the northeast. It started as shifty and patchy but built to 8-10 and hung there for the rest of the weekend.
Big shifts remained the name of the game, with every boat getting the "zero to hero" experience (or the opposite) at one point or another. Race officer Tony van Schie and his team did a great job banging off races while keeping the course fair; five races were sailed on Saturday with four more Sunday.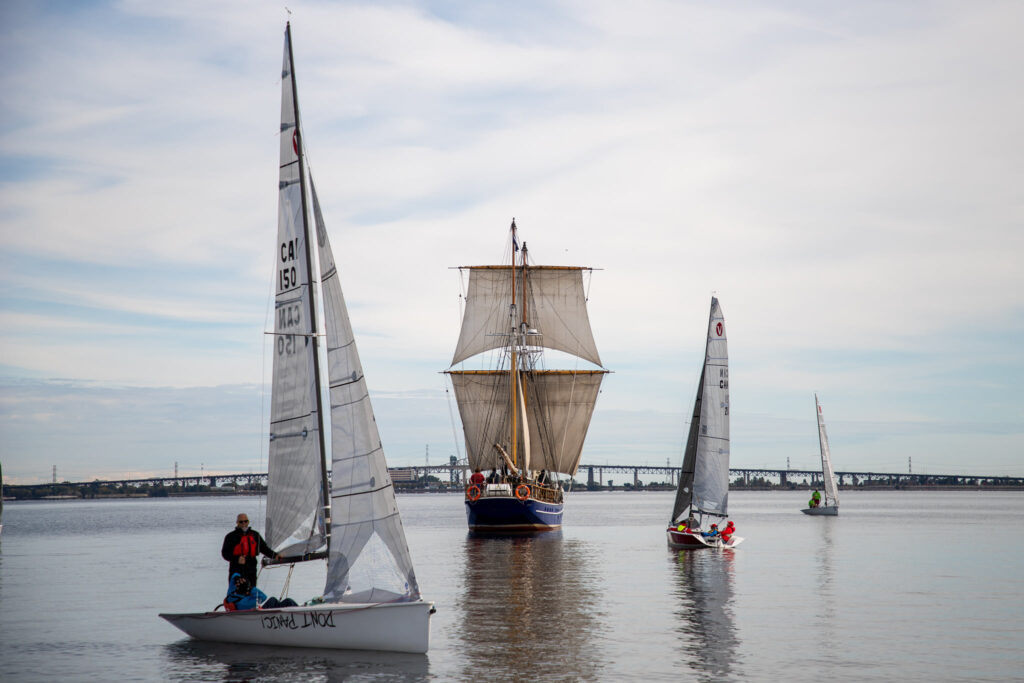 JOAN MCCORMACK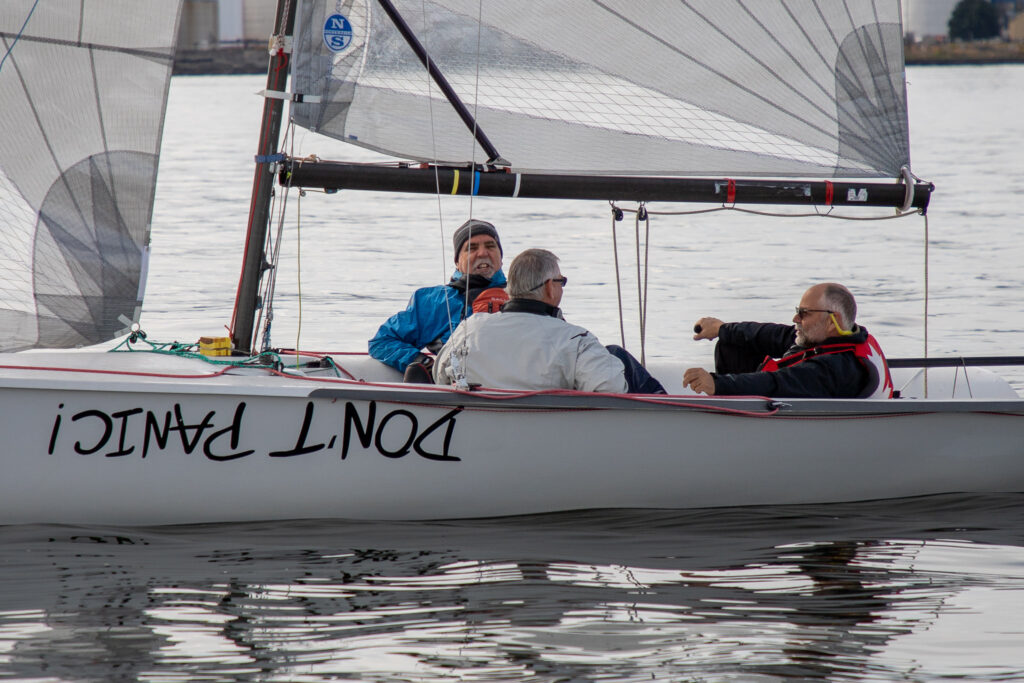 JOAN MCCORMACK
When it was all over, Van Shepard on Wadjet showed he had the tactical smarts and boat speed edge needed to win in the tight racing. Brian Johansen, on Northern Honey Badger, took second and the Rowlinsons on Whisper were third. The prize for youngest competitor went to Alex Shepard; we'll be seeing more of Alex and his older brother Luke in coming years! The Road Warrior prize for distance traveled went to the Molimards on Longue Distance. Patrick and Alain sailed the whole regatta in board shorts and spray tops (green, to match their chute), and were also acclaimed as best-dressed!
Thanks to RHYC for hosting a great regatta on short notice. Everyone who sailed was really happy to be on the water and racing. It would be great to bring a bigger fleet back next season; for this year, however, congratulations go to Van and his boys on winning what we hope will be the one-and-only Great Lakes Covid Championship.