January 20, 2018
East Fremantle Yacht Club
Reported by Jon Stubbs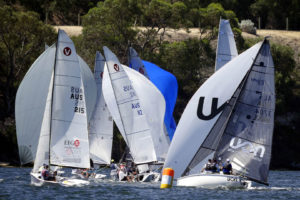 Another Rumble done and dusted. Sailed on the short course in front of Western Australia's East Fremantle Yacht Club, the racing provided plenty of action for the spectators as the wind was a pleasant 12 to 15 knots. This was a one-day, multi-class regatta where three pursuit races were scheduled applying handicaps to the 21 sports boats in attendance.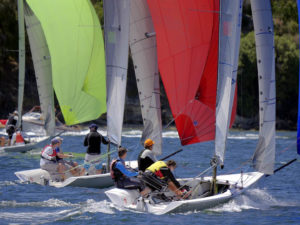 Commentary from Sports Radio Station, 91.3 Sport FM, brought sailing fans live commentary from Yacht Club balcony. The public were invited to join with members on the balcony of the yacht club which provided a stadium to view the thrills of close quarter racing over the 600 meter course.
"The Reach" is a narrow stretch of water affectionately known as "The Drainpipe" due to its narrow funneling nature. For the Rumble, boats were started every 30 seconds over a period of about 10 minutes, depending on their handicap. If you were one of the place getters in a race, an extra 30 secs – 1:30 secs were added to your handicap. The racing was close and hectic.
In the end the winners of the Sportboat fleet were all Viper 640s:
First – Nick Jerwood
Second – John Park
Third – Chris O'Keefe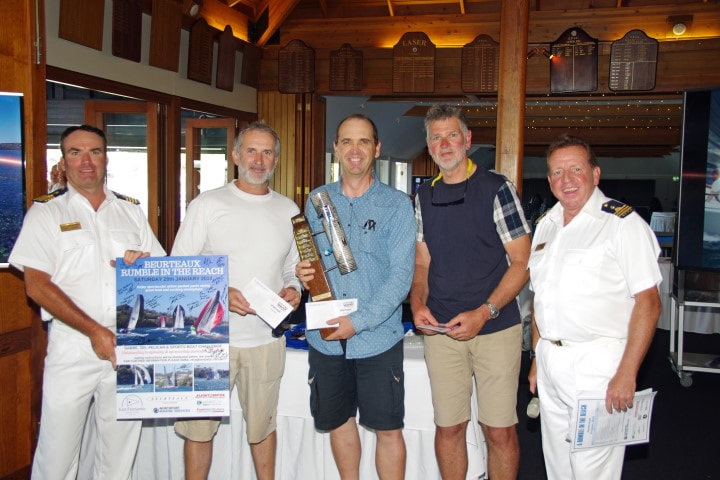 The day finished with beers and nibbles on the back of Bedarra with a train of vipers following back to SoPYC.
The accompanying photos are from Ironbark Photography and Rick Steuart from Perth Sailing Photography.