Lets rumble….
Each year, East Fremantle Yacht Club holds the Rumble in the Reach for the Western Australian Sports Boat fleet.
The "Reach", or Blackwall Reach, is a narrowing of the Swan River, a gorge if you like, 1.2 km long and .33 km wide. It is affectionately known as the "Drainpipe" The prevailing southwesterly wind funnels down the reach. It is notoriously difficult to sail with currents and a swirling wind.
The Rumble is open to all sports boats. It is a handicap start with boats off at 30 sec intervals. There are three races and if you place in a race, you are further handicapped for the subsequent race.
The course is 600m from top mark to bottom. It is a normal windward leg and then a downwind slalom around four marks.
The midway point of the course is set 100m in front of the East Fremantle Yacht Club's verandah bar, which is packed full of well primed spectators – perfect for judging the wipeout of the day.There is a commentator on hand to entertain and explain the event to the spectators.

The 20 knot gusts, large wind shifts and slalom course meant that you were never safe.
The Australian saying
"A Rooster one day and a feather duster the next"
was most appropriate.
Terry Foster on Viper 640 Kiss My Asp was the winner of the event.
All the vipers had a spill at one time or another, and so did the other sports boats.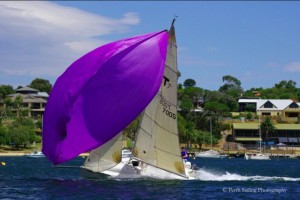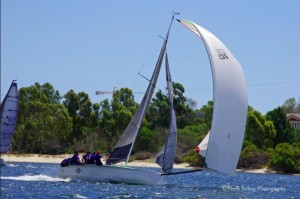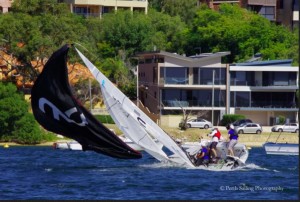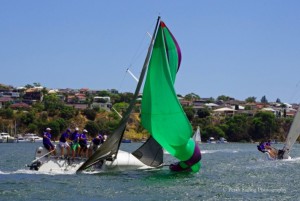 Thanks to Rick Steuart of Perth Sailing Photography for covering the event.
Rick can be contacted for quality prints. Rick is available to cover all sailing, regattas and other events.
http://perthsailingphotography.weebly.com