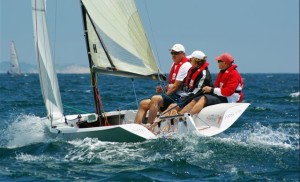 Musto Fremantle Regatta was again a huge event. Over 200 boats in 13 classes. The regatta can sometimes be light but we had a bit of everything up to 15 knots.
Five Vipers attended and all boats shared the spoils in at least one race.
Chris O'keefe had a great first day with a 2nd, 1st, 1st. and then crunch.
The start crew had set the start line in shallow water, and with a falling tide eventually three boats hit the bottom. Chris's damage meant his weekend was over. Rod Beurteaux could only sail the first day on AUS 216 and the helm was shared among his crew on the second day. None could match Graeme Monkhouse on Hissteria the second day.
Graeme Monkhouse, Heather Monkhouse and James Williams dominated the last day with three 1st's and two 2nd's to win the series by one point.