Saturday, October 2, 2021
Day 1 of the inaugural Viper 640 Women's North American Championship saw Chamber of Commerce conditions at Noroton Yacht Club in Darien, CT.  A fleet of 18 women-helmed Viper 640s sailed four races in a westerly breeze ranging from 9-14 knots on a sunny day with air temperatures in the low 70s.
Two years ago, the Viper 640 Class Association decided to create a Women's Championship starting in 2020. From the beginning, it was acknowledged that it would be difficult to field a sizeable fleet of all-women crewed Vipers as only a handful of the Vipers are owned and regularly helmed by women. Most boats consisted of at least half women or majority female teams, and there was one all-female team.
Noroton Yacht Club Regatta Co-Chair Nancy Pearson brought yet another thematic element to the Championship: the entire Race Committee was comprised of women who, as it turned out, came to this event from 14 different yacht clubs from around the country.
With great sailing conditions today and an initially low wind forecast for Day 2, Principal Race Officer, Sandy Grosvenor (Annapolis, MD), promised the competitors that she would try to get in four races for the day, which she did admirably. The lines were square allowing for fair, non-congested starts, and her course management and communications to the fleet kept all sailors and Race Committee involved and up to date.
Because only a few of the women skippers owned their own Viper, the majority of the helms were either relatively new or entirely new to the boat; but the skill and experience that the guest skippers brought to the fleet was enviable. One woman in particular, Garce Howie (NY, NY), had never been in a Viper previously, but stepped in to drive a boat with an experienced crew of Meridith Killion, Ted Ferrarone, and Cardwell Potts. Grace's Viper inexperience, however, didn't seem to hurt her, and she was coming off a strong event at Snipe Western Hemispheres the prior week, where she finished second overall. Grace and team led wire to wire in Race 1, and she followed that with a third and a fourth to put her into a tie with Jane Loutrel Moore (Hampton Bay, VA) sailing with Vir Menon and her two children Marian and Parker, after three races. Moore's first three races were a 2-2-4. In the final race of the day, Howie worked out a 10+ boatlength lead at the last weather mark and held that lead until the finish. Moore finished the day with a seventh dropping her to second with six points behind Howie.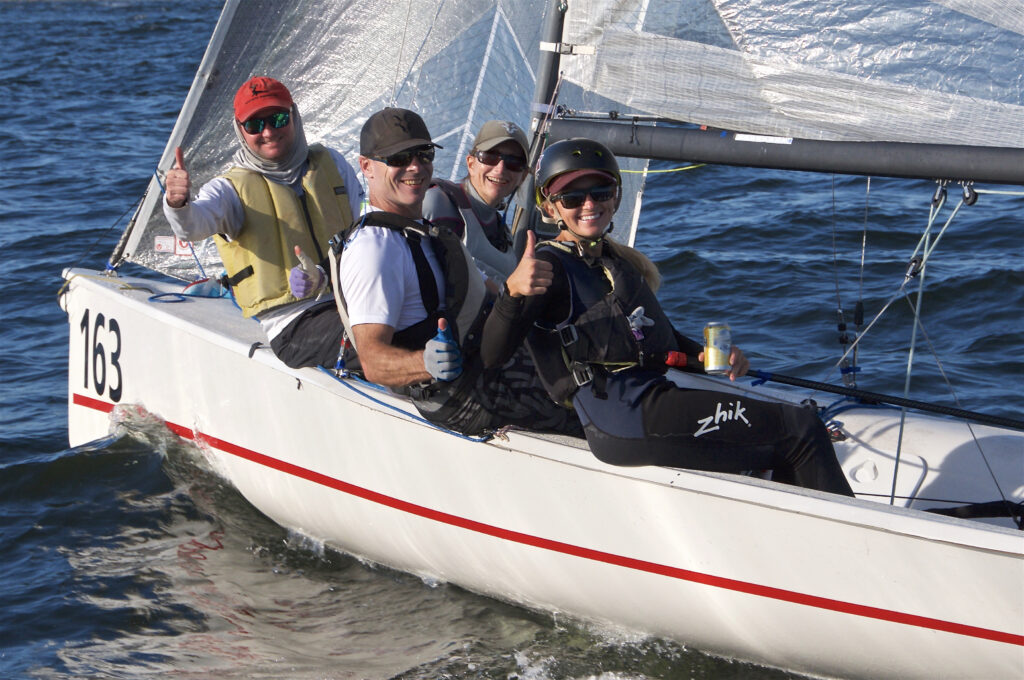 "I had crewed in boats similar to a Viper but had never driven one," said Howie. "I was a bit nervous in the first start, but I had a crew that had all the Viper experience we needed. All I had to do was focus on keeping the boat moving through the water and Meredith and the guys worried about the rest. I can't wait for tomorrow!"
Finishing the day in third was Sarah Warren (Pawcatuck, CT) and Hannah King sailing with Mark Zagol and Tim Desmond. Mary Ewenson (Annapolis, MD), who was one of the driving forces to create this championship finished the day in fourth sailing with Keenan Hilsingerv and Austin Powers. Cam Farrah (Ft. Walton Beach, FL), sailing with her father Cliff and Jackson Benvenutti were in the hunt having won the second and third races, but an OCS start in race 4 resulted in a twelfth-place finish dropping her to fifth.
Racing continues tomorrow and the forecast has improved whereby another full day of sailing is anticipated.
Class Administrator Buttons Padin was live streaming on Facebook throughout the day and his posts, including an on-the-sail-in interview with Grace Howie and Meredith Killion can be seen on the Class Facebook and Instagram pages.
@viper640
@norotonYC.org
Photos: Rock Bannerot, Ontheflyphoto.net