It's always fun to talk about perspective in sailboats.  In some (most) parts of the US, the Viper640 is often considered to be a crazy screaming fast boat, and it's a bit of work convincing/showing people how easygoing they are to sail.  But these days for Cam Farrah, the Viper is definitely her 'chill' boat to sail with her dad, Cliff, and friends when she's not out sailing her foiling A-cat or helming for the Magenta Project's Persico 69F.  It was clear to this writer that Cam and Cliff were the perfect fit for the Viper 640 class when they showed up to race 1 of the Sarasota Winter Series one year wearing neon green 'troll' wigs!  From that event forward it's been amazing seeing Cam's transformation as a sailor and a person, gaining confidence driving the Viper amongst 30+ boat fleets and developing as a leader as she's worked towards enrolling at Tulane University in New Orleans.
So, definitely next weekend go out of your way to meet Cam as she's getting Strategery ready for the Women's NA's and the NA's, she's generous with her know how, and just a super fun person to be around!  Without further ado: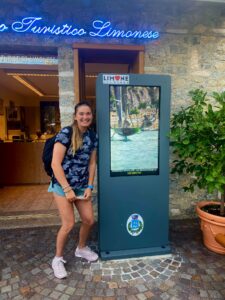 Cam this summer with an ad for her team at the tourist office in Limone sul Garda
Name:  Cam Farrah
Viper sailed: Currently USA 246 "Strategery XI" and previously USA 134 "Strategery IX". And I stole "Meow!" for a regatta in 2019 😉
Home port: Fort Walton Yacht Club and Southern Yacht Club
What do you like most about your regular sailing venue?
I love Fort Walton because everyone there is a big family, and you cannot leave the yacht club without a smile on your face. I especially like how consistent the sea breeze is in the summer and the range of conditions we get in the winter- it is paradise on Earth.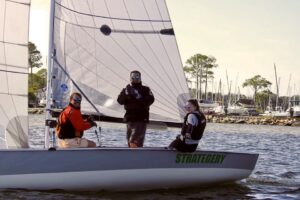 Strategery XI in Ft. Walton, FL
How long have you been sailing Vipers?  I've been sailing Vipers since I was 16, so almost 5 years now.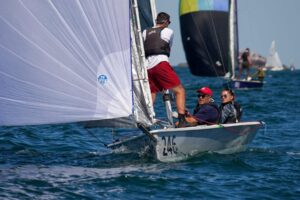 Strategery XI in the 2021 Marblehead NOOD
Who introduced you to Viper sailing, and what drew you to the boat?
The first Viper I ever sailed on was Darren Cooke's Viper for a Wednesday night fun race at FWYC. Two seconds into the start I decided to hike super hard to look cool and impress the guys on the boat, and I missed the foot strap and fell a** over tea kettle into the water. Darren had to circle back around and pick me up and I was absolutely mortified- we still won the race though so that was cool. I was drawn to the Viper because it became the GYA boat, so Vipers started popping up everywhere.
What other boats have you raced, and when did you first start?
I mostly race multihulls and am currently focused on skippering a Nacra 17 Olympic campaign for 2024/28. I also race foiling A Class catamarans, Wetas, and sail collegiately for Tulane University. I grew up sailing multihulls with my Dad, but did not really get competitive until junior year of high school at which point, he encouraged me to start skippering Vipers.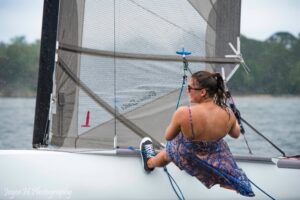 Cam's high school yearbook pic on the A-cat!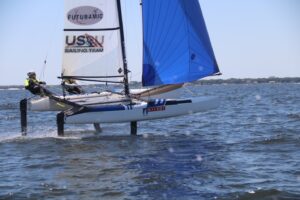 Cam on the Foiling Nacra 17, yes, it is a little quicker than a Viper, more fun? not sure…
Who are your regular teammates on the Viper / favorite people to sail Vipers with if not among the regulars:
My favorite person in the world to sail with is my dad, Cliff. We go on so many fun sailing adventures and always know what each other are going to do in the boat. He has always been there to encourage and push me on the water and is the reason that I skipper today.
What do you do professionally, and what do you like best about your job?
I am currently a student at Tulane University in New Orleans majoring in Environmental Studies with a minor in business. I love Tulane because it is in the best city in the world! New Orleans is also home to a great Viper fleet- if you haven't been down for a regatta (or Mardi Gras) you are missing out!
What do you like most about Vipers?
My favorite part about the Viper fleet is the intense level of competition on the water coupled with the fleet's willingness to share knowledge and have a good time off the water. It is hard to find a fleet as welcoming and fun as the Viper fleet.
What is your Viper pregame ritual?
I start hydrating early! I will check the wind/forecast/current about a hundred times before going out (I love weather) and will typically review over my notes when I first wake up to get myself in a "Viper sailing" mindset.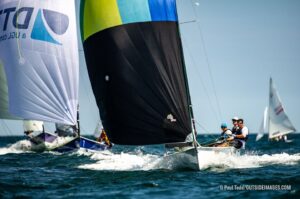 ©Paul Todd/OUTSIDEIMAGES.COM
Cam sailing Meow! like she stole her
Do you have a basic race philosophy?
In the great words of Ricky Bobby: If you ain't first, you're last.
What is your favorite piece of sailing gear?  Sunscreen!!! Please wear sunscreen!
What is your favorite song to have playing in the drysail area or on your watertooth bluetooth speaker?
Tough one but anything by Jimmy Buffett or Bob Marley, sometimes Grateful Dead on light air days.
What is the one sailing accomplishment that you are most proud of?
I'm proud every time I got out on the water, but probably placing top 10 in the 2018 US multihull championship as the top Junior and female finisher on a single handed Weta trimaran.
What's one non-sailing thing about you that you'd want people in the Viper class to know?
I love to cook and really enjoy baking & decorating cakes!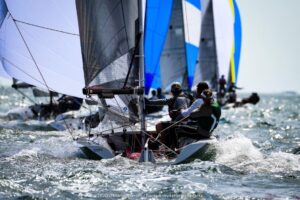 Strategery XI in pursuit downwind
What is your best piece of advice for someone who is new to Vipers?
Don't be afraid to ask for help and enjoy the learning process. Don't get stuck in one role on board- try them all and learn from them all.
Tell us your favorite (website appropriate) Viper story?
Hard to find a school-appropriate story, but I will never forget my first big race skippering a Viper. It was my first winter series in Sarasota, FL and I was sailing with my Dad and Scott Mitchell. I was extremely nervous to drive the boat and was on the verge of backing out, but my dad insisted that I drive. I was convinced that I would T-bone someone's boat and the entire Viper fleet would hate me.
So, three minutes to the first start I'm still flipping out and Dad says, "you are going to be fine, you won't hit anyone". Approximately two seconds later I throw the boat into a tack, (throw being the operative word as my early maneuvers were not exactly smooth), and I smack our bow straight into the only boat remotely near us literally sitting there on starboard. The surprised starboard boat starts to yell but I guess he notices the only girl skipper in the fleet sitting there in tears on the start line and he goes "its ok don't worry about it, it is just a scratch". My Dad looks at me and goes "see, you got it over with. Rubbing is racing, let's go win this race".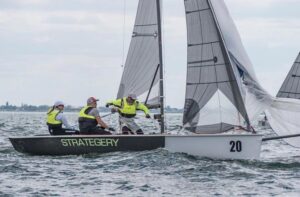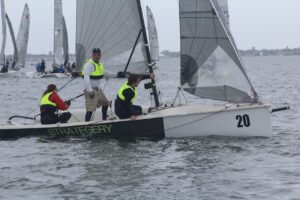 Strategery IX at the Viper Winter Series in Sarasota, FL