Date/Time
Date(s) - Oct. 15, 2022 - Oct. 16, 2022
12:00 am
Location
Gulfport Yacht Club
Country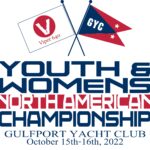 SAVE THE DATE
October 15th-16th, 2022
Women's and Youth Viper 640 North American Championship
Youth Division: All sailors must be 20 years old or younger.
Women's Division: Skipper must be a female.
Two days of racing.
Door prizes during the daily debriefs.
Delicious food served with southern hospitality.
Trophies Include: Top 5 Overall per division
$115 Entry Fee if paid by 5/01/2022
Book your group rate for Women's Youth Viper 640 North American Championship
If booking a room for both the Women's/Youth and the North Americans, you must make two separate reservations.
Brennan Sailing Solutions Logistics Overview
Event Links