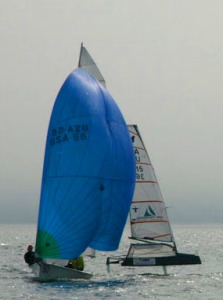 Thanks Skip Whyte and crew for running a delightful, down-to-earth regatta! Viperers, Wickford definitely puts on a worthy event.
Five Vipers made it out, all regional boats.  Despite being unusually becalmed on Sunday, we got off four good races on Saturday in 8-12knots.  The water was just short of flat, with tidal currents and land-influenced wind shifts making for some good tactical racing.  (Too bad my boat, Bennett #56, keeps sinking… LOL still working on sealing that keel trunk…)
In fact we caught a shift just right on the first race and were substantially leading the fleet back to the finish from the weather mark, when we and another boat did what one could only call a failure to read the SI's, thinking we were finishing when we were expected to do another lap. Sigh… rookie mistake.
The RC kept things moving all day and well organized, with one start after the other.  We had four fleets on the course, but there wasn't much interference.
What was particularly cool was a fleet of Moths zipping around the course, at perhaps 20knots+.  The A-Cats didn't have enough wind to really get going, but still looked cool.  But not as cool as a Viper of course…
Of note also was the amply filling dinner provided at the Wickford Yacht Club: BBQ and/or bacon-baked chicken with all the trimmings, ice cream, and PILES of PERFECT home-made cookies, the likes of which would amaze any cookie aficionado (thanks Claire, you're a pro!).
Other regatta features included generous tie-up space at a local marina, and of course all the Viperers compared boats and shared stories in the usual sort of fleet camaraderie.  The organizers also provided all manners of tow boats to get everyone to and from the course in varying conditions and a non-trivial harbor.
Numerous yacht club members generously made their homes available to put up sailors.  My crew and I of course got lucky, staying with aforementioned Claire and her husband Peter, and were treated to more of Claire's cooking in the morning: bacon and eggs got me out of bed.  To top it off, as we headed out the door she handed us sandwiches with, yes, more cookies.  Mmmm!  Thanks kindly to both of you.
In summary, kudos for all the Wickford home-town hospitality!  All around thumbs up.  To me a low-stress regatta and community is such a relief to experience, especially coming from an uptight bustling city like Boston where upon my return I was treated to a letter from my condo association fining me $100 for welding something on my trailer hitch before heading out.  What an egregious crime.
See you in Wickford next year!
-Olaf Bleck
Viper #56
RESULTS
| | | | | | | | | |
| --- | --- | --- | --- | --- | --- | --- | --- | --- |
| SAIL # | NAME | SKIPPER | RACE 1 | RACE 2 | RACE 3 | RACE 4 | TOT | PLACE |
| USA 85 | Greenthumb | Zach Freeborn | [2] | 1 | 1 | 1 | 3 | 1 |
| USA 22 | | Ben Steinberg | 1 | [3] | 2 | 2 | 5 | 2 |
| USA 18 | Grins | Moise Solomon | 3 | 2 | 3 | [4] | 8 | 3 |
| USA 128 | Redline | Aurthur Shaw | [7/DNF] | 5 | 4 | 3 | 12 | 4 |
| USA 56 | | Olaf Bleck | 4 | 4 | [5] | 5 | 13 | 5 |
| GBR 78 | Hijack | Matt Sole | [7/DNC] | 7/DNC | 7/DNC | 7/DNC | 21 | 6 |