Editor's Note: Whidbey Island Race Week, held July 16-20 in the lovely Pacific Northwest, was home to the Viper class's Pacific Coast Championship in 2012. The sailors who attend this event are represented by two separate yet equally important groups: those who enjoy the rain and decide to live in Seattle, and those who enjoy driving from California and are cold and confused. These are their stories.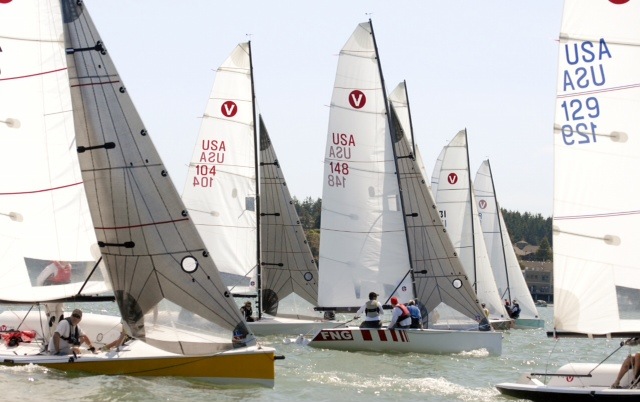 Whidbey Island Race Week, day five. Tensions are high. The west coast Viper fleet is being towed out to the course for one final race. It's cold and there's a misty, light rain falling. There's little to no wind. It doesn't look good, but we NEED one more race! Team F.N.G. and Team LocoMotion are tied for second, both one point behind the local boat KAA. Despite an early lead in the regatta, Sinnerman is now 8 points back in fourth, so it's a 3-boat final showdown… winner takes home the EFG Pacific Coast Champ trophy!
(action at left from WIRW 2012)
Wind fills in (sort of) and F.N.G. gets a great start, has good speed, lifts off the boats near them and soon rounds the first mark with a commanding lead with Loco and KAA struggling mid-fleet. They are feeling GREAT!!!
But this is Penn Cove on Whidbey Island and anything can happen… And to fully understand what DID happen, we should go back to the beginning and paint a little picture of what it's like to sail and party at Whidbey Island Race Week.
10 Viper teams made the trip here: 5 from the Northwest, and 5 from down south (Arizona, San Diego and Long Beach). We joined over 100 other boats in a dozen classes
With an emphasis on fun parties, lots of crew shenanigans, and 5 days of racing, WIRW is truly a "destination" regatta, or a "sail-cation" if you will. Most Pacific Northwest sailors look forward to "Race Week" all year long. There was an article in Sailing World about a year ago that went on-and-on about all the fun the sailors had off the water, and it mentioned a bit of the sailing, too. And now I see why. Because while we did have some good fun on the water… it was OFF the water that we all really had way too much F U N ! Any time you mix a bunch of sailors, 6 nights of free rum parties with a Dunk Tank, a Karaoke bar within stumbling distance, and a Toga Party / Bacon cook-off… you start to see why most sailors know that "What happens on Whidbey Island, STAYS on Whidbey Island". Which is really not a problem, since most that made fools of themselves didn't remember it in the morning!
Some of the events I DO remember are:
· The huge campground at the marina, affectionately known as "Tent City". That's where we had a Viper BBQ dinner sponsored by Drew Harper and Rondar.
· Fresh-caught crab on 2 different nights compliments of Team Timbo. They would drop a crab trap on the way out the to the racecourse, and at the end of the day, Viola! Crab! At night, while out to dinner, they would ask the chef to prepare it, and then it was shared amongst us. It was amazing!
· Karaoke night at Oak Harbor Tavern: Team Loco showed that they have "Friends in Low Places", while Neel (Tony Chapman's cousin from Britain) proved that at least one Brit has rhythm with his perfect rendition of "Rapper's Delight".
· A few afternoons were spent drifting around Penn Cove waiting for the breeze to fill in. Boats would paddle over to the pier at Coupeville to grab ice cream and visit all the gift shops. The restaurant on the pier was a favorite place for family members to have lunch and watch the racing.
(editor's note: seriously, no one remembers playing "Dunk The Timbo?" The Mt. Gay rum tent, of which this editor, who must have been located 3,000 miles away and who would never consider stopping by in between weddings for a few hours just to pound several rums on the rocks, must have been very strong)
Oh, yeah… the racing:
10 races over 5 days, and each race went pretty much like this: Pin is favored but right side of beat generally pays off. The boats that find the perfect balance build a nice lead, while the boats that got buried at the start go off to find a magic flyer. The lead boats then try to put a loose cover on the boats around them, but there's always one or two that find a little more pressure and end up taking the lead around the 1st mark.
Then the process starts over for the downwind leg: Less pressure on the right, but that's where the current is more favorable. Most races saw the lead group in a close battle to protect what seemed to be the favored side, meanwhile a boat or two from the back would find better breeze on the other side of the cove to take the lead. When this happened on the last leg, they would win. If it was on any other leg, they were now sitting ducks for the new tail-end boats to return the favor. It's never over in Penn Cove.
So, back to the "Big Showdown": FNG goes from 1st to 9th, and even though LocoMotion beat KAA, we were all deep enough in the fleet that our scores where counted as our throw out! KAA wins???
Nope… Race committee says, "Vipers, this is your lucky day… Let's do one more". Both cheers and moans arose from the fleet, depending on who had figured out the math yet. Sinnerman had won that race and were now back in contention. FNG was happy to get one more shot.
The Final-Final Showdown (I promise!):
Again, FNG takes an early lead, BUT WAIT! This time they hold the lead around the 2nd mark also! This really is the most important part of racing (or taking a rental car reservation, for any Seinfeld fans). Anyone can TAKE the lead… it's the HOLDING of the lead that's most important. So, FNG is halfway up the last beat, just one more run to the finish! KAA is safely covered about 10 lengths to leeward, and LocoMotion got sent to the ugly, no-wind, wrong-way current, no-way-to-pass-over-here LEFT side. Loco is actually pointing away from the mark at some point.
But: "It's never over in Penn Cove…"
Wind goes light… then fills in from the left and now Loco is looking REALLY good. Then right side gets some breeze and WE are looking REALLY good. No, wait, Loco might cross? The separation across the cove was so great that any difference in pressure was worth half a leg. And when things finally settled, Loco looked about a half a leg ahead of our group! REALLY??? It gets worse! One of the fleets of big boats, which had been rounding a more distant windward mark all week were suddenly converging on our mark as well. Now we are parked, underneath a fleet of OD35s and FT10s, while Loco and KAA sail around the whole mess.
It was it this point that our tactician, Keith Magnussen, let out little laugh… It was an odd laugh. Like nothing I'd ever heard from him in the years of sailing together. It wasn't even a chuckle… just a "chuck". And I knew exactly what it meant…
He turned to me and said, "Wow… We just got Whidbey'd".
Loco held off a hard charging KAA to take the race and win the regatta on a tiebreaker. I only know this because that's what they told me… they were too far ahead for us to see the finish!
Despite some frustrating times on the water, we really did have a great time. A whole week of being on vacation and sailing – with that combination there are no losers! The local Viperers Doug Stumberger and Rafe Beswick say the wind is usually much more steady, but regardless, this was a fun place to be. The whole town celebrates Race Week. Every bar, every restaurant, every hotel, even the Macdonald's workers asked us how the races were going.
I think the key to success up here is to focus on the fun, because that's why we race sailboats: to have fun.
A big THANKS to locals Scott Ellis and Garrett Johns, as they were very instrumental at coordinating the Viper dinners, unloading and loading our 3-boat trailer and giving plenty of sightseeing suggestions for our families. They've been sailing up here for years, and I know they where pretty happy to finally see a Viper fleet for Race Week. And congrats to Ed Feo, Chris Deneen and Rachel Ellis on LocoMotion for winning the EFG Pacific Coast Championship. Results.