Patrick Mauro thrilled his Larchmont Yacht Club shipmates and other Viper sailors this past May as many of us followed in real time (largely thanks to Facebook) his expedition to Himalayas to tackle the world's tallest mountain. We uninitiated were totally unaware of the preparation and training that must go into such a venture, and how long the actual ascent and descent of the mountain would take…and the obstacles that had to be overcome along the way. Pat was asked to share his thoughts on elite-level mountaineering as it relates to his having grown up as a sailor.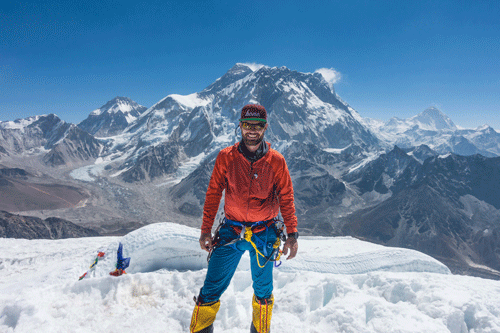 Pat's commentary:
Among the varied amalgam of interests, relationships, and experiences in my life, water has been a constant motif. I grew up on the shore of a lagoon in Hilton Head, SC, where alligators, cranes, and magnolia trees provided the backdrop for my childhood nature walks. At age six I started sailing, a pursuit that has taken me from the frenzied currents of Charleston and Annapolis to the more lethargic tides of Long Island Sound. In recent years, my focus has turned to the mountains. Here the gentle sound of water lapping against a hull and the cacophony of a luffing sail have been replaced with the white noise of alpine waterfalls and the violent clamor of avalanches. My pursuit of mountaineering has taken me to some of the great mountain ranges of the world, and, on May 25 at 5:47 AM, I carried the American Flag and the Larchmont Yacht Club burgee to the summit of Chomolungma, known to westerners as Mount Everest.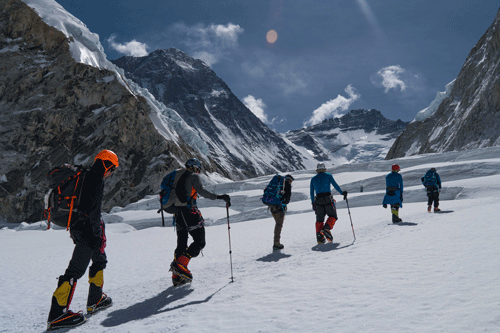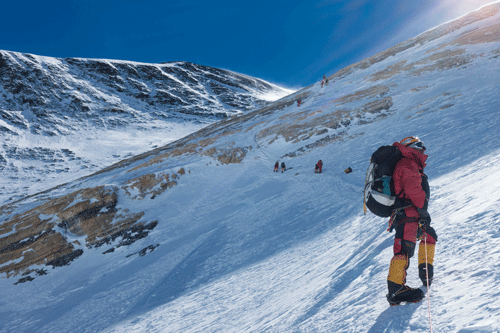 I am a relative neophyte in the alpine arts, having only begun technical mountaineering four years ago; but I have always felt well prepared for my endeavors, a lucky circumstance which I attribute to my experiences sailing. As in sailing, mountaineering requires humans to contend with natural forces in a potentially dangerous environment. Both pursuits focus on efficiency of movement, even though the blank canvases of the mountain and the water only provide intermittent milestones by which to measure progress. When climbing as a member of an expedition, each teammate relies on the others to perform their assigned roles no matter the conditions, just as sailors depend on each other to gracefully usher a boat through maneuvers. And for both endeavors, when a participant achieves a sufficient degree of technical mastery, these elements combine to produce an intense sense of freedom: mountaineers and sailors both relish stepping off the edge of the map.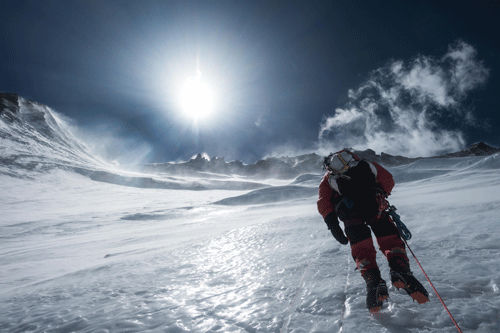 During my expedition, our final ascent to the summit continued to be "blown out" by heavy winds resulting in a painful nine-day stay at our base camp. As we waited for the jet stream to move away from the Himalayas, it was easy to allow eager optimism to transmute into impatient despair. During those days, there was plenty of time for meditation, and I realized another similarity between the sea and the mountains: What we do is far less important than with whom we do it. Though you may have been 7,000 miles away, many of you were with me on that trip, expressing support over Facebook or e-mail. Thank you for your words of encouragement. They propelled me up the mountain.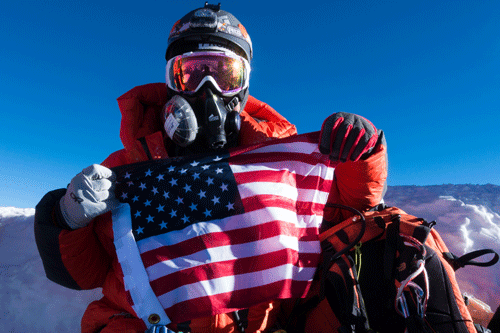 You can follow my adventures at www.patrickmauro.com or on Instagram @patrick.mauro.