Alamitos Bay Yacht Club is host to one of the largest annual small boat regattas on the West Coast, the annual Turkey Day Regatta.   I remember doing this regatta as a youth in Lasers in freezing cold weather in 30kts of breeze and knew the conditions would dictate the event.  Local Viper rep Tim Carter has been asking for a clinic for sometime and Turkey Day seemed like the perfect time to get something going.  It has been a fun and successful year racing the Viper for myself and it was now time to give something back to the fleet.
Phillip Toth, who recently started working at the Ullman Newport Loft, and I set forth a plan to host a Turkey Day Tune Up on the Friday leading up to the regatta.  I focused on tuning and technique and Phil brought his expertise from his Olympic campaign to line out some boat handling and starting technique drills.
[read more for Keith's crew roles tips at the bottom and Turkey Day Regatta results – photos courtesy Rich Roberts]
We had a great 8 boat turnout and Nor Cal guys Drew Harper and Garett Greenhalgh came down to sail with some brand new Viper owners.  This was a huge step in the right direction for the West Coast Viper fleet, as having a seasoned veteran in your boat is priceless for jumpstarting the learning process.  Gladstone's Restaurant in Long Beach graciously let me borrow their 24ft RIB so we had a styling coach boat.
Wind was the only issue as we started out the day in the parking lot rigging the boats as a group.  We rolled out Jim Sears' Viper 'FNG' and used it as a template.  We have spent a ton of time in 2011-2012 optimizing the set up and making the boat as easy and comfortable to sail (and hike out) as possible.  This was invaluable as I was constantly taking questions and using the boat to demonstrate techniques and give feedback to our tuning theories.
The clinic was then moved to the classroom as we shifted gears and got prepared for the afternoon of sailing.  I went over a crew distribution and regatta preparation outline that I put together to give teams an idea of how we run the 'FNG.' [editor's note: The photo at right is NOT of Jim and Keith showing everyone how the 'FNG' is run, though it is from the 2012 Turkey Day Regatta…] From there we spoke about the physical aspects of racing a Viper and how important each position is.  Phil then took over and detailed the practice drills we would attempt.  We decided to focus on boat handling and starting.
Unfortunately the wind never really exceeded 5-6 kts so we were somewhat limited.   A few hours of being in the boats, some practice starts and on the water instruction gave the teams some immediate insight into where the strengths and weaknesses lied.   The day concluded with a debrief that consisted of pizza and beer!  Questions were asked and answered and we did our best to motivate the teams to do one thing.. Practice!!!  The problem with sailing is that not enough people practice and do not get the extra time in the boat that it requires to move your program to the next level.  There is no substitution for experience and both Phil and myself saw huge improvements in all the boats over the course of the day.  This extra day of practice fed directly into the weekend and made the competition a little fiercer between the boats.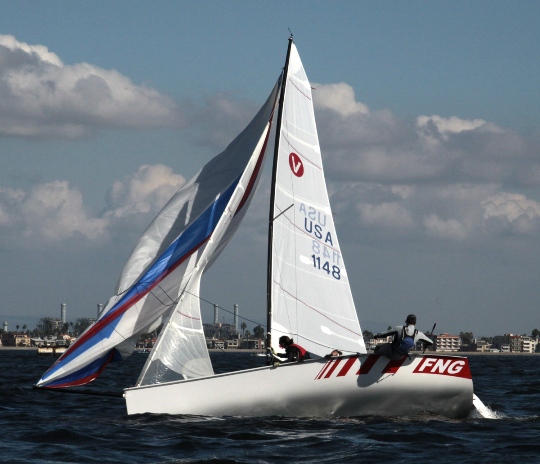 The weekend regatta was sailed and the 10 boats that showed up gave a great spectacle of racing.  It also gave me a chance to drive around on the coach boat and look at techniques, rig tune and sail shape.  The best thing about sailing any boat is that there is always room to learn more.  I think you will see me motoring around the course observing a little more this year as I try to expand on everything learned from 2012 and incorporate that into 2013 as we strive to go faster and sail better.
Keith Magnussen
Ullman Sails Newport Beach
Turkey Day Regatta Results:
| | | Sail | Helm | Crew | Club | R1 | R2 | R3 | R4 | R5 | R6 | R7 | Total | Net |
| --- | --- | --- | --- | --- | --- | --- | --- | --- | --- | --- | --- | --- | --- | --- |
| 1 | | 187 | Kevin Taugher | Chuck Tripp/Mike Pentecost | Alamitos Bay YC | (2) | 1 | 1 | 1 | 1 | 2 | 1 | 9 | 7 |
| 2 | | 1148 | Philip Toth | Dustin Durant | MYC | 1 | (3) | 3 | 3 | 2 | 1 | 2 | 15 | 12 |
| 3 | | 38 | Kevin Brown | Greg Dair | Alamitos Bay YC | 3 | 2 | 2 | 2 | (4) | 3 | 4 | 20 | 16 |
| 4 | | 64 | Tom Hudson | Todd Downey | Anacapa YC | 5 | (6) | 6 | 5 | 3 | 4 | 3 | 32 | 26 |
| 5 | | 149 | Larry Scarbrough | | King Harbor YC | 4 | 5 | 4 | 6 | (9) | 9 | 5 | 42 | 33 |
| 6 | | 173 | Tim Carter | | Alamitos Bay YC | (9) | 4 | 5 | 8 | 5 | 7 | 7 | 45 | 36 |
| 7 | | 110 | Paul Scott | Daniel Milefchik | CRA Cortez RA | 6 | 7 | (9) | 7 | 7 | 5 | 6 | 47 | 38 |
| 8 | | 104 | Dave Millett | Bob Pettingill/Holland Pettingill | TPYC | 7 | 8 | 7 | 4 | 8 | 6 | (9) | 49 | 40 |
| 9 | | 27 | Stephen Brown | | AYC | 8 | (9) | 8 | 9 | 6 | 8 | 8 | 56 | 47 |
| 10 | | 49 | Dennis Law | | San Luis Yacht Club | (11 DNC) | 11 DNC | 11 DNC | 11 DNC | 11 DNC | 11 DNC | 11 DNC | 77 | 66 |
Keith's Viper Crew Roles: Sharing the Load
These jobs are divided between the crew with due respect to the fact that the more time a skipper steers accurately the faster the boat speed will be and the more the tactician can concentrate, the better the game plan will be.
Owner/Driver
Tactician/Middle
Front
Read sailing instructions carefully
BEFORE THE START
(Tactician, w/ input) Discuss race strategy
(Tactician) Check forecast / tides etc
(Tactician/Owner) Check in with RC if required
(All) Warm up / Stretch
(Tactician) Head to wind regularly -write it down
(All) Make sure boat is set up correctly for conditions
(Tactician) Check time on distance to line a couple of times
(Forward) Line transit both ends and behind the line transit
(Crew) Check and record compass bearings to ALL Marks
(Tactician) Record wind oscillations (both tacks)-write it down
(Tactician) Check wind variations up to and into the start sequence for preferred end
(Tactician) Also, which side of the course looks good
(Tactician) Stand up in the boat (better view)
(Tactician) Where is the pressure?
(Tactician) Is there any current is it taking us over the line or holding us back
(Tactician, All) Any clouds on course area
(All) Have fun and be on the ball
(All) Be positive and fuck'em
START
(Driver/Tactician) With consideration to strategy find the best position to start
(Tactician/Front) Watch for boats coming from behind & leeward, or reaching over the top
(Driver) Maintain a hole to leeward
(Tactician/Front) Where is opposition
(Driver/Tactician) Make sure reaches are not on top and high pointers to leeward
(Tactician) What is happening to breeze direction etc
(Forward) Get accurate time on preparatory signal
(Forward) Call time / Call boats around
(Forward) Call boat lengths to the line
(Forward) Watch for recall flags but keep sailing
IMMEDIATELY AFTER THE START
(All) Concentrate solely on making the boat sail fast: Trimming, Steering, hiking
(Tactician/Forward) Call boat relatives above and below. Go for speed or go for height
(Forward) Call pressure and wind changes
(All) Hike 110%
UPWIND
(Driver)Concentrate on steering
(Tactician/Forward) Choose best plan out of Alternatives in crossing situations
(Driver/Middle) Watch sail trim
(Forward) Call compass
(Forward) Call Gusts (direction & strength)
(Driver/Tactician) Call and discuss alternatives in crossing situations to confirm strategy
(Forward/Tactician) Where is opposition   i.e. sail the fleet?
(Tactician) Maintain clean air
(Forward/Tactician) Visual of weather mark
(Tactician) Watch Lay line
BEFORE ROUNDING THE WEATHER MARK
(Driver) Concentrate on speed and boat position for the rounding
(Tactician) Call Lay line to weather mark
(Tactician) 1st rounding big fleets overstand?
(Tactician/Forward) Longest Gybe, port/starboard
(Tactician) What is our strategy?
(Front) What is the course for wing or leeward mark
(Tactician/Front) Visual wing or leeward mark
(Forward) How tight is the offset and sort out sail settings?
(Tactician/Forward) Has the breeze direction altered or will it alter on the reach?
(Forward) Will the breeze strength be different?
(Tactician/Forward) Weather mark approach with a view to boats around us
(Tactician) High or low on the reach
AT THE WING MARK
(Forward) Hoist Spinnaker/Sitting on Rail
(Tactician/Middle) Tack Line/Spinnaker Sheet
(Forward) Sail settings for next leg
(Tactician/Driver) Where are the boats around us and what will be the overlap situation?
(Tactician) Plan alternatives
(Tactician) High or low on next leg?
(Forward)What will happen to the breeze?
(Forward) Spinnaker ready to set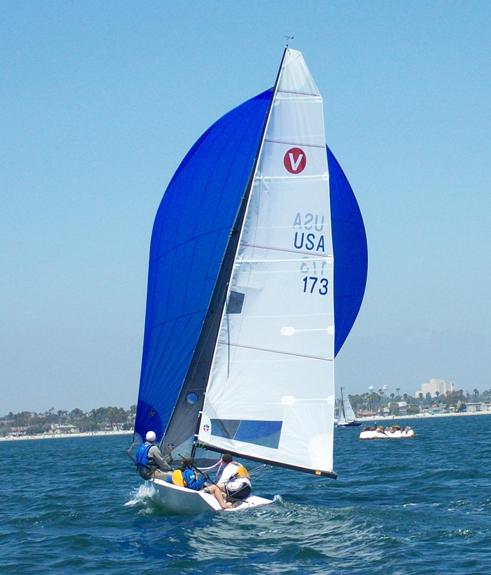 BEFORE LEEWARD MARK
(Tactician) Call leeward mark rounding alternatives
(Forward) Check committee boat for course change
(Tactician/Forward) Check wind oscillations
(Tactician) Check strategy & plan changes
(Tactician) Where is most breeze left or right?
(Tactician/Forward) Where is main opposition?
(All) Has breeze increased therefore check changes in sail settings?
(Tactician) Check other boats and plan rounding alternatives
(Tactician) Do we wish come out high/low or tack at the mark?
WEATHER MARK BEFORE THE RUN
(Tactician) Which wind oscillation will we round on
(Tactician) Bear away or gybe
(Forward) Longest gybe
(Tactician/Forward) Where will most breeze be left or right?
(Tactician) Is there a shore influence
(Tactician/Forward) Check the finishing line if laid
RUN
(Forward) Rig forward
(Tactician/Forward) Wind oscillations
(Forward) Longest gybe
(Forward) Fore and Aft weight
(Forward) Pressure calls
(Forward/ Tactician) Visual bottom mark
(Forward) Where is main opposition
(Forward/ Tactician) Sail setting
FINISH
(Tactician) Favoured end