The fish that got away!
Fresno Yacht Club
July 9-10
Reported by Tim Carter
This was an amazing adventure, Steve Bloemeke, Jennifer Weisman and I set off 12:30 Thurs afternoon for our trip up to Huntington Lake… Yes! It's true the lake is full, it's been three long years since we could sail here so we were very excited to go back. We crossed the statea new way, from the coastal wine country of Paso Robles across the "Great Valley" and on up the Sierra's. Along the way we were able to pay homage to the great James Dean and tipped our hats at that infamous intersection.
Friday morning, we woke up and started visiting with the local teams and planned out our day. We hiked up to Rancharia Falls a couple miles away and she was flowing in glory. We scrambled down the rocks to be @ one with this Beautiful place. Blue sky, tall trees, cold water, good friends.
We reluctantly decided we had to leave and go put a boat together. We did a bit of boat on boat, and sailed to the four sides to see if there were some mysteries hidden over there. Dinner around the campfire followed by a few S'mores. It was a perfect day.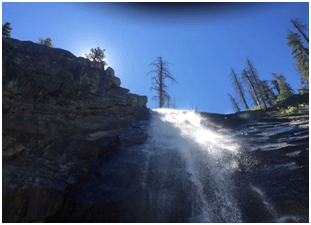 Huntington Lake is a gem and a sailor's paradise, the breeze turns on here @ 10:42 every day, not kidding… The slips are about a 45 second sail to the start line, during past visits, I have seen folks push off the dock late in sequence and nail it. We saw the PHRF "A" fleet take off and we were in queue… We had a good start and followed the locals across the lake. Good speed, great point, soon we were able to work the puffs well and pulled away after a fierce tacking duel with Glenn and Nigel who brought out eight year old future rock stars Cole Barth and Alden Brownett to help them around the course. The boys gave us a lot of verbal smack talk and encouragement on the water and they were a big help with our attitude.
We were all alone with about a 150yd lead when we peeled around the top mark, had a great set, just in front of a puff and we were launched… #2 followed us, #3 partially set then quickly realized my error, doused and spun the other way… WRONG MARK! Yikes!! We were the last to turn back and had to switch into turbo mode and start grinding boats down. Glenn, Nigel and the boys however were not so confused and pulled right into first which they held onto for the rest of the race. Luckily on our part a couple of the boats ahead had sailed into a light patch and we were riding a puff in. We caught one boat right near the top mark and then went into hunt mode.
I guess it turned out that we were more in fishing mode rather than hunting… Jennifer looked astern and said "What's that?" streaming about 50' back was a lure skipping along on the end of a line. It seems in my haste to catch boats I sailed close to a couple of fisherman and borrowed something of theirs… We made an attempt to pull it off to no avail, 3 gybes later and about ½ mile later we got a HIT!! Now we have a small trout and we are taking him on a Nantucket Sleigh ride down the lake at 12Kts. I think we puffed him up with fluids a bit over the next 1 ½ mile down the lake. But alas, we lost him crossing the U-20 Fleet and possibly someone else had a nice meal.
Races 2&3 went very smoothly and we seemed to be a force on the water while a tight battle was going on behind, and finished day one with a 3,1,1. We then gathered our resolve to head off to the party @ China Peak ski resort. After a nice meal and a few Dark and Stormies, we headed back the local saloon to try to end the night, but NO!! Let's drink here then go find the campfire and some more beves… I'm am feeling very old and sore by now so after the campfire I turned down the trip later back to the saloon.
Sunday morning we got to sleep in and have a nice breakfast then left the cabin about 20min before the start time. Did I say this place is convenient? Races 4 & 5 played out for a fierce battle for 2nd with it going to Timbo Carter by way of a tie breaker. The last bit of drama was when Glenn, Nigel and the boys sheared off the bottom pintle on the rudder near the end of the last race, unfortunately just to weather of a small island. It's nice to keep a spare screwdriver aboard, you never know when you need it, just sayin…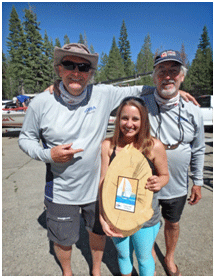 I want to thank all the Viper sailors who were able to drive up, Glenn Van Heel, Nigel Brownett, Cole Barth, Alden Brownett, Bob Hayward, Sheryl Hayward, Phil Toth, Todd Downey, Adam Hamilton, Karen Dalisario, Eric Poulsen, Seth Poulsen, Kurt Heeren, and I especially thank Steve Bloemeke for his great tactics and Jennifer Weisman for calling the breeze and her "can do" attitude.
Tim Carter
Viper Guy
Sorry, no "official results" posted.  Guess we have to trust this Carter guy…