My Viper adventure began with a cryptic email message from Tim Carter earlier this month: "Just heard that one of the KHYC Vipers may be available to use for SD NOODs… March 15-17…   you would make 12… come on out girls, the water is fine…….:)" I responded "Are you kidding me?  You want me to pull together a girls team for a boat I have never sailed on, and the regatta is less than 15 days away? I'll make a few calls but no promises." I thought this would be the end of it, another failed attempt by Tim to get me off my Martin 242 and on to a Viper. He knows I'm all about getting girls out on the water so he hit my weak spot.  As promised I made a few calls, not expecting much on such short notice, and to my surprise, all the girls said YES! "Oh boy, what have I gotten myself into?" I thought.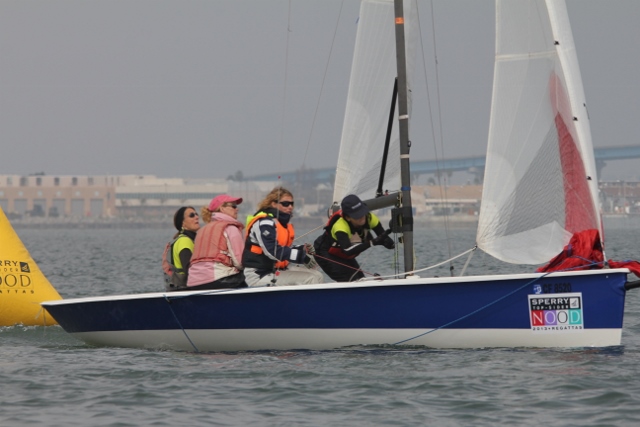 After two attempts to get familiar with the Viper, one in no breeze, and the next day in 16 knots of breeze, it became obvious that I needed to get some Viper experience to help us learn the boat and to make sure we were rigging it right. Rachel Ellis came to my rescue with a couple of hours of her time. First thing she said was "Where are the ratchet blocks for the spin sheets?" A quick call to the owner yielded no ratchet blocks.  Not good. I borrowed some blocks from my Martin, and once we had the boat set up correctly the team was able to get some productive practice time.  At this point I realized that not only was I less than a week away from the regatta with a new team, on a new boat, but this was going to be the shake down regatta for this particular boat. The girls were super excited so there was no turning back.
After only three hours of practice with Rachel the team was still feeling far from regatta ready. Jennifer Hylander rallied Garrett Brown to help us with a brief on the water coaching session/practice. He also helped us get the boat ready to trailer. I have only traveled a boat by water and was finding the whole trailering process a bit overwhelming. I've never had to deal with getting a mast down, tire pressure or axle grease. With my lack of experience, Rachel offered to trailer the boat down. No excuses, no turning back now – San Diego here we come, ready or not.
When we met Rachel down in San Diego, I was unable to reach the person I had arranged to help us get the boat set up. Sara and Mike Hester showed up and we all got to work getting the boat ready to race. This was my first experience with the Viper fleet hospitality. Everyone was immensely helpful all weekend. Other Viper teams shared tips and helped us with rig tune, etc. We found the fleet fun to be around with a friendliness that was infectious.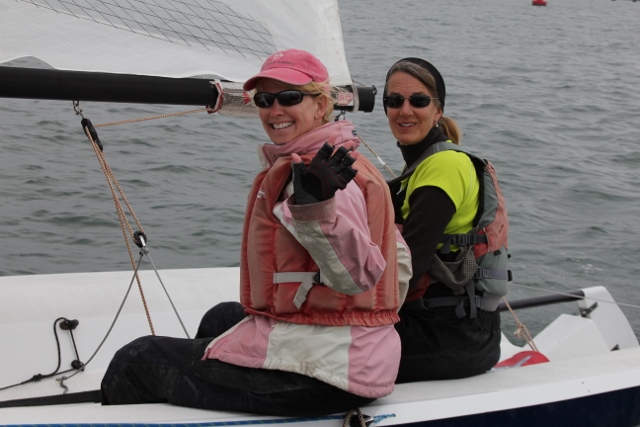 As we headed out to the course the first day, I was a bit nervous.  It was foggy and the wind was building.  I didn't want to embarrass ourselves or be the horizon boat. We only had about six hours of practice, but I felt good about our team.  I had put together a solid team–with each one of us experienced in one-design racing on a variety of other boats.  Barbara Bernad grew up racing dinghies in her native Hungary.  Nancy has more than 20 years experience–much of it dinghy sailing.  Jennifer Hylander and Patricia Lapadula both have several years of extensive racing experience mostly on keel boats.  I have been racing about six years on keel boats with only one year of boat ownership. I told the girls let's take this regatta one leg at a time.
I knew once we got our first start out of the way we would settle down. Our starts the first day were not stellar. The Viper handles so much differently than the Martin 242 the majority of us are used to.  As each race progressed, we were getting better and more used to the boat.  We had a variety of issues including running into a patch of kelp which stopped us like a sea anchor, (the only bunch in the bay I am convinced), had major issues with getting the pole out, and shrimped the kite messing up some leeward mark roundings.  We couldn't point and seemed to be a bit slow compared to the other boats going upwind, but we were mixing it up with the fleet and beat a couple of boats. Some rig adjustments before racing the next day were in order.
Back at the dock Steve Brown and his team helped us fix the pole. They also helped us with rig tune along with my fellow yacht club member Glenn Griley.  We were an exhausted group but were beginning to really like this Viper thing. Jennifer had been filling in for Patricia who had to work Friday, so we had a crew change for the rest of the regatta.  I knew Patricia was a strong and a good sail trimmer so I wasn't worried.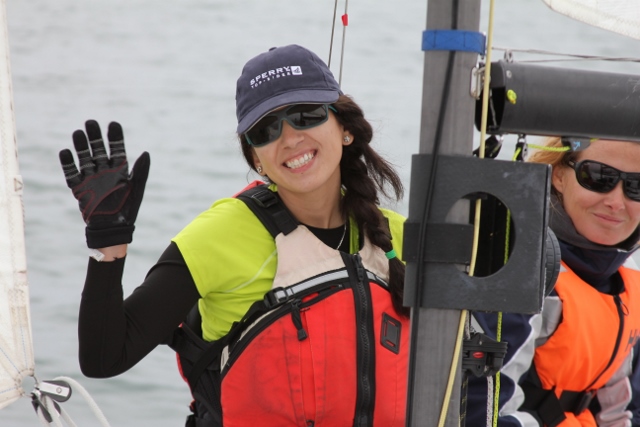 Day two found us calming down about crew work. We started nailing a few starts.  Our finishes were a bit inconsistent but we were having fun. Our highlight for the day was when we powered off the start line, stayed left even though most of the fleet had gone right and found ourselves in a favorable shift. We rounded the weather mark in second place. We held onto our position until the last downwind leg when Mark Folkman nosed us out. Our last day was not the greatest but we finished the regatta respectably and fell in love with the Viper.
My initial goal was to travel to a new venue, meet new people and have fun. I figured we would learn a lot since the Viper is pretty much the polar opposite of the Martin 242. I was blown away by our whole regatta experience. The Viper fleet was very welcoming. The girls and I had a blast not only on the water, but at the after race events and back at the hotel where we ended the evenings with laughter and camaraderie.
As a group of women racers it's important to understand that we consider ourselves racers first and females second.  I think we need to purge the idea that being "beat by a girl" is a bad thing, which I hear frequently–including this weekend. I think that as a sport we should embrace the example of one of my recent competitors whose partner was lamenting to all that would listen that he had just gotten beat by a girl. He came up to me shook my hand and said, "Jules we didn't get beat by a girl today, we got beat by a better racer. Great job."