Kingston Yacht Club
July 9-10
Kingston Yacht Club hosted the Great Lakes Viper fleet for our 3rd annual Canadian Championship. Famous for great sailing with good thermal winds, 10 boats arrived Friday to a warm welcome. Lots of beer and good food Friday night at the Kingston Brewing Company helped the fleet prepare for the excitement ahead. Saturday morning we had great conditions, sunshine and a nice 12-15kt SW breeze. Racing was tight and the RC got off 3 good races. With each hour the winds increased as the promised thermal kicked in.
After the 3rd race the RC stopped racing as winds at the top mark hit 29 kts and capsizes became numerous, including one turtled boat! Thanks to James Colburn (87) who jumped on to assist.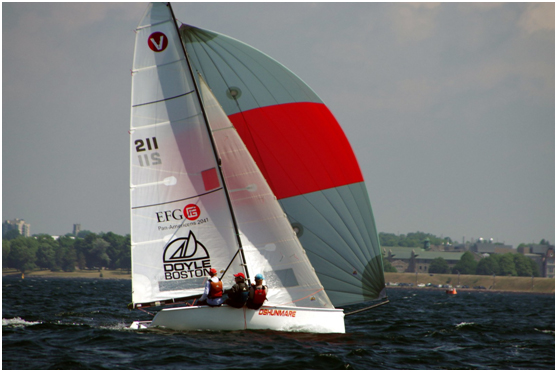 Burgers and beer on the cozy KYC deck alleviated the stress of the day. Many of the teams headed off to enjoy the Kingston Buskers festival until rain dampened the festivities, forcing us to keep the KYC bar open until late!
Sunday conditions changed dramatically with northerly winds (read shifty and gusty) keeping the RC on their toes and competitors hoping they chose the right side of the course. We were able to get in 3 more races to conclude. First place when to Steve Chapman, #211 Oshunmare, in his first major regatta win, followed closely by Nick Ward on #165 Proper Villain and in third, Steve Conger, #40 Zig Zag.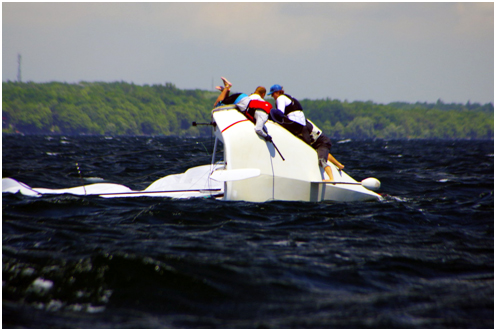 Many thanks again to KYC for hosting and to Heidi & James Colburn for all the hard work putting this together.