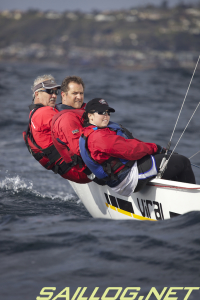 Team Viral got in late about 9:30 after a wet exit from Los Angeles. When we got to Mission Bay YC, it was dark except for distinct noises coming from the bar was making noise and we were not shocked to find the bar full of Snake bit types. We had superstar Al hook us up a few, and then when he finally kicked us out we moved the party to the Catalina 30 we had secured for the weekend. After everybody squeezed in, there were more lies to be told and we successfully destroyed our 1st bottle of Mount Gay. All along there was 30 kt breeze rocking the boat and intermittent rain showers.
Saturday greeted us with broken clouds, small cells, and generally 5-7kt breeze. After we all got launched we sailed out the channel to the outside course, big rollers in the jetty mouth and very confused seas outside. My lake sailing Texas girl at the front was looking a bit green but she recovered nicely. After a bit the wind filled in slightly and sort of locked in @ a SSW direction and we got to go racing.
The line was very long, pin favored and the left side was also looking good. Winnard was able to hit the pin on port and crossed the fleet; this was a harbinger of things to come. After the leeward mark we were joined by a good size pod of Dolphins who escorted up the beat to the finish. You could literally reach out and touch em'… J
Race two started off much the same way, everybody was crowing the pin, I ended up getting closed out at the last moment,put my bow up to clear the pin and then got shoved on my port corner which spun me onto the pin.So the fleet is off and I have the starting pin doing the mambo with the boat.Were able to finally get untangled and started to try and catch some boats.We caught one by the top mark and passed another on the run.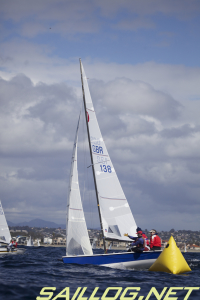 Race 3 was a bit more interesting; we had a 25+kt rain squall come in about 5 min before the start. So we all tried to shift into breeze mode and we were looking for some epic kite rides. As I came off the line, I saw boats spinning out to leeward and I noticed the Winnard was now doing the pin mambo. He had a bit rougher time than we had; he got the ground tackle around the keel and was unable to tack the boat away from the beach. Breeze was still blowing at the time, and that combined with the large swell and the proximity of the beach things was not looking good for him. Finally we was able to gybe the boat and about that time a Baywatch Lifeguard boat came to his assistance and they did not have to swim away from the boat. We lead wire to wire but we were disappointed that by the time we got to the top mark our puff card had expired, so we did not really get launched downhill.
We all retired to the warmth of a rum or three and at that time we all wanted to sail outside again on Sunday. Several of us went out for some chow and found a unique restaurant "Sascas"?? Sushi AND Steak . After the appropriate amount of storytelling, we all staggered back and went down for an early night.
Sunday looked a bit clearer than Saturday but still 5-7kts of breeze. Found out that someone in the Fleet voted with their feet and told the race committee that we wanted to sail inside Mission bay.
We got in four races; Winnard continued his dominance and really pulled a rabbit out of his hat in a couple of races due to his boat speed and a wealth of local knowledge of the venue. Light breeze, flat water with several 40 deg shifts greeted us in every race it seemed. It was quite a change from yesterday.
New owners of #38 Kevin and Garrett Brown sailed a great 1st regatta and managed to put a boat between them and us and took second for the weekend by 1 point. Good job guys!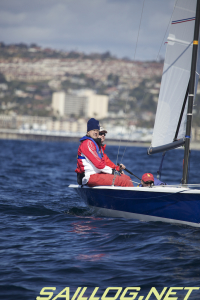 We're looking forward to the NOOD Regatta on San Diego's South Bay. Good, stable breeze and flat water. Be there or be square….
Timbo