Written by Jay Harrell
On the heels of big fleets and big wind in Miami and Charleston, I invited Scott Findlay to come sail the SYC MacIntosh Cup. He had mentioned before that he would like to get his  daughter on a Viper, so I suggested that he bring her along too. The Mac is probably the most cozy and personal Viper regatta anywhere, so perfect for beginners and kids.  Savannah local and Viper technical chair David Guggenheim puts on a great event, helping everyone with lodging and logistics and throwing a great party Saturday night. The whole thing is easy and comfortable on land and with great racing on the water. Grace, a 10 year old 4th grader, had only sailed a few times, but she was willing to bear a 7+ hour drive from Boca to Savannah for a chance to sail with her dad. All three of us together were somewhat less than 450 lbs, so we were a bit light for the Viper, and we were facing experienced fully crewed boats. Some think the Viper is a bit of a radical boat, and must think it crazy to go out underweight with inexperienced kids. Quite the contrary, the Viper is a stable platform and depowers easily while still driving well even in light air. My wife and I sail club races with our kids and have a lot of fun doing it. Besides, the wind was forecast at only 8-12, and Scott is very good with the spinnaker, so I knew we would be fine.  Turns out, we were more than fine.
The races were short windward-leeward courses on the Wilmington River with moderate wind opposing a strong current.  Getting a good start then playing the puffs vs. the current were the keys.  The short courses allowed us to get in five good races each day, and it was a great format for sailing with kids.  After the first couple of races, we had our maneuvers down.  Grace was handling the front of the boat and was already instinctually moving to balance the boat as needed.  Scott was a magician with the spinnaker and we were constantly breathing down the necks of the lead boats, with finish places decided by fractions of boat lengths.  The final race of the day was a three mile downwind leg back to the yacht club, and we must have traded a hundred gybes with Guggenheim before he edged us out at the finish line.  On the second day we did even better, spending more time in the lead and winning one race, and being edged out of first in the final race by just inches.  Grace was thrilled with the boat and the racing.  She took her job gybing the jib very seriously, always had it in the right place at the right time, and loved the fast downwind runs.  Having never seen a race before, after ten starts she had the sequence and flags down cold and was calling time for us.  If you want a kid to enjoy sailing and racing, there is no doubt that the Viper delivers the goods.
Pictures or it didn't happen?  John Porter brought a video camera with a sticky mount for some on board video on Sunday.  You can see video from our boat here http://www.youtube.com/watch?v=D5vay3QUCiM and from John's boat here http://www.youtube.com/watch?v=eokuCWQRYVg.
And the final results: 1st Gary Umberger, 2nd David Guggenheim, 3rd Jay Harrell (with Grace and Scott), and 4th Eric Gotwalt/John Porter.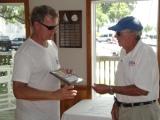 Gary Umberger – First Place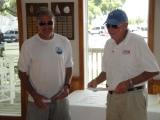 David Guggenheim – Second Place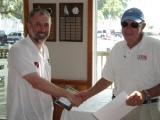 Jay Harrell – Third Place