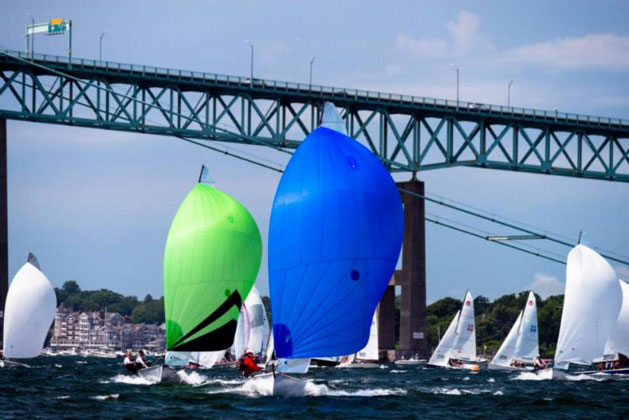 Congratulations to Phil and Wendy Lotz and Luke Lawrence for winning the 2014 Bacardi Newport Regatta. 2014 Bacardi Newport Regatta sponsored by EFG Bank concluded today with two more races sailed in Potters Bay north of thePell Bridge. As promised, the winds were "a bit brisk" blowing steadily in the mid-to-high teens. The sea breeze was working against the ebbing current making for some very confused seas. Add to that the power boats (large, small, and everything in between), that added to the wave motions.
Two races were sailed on the final of day and in both the upwind current play was to hit the left side of the course and ride the current towards the windward mark. Downwind, the smart money jibed into the left shore (looking downwind) to escape the foul current making a minimum of jibes to stay in the pressure. Phil Lotz again led throughout the first race followed by Tyler Moore, Jane Moore, and Barry Allardice in #181. In a solid third position were Dave Nickerson and Moise Solomon. That would be Phil's sixth bullet making – looks as though the combination of excellent local knowledge, solid boat handling, superior boat speed, and winning starts can make a difference.
In the second race of the day, a five-leg course finishing just below the bridge, was one for the record books. Those less experienced crews found that handling the spinnaker in puffs in excess of 20 knots could be a real challenge.
After the winner with only six points, the scoring was really tight. Only two pints separated second and third, and the next half dozen places were all only a few points apart so it was (almost) anyone's regatta.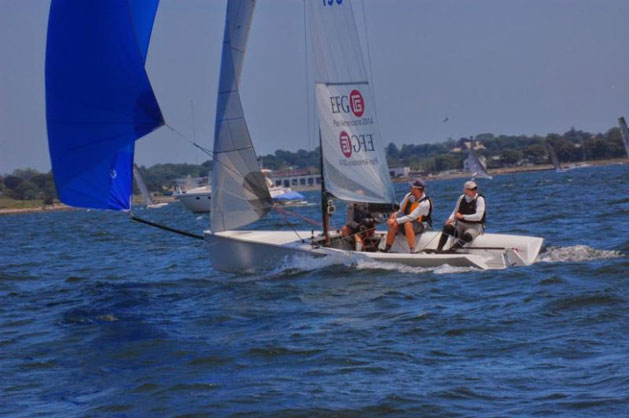 Thanks to Kim Cooper, Event Manager of the regatta from Sail Newport, all the Sail Newport volunteers and staff, Keith Gapp and EFG Bank for his continued support, Eddie Cutillas from Bacardi, and Gabreilla Pedone and Sara Zanobinifrom StudioMilano for making the regatta spectacular. Oh, yes, we also thank Robin Wallace (SN PRO), and the wind gods.
Speaking of the PRO, the RC did a great job with their race management and today, after two general recalls starting the first race, the RC pulled out the black flag. No more problems…shall we say.
One final word about Eddie Cutillas. On Friday morning, after having met Eddie at the EFG dinner at Castle Hill, Class Administrator Buttons Padin was at IRYS (International Yacht Restoration School) for an update on the reconstruction of the 100+ foot Coronet. As Buttons arrived at the loft where this amazing yacht is being rebuilt from scratch, Eddie walked around the corner…looking for the same update on Coronet. The perusing conversation demonstrated Eddie's shared passion for yachting and that Bacardi, as is EFG, is committed to helping the Viper Class grow. Great news from a couple of great sponsors.
Congratulations to all the competitors of this weekend's Bacardi Newport Regatta sponsored by EFG.
Full Results Here