Written by V640 Press Office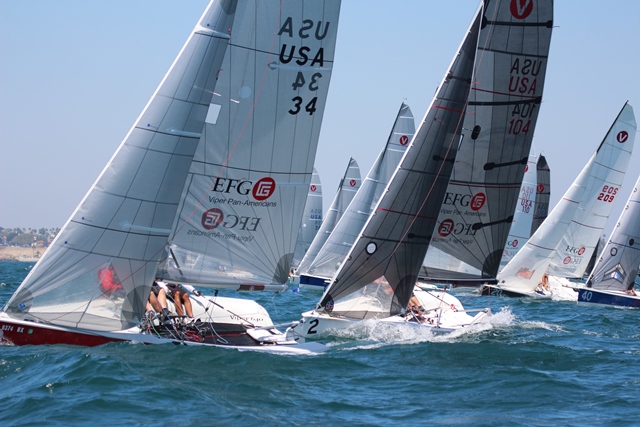 A solid sea breeze and short chop made the third day of the 2014 Viper North Americans one for the record books. Epic conditions prevailed for the third day in a row, with a bit more breeze added for extra measure.  With three straight days of planing conditions, Viper sailors will remember this regatta for a while.  Local sailors Jay Golison, Steve Flam, and Mike Bradley dominated the day with a 2-1-1-1 to move up to fourth, but Jeff Grange, Tedd White and Chris Parker held onto their lead, with second and third only four points behind going into the final day.
Photos courtesy and copyright Bronny Daniels / www.joysailing.com.
The Alamitos Bay Yacht Club race committee got off four races, totaling 11 of the 14-race target for the championship.  As the afternoon progressed, there was some attrition as the winds got into the low 20s.   Upwind, it was skippers barking "hike…the break's over!"  The crews, with their thighs burning in pain from hiking, could only look aft from hiking and say "what break?"  The race committee shortened the beats from 1.4 miles at the start of the regatta to 1.0 miles, and everyone looked forward to the runs when speeds hit 15 knots on Friday afternoon.
When the fleet returned to ABYC's docks, the results showed that it was still a 3-boat regatta.  However, the score totals have converged.  Jeff Grange, Tedd White and Chris Parker, sailing on Venom, have led wire-to-wire.  Today's line score of 1-7-2-9 gives Grange 26 points, with his lead cut from 8 points to 4 points.  In second, for the second day, is local star Kevin Taugher, sailing with Mike Pentecost and Chuck Tripp.  Taugher was OCS in race 10, but his 5-2-OCS-2 scoreline have him breaking a tie with 30 points with Canadian Brad Boston, Curtis Florence and Chad Corning.  Boston remained in third with scores of 3-4-3-3 today.
The daily first, an engraved bottle of Goslings Rum, goes to Golison, who showed his dominance in big air with local knowledge thrown in.  On Thursday night, the three different race winners opened themselves up for fleet Q&A after video analysis and chalk talk from Alex Camet at North Sails, followed by rum bottles for daily winners, best broach of the day, fleet spirit (to the Viper that supplied the most post-race beers on the dock), and true grit awards for those in the middle of the pack.  Friday night's festivities will include a banquet, a Q&A panel with sailmakers from Doyle, North and Ullman, and more daily prizes that bear little resemblance to the score sheet.  With 3 more races scheduled on Saturday, and an outside ocean racecourse, this one will be settled on the water, as long surf and swells kicked up from Hurricane Norbert offshore allow sailors to traverse the Long Beach channel in the morning.  All results are up on the ABYC website at www.abyc.org/event.cfm?id=538, with photos from Bronny Daniels and Peter Howson at www.joysailing.com and www.yachtracing.us respectively.
The Viper 640 North American Championship is a qualifier regatta for the EFG Viper Pan-American Championship. Also helping make this regatta a success are Ullman Sails, Doyle Sailmakers, North Sails, Quantum Sails, Goslings Rum, the Belmont Brewing Company, Rondar Sailboats USA, Sailing Pro Shop, and Rooster.