Miami.  In.  March.  The revamped EFG Pan American Championship with a winner-take-all one regatta finale.  Palm trees.  Bacardi.  Bacardi Girls.  Did we say Miami in March already?  After a weekend tune-up with the EFG Winter Cup for the 11 teams who got to town early, and a "Scorch" "race" (i.e., a chance to reach with fellow Viperers in various states of sobriety to lunch on Key Biscayne and back), racing got underway on Thursday.
The 25-boat strong Viper fleet represents one of the largest gatherings of Vipers in Miami since the class helped expand the Bacardi Cup into what is now known as Miami Sailing Week.  Miami may not be easy to get to, but once you're there, you're glad you came.  Three Australian teams made the trip by virtue of winning their regional qualifiers for the EFG Pan American Championship, as did three British teams and two Canadian teams.  The foreign competition has upped the competitiveness, with 6 of the visitors in the top 8 overall.  Results.
Photos from Rondar Raceboats: https://www.facebook.com/media/set/?set=a.482648045180506.1073741836.118586681586646&type=1
From the press release by Jan Harley at Media Pro Int'l:
"We knew bad weather was called for later in the day and were hoping to get a full day in before losing the battle with Mother Nature," said Mark Pincus, BMSW Regatta Chair. "Unfortunately, the storms blew in a little after 1500. The Stars finished their race and are still on schedule. The two circles just kicking off today are a race or two behind. So the Audi Melges 20, J/70, Melges 24, Viper 640 and VX One classes should expect a work out tomorrow. The weather tomorrow calls for breezy conditions and not stormy so we should be able to get some good racing in and catch up."
The 25-strong Viper 640 fleet had their second race of the day shortened as the threatening weather approached.
"Racing was good," said Canadian sailor Brad Boston. Boston, and Lee Shuckerow, finished 1-2 and is off to a good run at successfully defending their BMSW class win. "Nice breeze. Nine to 10 knots at the start, and it got up to 12 before it started to drop back. It was perfect planning conditions for the Viper and both races were done before the storm."
The Canadian team is tied on points with Florida's Phil Lotz who finished 2-1 for three points. Third overall is British sailor Justin Scott with nine points. Two Australian teams follow, Rod Beurteaux and Graeme Monkhouse, each with 15. Another pair tied on points is Great Britain's Jon Powell and Travis Yates of Sarasota, Fla., each with 16 points.
Follow the action daily on Miami Sailing Week's Facebook page for regular updates, though if you want to get all Viper action all the time, check out the Viper 640 Facebook page and the Rondar Raceboats page during the event.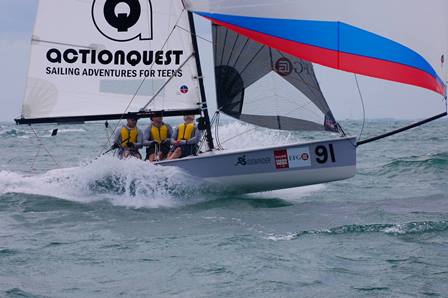 The fifth annual running of BACARDI Miami Sailing Week (BMSW) presented by EFG concludes March 8, 2014. Regatta headquarters are at Kennedy Park in Coconut Grove. The six-day racing schedule is headlined by the Star class which is contesting the 87th Bacardi Cup. Starting Thursday, March 6, the Stars will share Biscayne Bay with competitors in the Audi Melges 20, J/70, Melges 24, Viper 640 and VX One classes.
During BACARDI Miami Sailing Week sailors will enjoy the hospitality lounge, BACARDI Rum tastings, as well as a special showing of the film 07.07.07 Amorita's Unlucky Day. A special exhibit, Wynwood Sails Color the Grove, will feature the work of 10 artists of the graffiti and street art genre taking inspiration from the sea and sailing to create a work on canvas shaped like the jib of a sailboat. The art will be displayed at Coco Walk, the iconic open-air shopping, dining, and entertainment destination in Coconut Grove, from March 2-8, daily between 10:00 a.m. and 10:00 p.m. Additionally, a live performance will take place Saturday, March 8, from 4:00-8:00 p.m., allowing the public to witness the artist's creativity first-hand. In addition, select images from the 2010 to 2013 regattas, from the lenses of respected marine photographers Franco Pace of Italy, and Onne van der Wal and Cory Silken of the USA , will be displayed alongside the canvasses created specifically for Wynwood Sails Color the Grove to juxtapose "the City meets the Sea" for this unique art event.