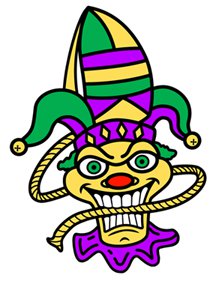 Viper sailors face a tempting choice of two cocktails, two parties, two regattas and two coasts over March 10-13.Can we tempt you to join us for Hurricanes at Mardi Gras Race Week at New Orleans Yacht Club on Lake Ponchartrain  ? Or can we seduce you with Mojitos at Bacardi Miami Sailing Week at Coral Reef Yacht Club on Biscayne Bay?
Both will be awesome Regattas and we are expecting to see a combined total of 30+ Vipers racing over this weekend. Come and join us.
Hurricanes
The New Orleans Yacht Club requests your presence for three days of hard core racing… and oh yeah -four nights of partying New Orleans style.
With Mardi Gras culminating on Fat Tuesday, March 8, 2011, the best sailors will just not let the party end and will roll through their hangovers, create new ones and rock the week with some monster one-design sailing on March 10-13.
Race Organizer Troy Gilbert writes:
" I will set you up with a Viper bar HQ (the Chart Room) in the thick of the French Quarter (sailing buddy of mine is a bartender there).
– NOYC's sailors ALWAYS win the party, so as long as you guys don't burn the club down, you should be pleasantly surprised at the social atmosphere of our club. (Our Commodore is a cop)"
So bring your sailing gear and your Motrin and come on down to the Big Easy.
Mojitos
……..sipping mojitos in the Grove ……..planing downwind in crystal clear blue water…..greatest sailing site in the Americas……racing Vipers on Biscayne Bay is a dress rehearsal for heaven.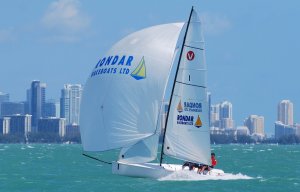 "The historic BACARDI Cup, in it's 84th running, is one of the world's truly legendary regattas. The crystal blue waters of Biscayne Bay and the reliable 12 -20 knot downwind planing conditions have made winter sailing in Miami a mecca for winter sailing and the best sailors of the world make an annual pilgrimage to compete for the Trofeo Bacardi. The sailing takes place out of Coral Reef Yacht Club which is walking distance from the bars, restaurants, and beautiful tropical tree lined lanes of the Grove.
In 2010 the Viper 640 class was invited to join the historic Star Class to be part of this new Miami tradition.  2011 marks an important 100th anniversary for the Star Class. The Star Class and the Viper class will be sailing out of Coral Reef Yacht Club. It promises to be a historic party!
Ched Proctor from North Sails and one of the Doyle team will be doing Viper tuning and tactics debriefs after sailing. We step out of our boats and gather at the tiki bar by the pool at CRYC. Cliff Clarke is providing a 35′ powerboat as tender to the Viper fleet, talking pictures and handing out water or cold beers between races.
This regatta is the opening round of the EFG Viper Pan American Championships which consists of four premier regattas in North America to determine the overall champions from Canada, USA, Latin America and overseas.