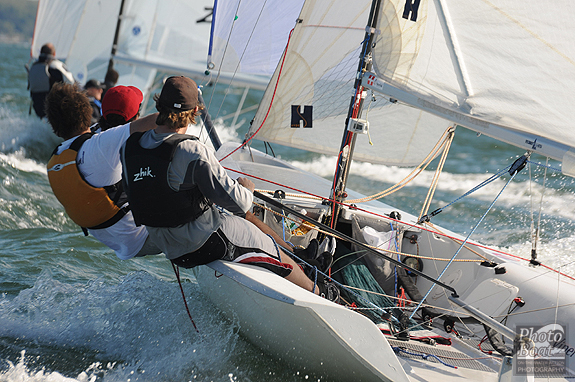 Thirty Five Vipers on one starting line. Two days of sunshine and breeze on.
These pictures will help to tell the story.
Thirty Five Boats makes for crowded start lines.
…and not a lot of separation by the time we got to the first windward mark
Thirty Five boats, also means that Thirty Four boats didn't come first.
But these guys did. Again!
But we were all winners with gorgeous sailing , and wonderful hosts, American Yacht Club, looking over Long Island Sound in the fall.
Dinner on Saturday night in the charming club house.
The members encouraged 35 Vipers to park on their immaculate lawns. Each boat had a custom parking space marked on the grass.
You had to get up really early to launch 35 Vipers and be in time for skippers meeting at 9.30 am on Saturday morning.
For a change we were not the fastest boats on the race course. You had to think twice about time and distance as you saw these coming towards you.
But the cats were slow compared to the foiling gnats moths.
As the wind speeds increased, it was time to tighten rig tension. Kay Van Valkenburgh and his team on Loqi approached this in a novel way.
Crew member hangs over the side to get a good vantage point on the turn buckle while Kay stands up to give instructions and Karen reads out compass headings.
But the award for thrills and spills was once again won by the International Canoes.
Thanks and credit for pics to Photo Boat and Carina McCabe. We hope to see you all again next year. Fifteen more boats gets us to a 50 boat start line!