Sailed from March 9-11 as part of Bacardi Miami Sailing Week Sponsored by EFG, the EFG Viper Pan-American Championship is the culmination of a year's worth of qualifying regattas in Australia, Europe, and North America.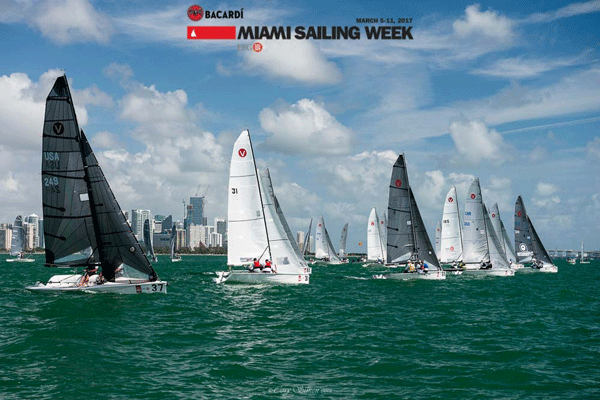 Depending upon where you finish in your top qualifier, skippers carry over into BMSW "qualifying points" that are added to their Miami final score. Those not sailing any qualifiers carry 9 points into Miami but Annapolis' Ewenson's dominant performance over the three days gave him 30 total points, enough margin to beat out Sarnia, OT's Bill and Joanne Abbott sailing with Lee Shuckerow on Lee's Jackpot who carried over only two points after the EFG Winter Cup for a total of 37 points. In third for the Pan-Ams was the Santa Barbara, CA's Geoff Fargo, Jeff Grange, and Spencer Steffen who carried in only a single point (thanks to their third place finish in Bermuda) with a matching total of 37 points but losing to Abbott due to BMSW final as the tie breaker.
An indication of how Bacardi finishes can be turned on their heads for the Pan-Ams is the Mississippi's trio of John and Schaffer Dane sailing with Dave Bolyard. Dane finished second for BMSW with 29 points but had to add 9 points to that total having missed sailing in all the qualifiers. Hey, that's sailing.
Talking about sailing, these three days in Miami were great times to be on the water. The 22 Vipers didn't experience the strong winds of previous BMSWs…let alone the heavy winds encountered earlier in the week for the EFG Winter Cup…but PRO "Judge" Judy Hanlon managed to get in 9 races over the three days. The sun was shining the entire time so it was finesse, light-to-moderate air sailing with lots of sun screen.
Geoff Ewenson started the regatta with a 1,1,4,1 scoreline on Thursday, on Friday he took the first heat but then raced his throwout (17) to come back Saturday with a 9,1,4 to end BMSW with a comfortable lead of 8 points over John Dane. That said, there is no "comfortable lead" over former Olympian John Dane who won only one race but sailed so consistently that his throwout was a 6!
Rounding out the top four were Bill Abbott with 35 points and Geoff Fargo hot on his heels with 36 points. Abbott and Fargo won one race and were in the thick of the lead pack all regatta.
Photos by Cory Silken courtesy of STUDIOMILANO
BMSW WEBSITE
Bacardi and Studio Milano did a great job with the overall regatta planning and host Coral Reef Yacht Club again rolled out the red carpet for the "snake boat" sailors.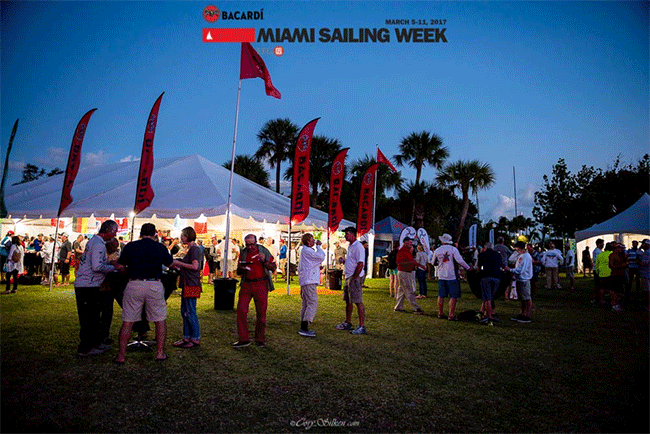 There is a full slate of Viper regattas coming up in the next few months so check the Viper website (www.viper640.org) for the full schedule.
Here's an extra photo: NA Class President Steve Chapman presenting EFG Winter Cup to Lawrence Crispin – his second consecutive win!